This beautiful cake is perfect for fall with juicy chunks of apple in every slice and a rich frosting lightly dusted with cinnamon.
Advertisement – Continue Reading Below
Cake
2 c. all-purpose flour
2 tsp. pumpkin pie spice
1 tsp. baking powder
1/2 tsp. baking soda
1/2 tsp. kosher salt
1/2 c. unsalted butter
3/4 c. granulated sugar
2 large eggs
1/4 c. molasses
1/2 c. sour cream
2 apples (1 Golden Delicious and 1 Granny Smith)
Topping
1 c. heavy cream
1 tbsp. granulated sugar
1/2 c. sour cream
cinnamon
Directions
Step

1

Heat oven to 350 degrees F. Lightly coat an 8-inch square pan with cooking spray. Line with parchment paper, leaving a 2-inch overhang on two sides; spray the paper.

Step

2

In a large bowl, whisk together the flour, pumpkin pie spice, baking powder, baking soda, and salt.

Step

3

Using an electric mixer, beat together the butter and sugar until light and fluffy, about 3 minutes. Beat in the eggs, one at a time, then the molasses and sour cream. Reduce the mixer speed to low and gradually add the flour mixture, mixing just until incorporated; fold in the apples.

Step

4

Transfer the batter to the prepared pan and bake until a wooden pick inserted in the center comes out clean, 55 to 60 minutes. Let cool for 15 minutes in the pan, then, using the overhangs, transfer the cake to a wire rack to cool completely.

Step

5

Five minutes before serving, make the topping: Using an electric mixer, beat the cream and sugar until soft peaks form. Add the sour cream and beat to stiff peaks. Spread over the cake and dust with cinnamon, if desired.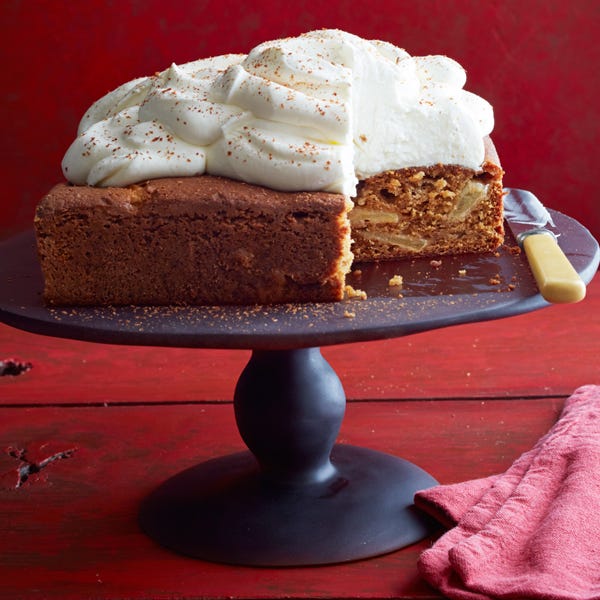 Con Poulos; Food styling by Vivian Lui; Prop styling by Philippa Braithwaite