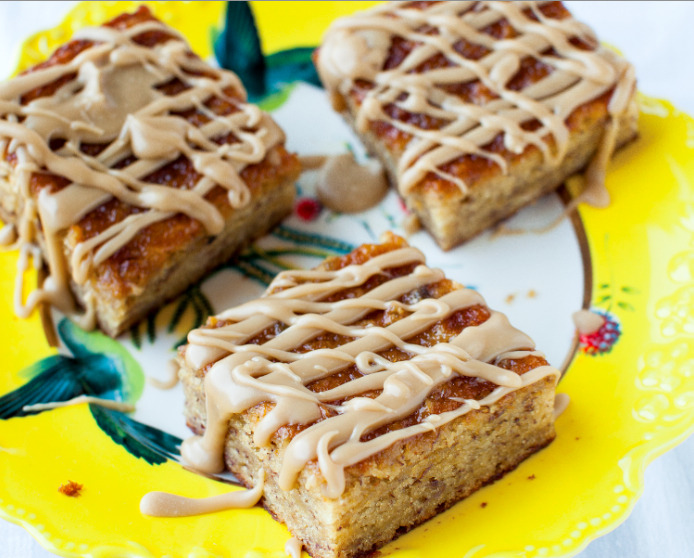 It's a good thing we stock up on peanut butter, because we're going to need it. Averie Sunshine's new cookbook, Peanut Butter Comfort, has over 100 innovative, delicious and yes, totally comforting peanut butter recipes. Next up, peanut butter-spiked banana bread pudding cake that's…how many desserts crammed into one?
This cake was never supposed to happen. I was goofing around one day in the kitchen with some ripe bananas and impulsively added a packet of dry pudding mix to the batter. I didn't realize until after the cake cooled and I had a bite that I created my favorite banana cake of all time. This is a dense cake, similar to banana bread in cake form. The pudding and sour cream help the cake stay incredibly moist and the glaze is heaven sent — rich, buttery, intensely caramel-flavored—and takes an already stellar cake to the next level. This is one of my favorite recipes in the book.
Banana Bread Pudding Cake Recipe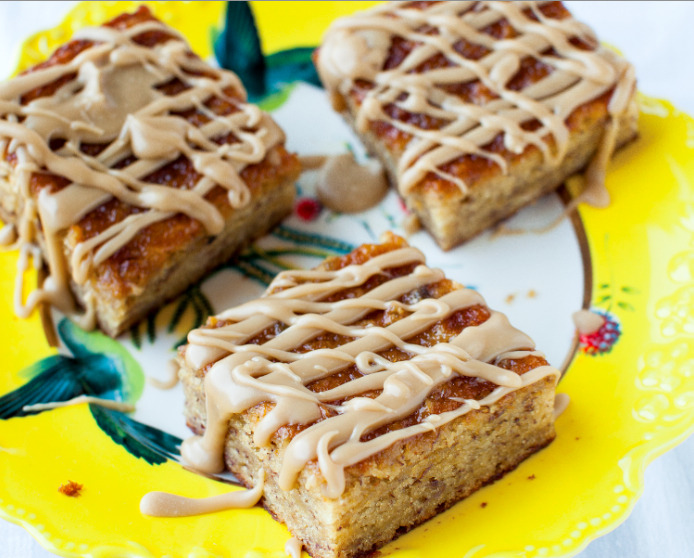 1 stick butter
2 tablespoons creamy peanut butter
3/4 cup granulated sugar
1/4 cup light brown sugar
1 large egg
1/2 cup sour cream (Greek yogurt may be substituted)
1 1/2 teaspoons vanilla extract
2 large or 3 small ripe bananas
1 3.5-ounce box vanilla or French vanilla-flavored instant pudding mix
1 cup all purpose flour
3/4 teaspoon baking soda
1/2 teaspoon salt
Preheat oven to 350°F, line a 9-by-9-inch baking pan with aluminum foil, and spray with cooking spray; set aside.
In a large microwave-safe bowl, melt the butter, about 60 to 90 seconds on high power. To the melted butter, add the peanut butter and heat for about 20 seconds on high power to melt it. Stir the mixture until combined and smooth.
Add the sugars and whisk or stir to combine. Add the egg, sour cream (thicker Greek-style yogurt may be substituted), and vanilla and whisk until smooth and free from streaks. Add the bananas and stir to incorporate.
Add the pudding mix and stir to incorporate. (Note: Don't make the pudding as directed on the box; simply use the powder as a dry ingredient. The pudding mix powder may be omitted; however, it adds softness, moisture, vanilla flavor, and some sweetness to the cake and I consider it to be the secret ingredient to this cake's success.)
Add the flour, baking soda, and salt and stir until just combined. Do not overmix because it overdevelops the gluten, resulting in a tough cake.
Pour batter into prepared pan and bake for about 35 minutes, or until top is golden, set in the middle, edges have slightly pulled away from the sides of the pan, and a toothpick inserted in the center comes out clean. Allow cake to cool in the pan for at least 20 minutes before removing and serving.