Cool, creamy, and ridiculously comforting! This Blueberry Muffin Breakfast Smoothie uses oats and almond butter to give it a subtle doughiness that pairs perfectly with the fresh and vibrant flavours blueberries and bananas.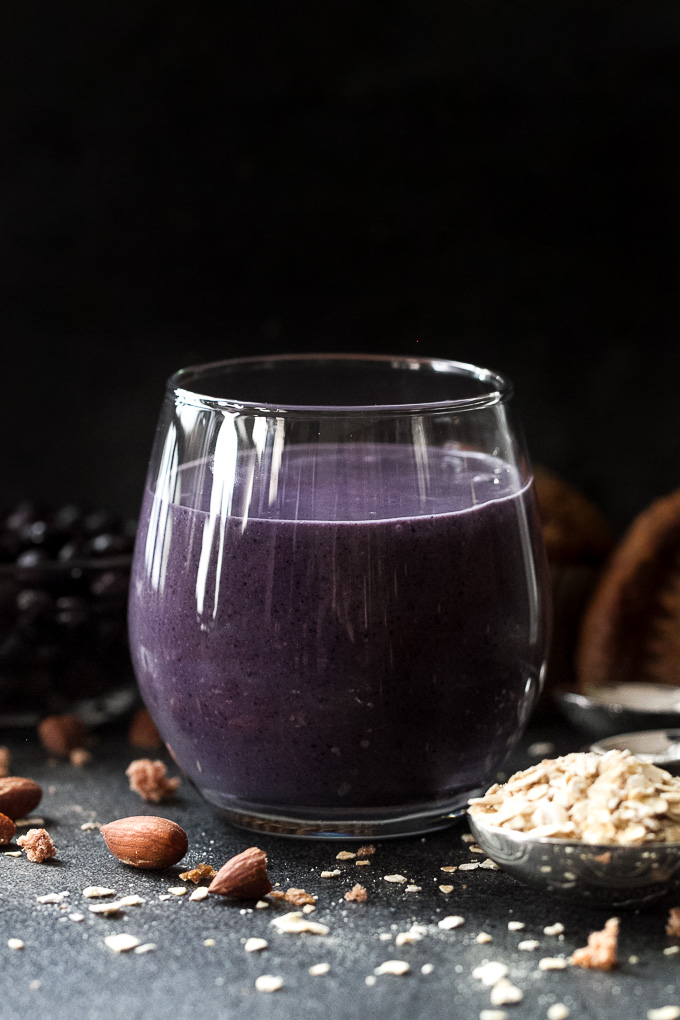 I really have no issues with winter.
I mean, sure, it's a little colder and darker than the more likeable seasons, but there are still plenty of things to love about it. Like Christmas. And hot chocolate. And snow days. And fuzzy socks. And fireplaces. And oversized hoodies. And little doggies wearing booties.
The only thing I'm not too crazy about (besides the fact that it gets dark at 4:30pm and gets so cold that my eyelids stick together when I blink) is the lack of fresh fruit. I don't know about you guys, but I'm getting a little tired of eating nothing but apples, oranges, and bananas. I mean, I love them, but give me some watermelons, mangoes, peaches, and blueberries. Please. And thank you.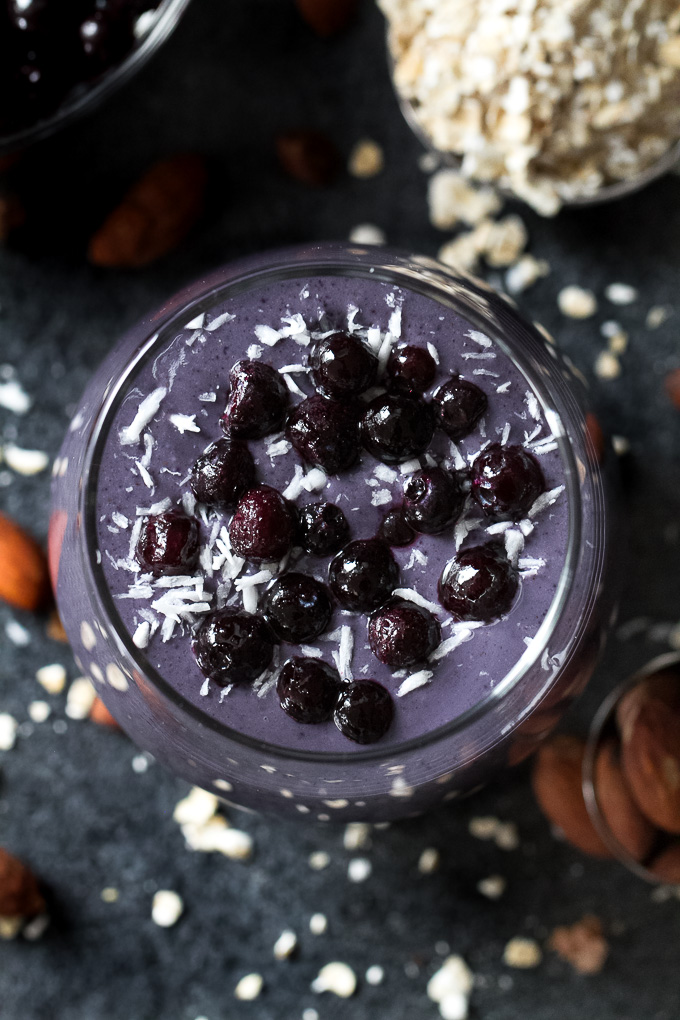 Luckily, there's this little thing called frozen fruit. And it's a beautiful thing. It really is.
I feel like a lot of people see frozen fruit as second rate when compared to the fresh stuff, when it's actually just as nutritious. The reason for this is because it's picked and frozen at the peak of ripeness, which means it had enough time to develop its full vitamin and mineral profile. I mean, sure, some of those vitamins and minerals deteriorate during the freezing and storage process, but that ultimately puts frozen fruit on the same level as fresh fruit, which is usually picked way too early to ensure that it doesn't go bad during transport… thereby really gimping the nutrition profile.
TL;DR: frozen fruit is just as good as fresh fruit, and it's a lifesaver in the winter months when your choice of fresh fruit is limited to apples, oranges, and bananas. Unless, of course, you live in the tropics, in which case… lucky you.
But for the rest of us, there's frozen fruit; and this girl was craving some frozen blueberries specifically, hence today's blueberry muffin breakfast smoothie…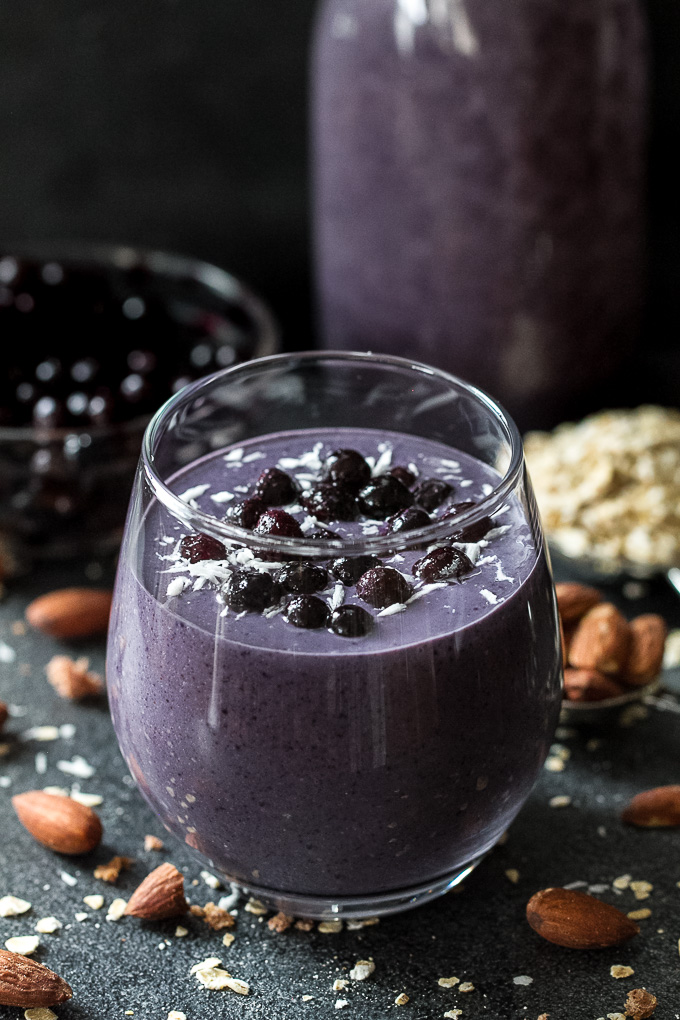 So the "muffin" part of this recipe title? I totally didn't just stick it on there to be cutesy.
It's there because there's something about this smoothie that gives it a comforting doughy quality that goes beyond it simply being thick, smooth, and creamy. I was going to say it's like drinkable muffin butter, but that sounds kind of terrible. Cookie dough is one thing, but I don't think I've ever heard of anyone indulging in their love for raw muffin batter. Feel free to correct me if I'm wrong.
Either way, there is a subtly sweet doughiness to this smoothie, and I'm pretty sure it's all thanks to the oats and almond butter. And not only do they do amazingly wonderful things to the texture, but they add a nice amount of fibre, protein, and healthy fats that help a TONNE with the satiation factor. Like, if you're afraid that smoothies won't keep you full, just bulk them up a little and I promise you that you'll stay satisfied all morning.
Happy eating!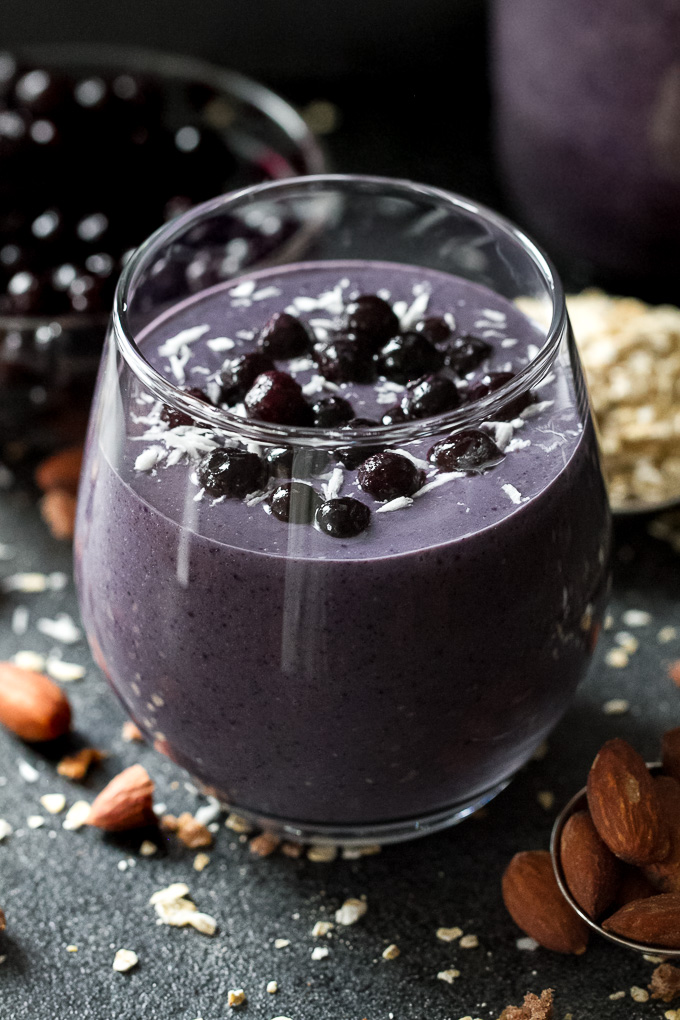 I'd love to know if you make this recipe! Leave a comment and rating down below to let me know what you think, and subscribe to our mailing list to receive new recipes in your inbox!
Print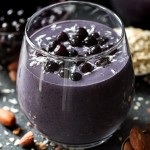 ---
Author:

Amanda @ Running with Spoons


Total Time:

5 mins


Yield:

1

serving

1

x
1/2 cup

(

70 g

) frozen blueberries

1

medium-size ripe banana, frozen (~

100 g

)

1/4 cup

(

20 g

) rolled oats

1 Tbsp

(

16 g

ml) almond butter*

1/2 cup

(

120

ml) unsweetened vanilla almond milk

1/4 tsp

ground cinnamon
Prevent your screen from going dark

---
Instructions
Place all ingredients into any standard blender and blend until smooth. This smoothie can be made in advance and stored in the fridge for extra thickness and creaminess!
Keywords: blueberry, breakfast, dairy-free, gluten-free, recipe, smoothie, snack, vegan