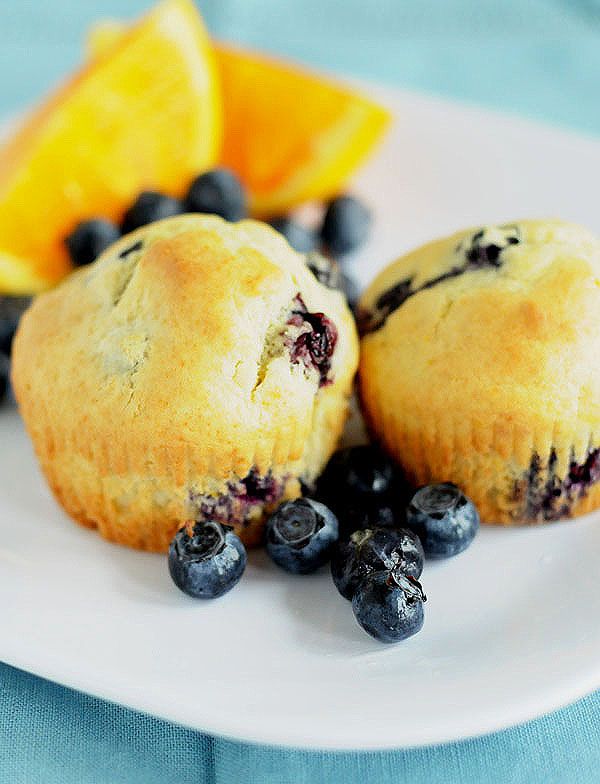 Would you like to know what happened to me while I was at church yesterday? I was sitting in mass when my 3 year old told me she needed to go potty. I took her back to the ladies restroom, she did her thing, I bent down to help her pull up her panties and before I know it, the automatic flusher flushed the toilet. My face was down, toilet high and surprise…I had toilet water splash up in my face… pre-flushed toilet water, I might add.  You can bet that it was not the most joyous moment in my life.
It is a great thing that I started my day off with these tasty muffins or I may have been just grumpy enough after that to be in a bad mood for the rest of the day. The muffins were such a hit with my family and with the touch of citrus were refreshing enough to start my day off on the right foot. A little toilet water in the face was not about to make my mood go down the drain, so to speak. I can't guarantee you will have the same "take on the day" feeling I had after eating these muffins, but a little citrus sunshine in the morning is sure a great way to attempt a great start!
Blueberry Sunrise Muffins
1 1/2 cups all purpose flour

1 Tbs baking powder

1/2 tsp salt

1/4 cup sugar

4 Tbs unsalted butter, melted and cooled

1 large egg, beaten

3/4 cup plus 2 Tbs milk

1 Tbs fresh orange zest

Juice of 1/2 of a medium orange   1 cup fresh blueberries
Preheat oven to 400 degrees. Line a muffin pan with 10 paper muffin cups or spray with nonstick cooking spray.
Sift the flour, baking powder and salt into a large bowl. Stir in the sugar. In a separate bowl, whisk together the melted butter, egg and milk. Pour the wet ingredients over the dry ingredients and whisk until just blended (mixture should be slightly lumpy).
Add the blueberries to the bowl and stire them in just enough to combine.
Divide the batter evenly among the prepared muffin cups. Bake the muffins until golden, 18-24 minutes. Remove the muffins from the pan and transfer to a wire rack to cool. Serve warm.