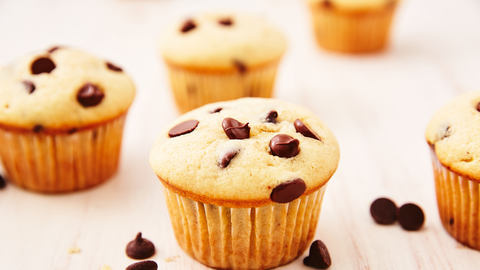 They say there is nothing better than a warm chocolate chip cookie fresh out of the oven. Enter the chocolate chip muffin. Freshly baked, these muffins are perfection and everything you need to start the day right: A perfect crispy top that will pop right off (the proper way to eat a muffin) and a fluffy middle that makes them stand tall.
What type of sugar?
We used both granulated sugar and light brown sugar in our recipe to really mimic the taste of a chocolate chip cookie. The brown sugar adds a nice caramel flavor and the hint of molasses makes it taste like it's from your favorite old-school bakery. If you really want to taste that deep caramel flavor, you can use dark brown sugar in place of the light.
Melted or softened butter?
We wanted a light and fluffy muffin so we went with softened butter. Melted butter will give you a much denser, fudgier muffin that would still be just as amazing!
What kind of chocolate chips can I use?
We call for semisweet here but you can use whatever you have on hand, whatever makes you happiest. White chocolate, milk chocolate, or bar chocolate will all be delicious.
Can I add more mix-ins?
Absolutely! Add some chopped walnuts or pecans, coconut flakes, or chopped banana would all be delicious! If you like nuts, you might want to check out banana nut muffins and carrot cake muffins too. You can also sprinkle some coarse sugar on top for a crunchy topping, like in our brown butter bran muffins.
Can I make these ahead of time?

Yes! Some bakers swear by resting their batter overnight before baking for an even more amazing muffin. If you end up baking more than you can finish, store them at room temperature for 1 or 2 days in an air-tight container or pop them into a resealable bag in the freezer for longer storage.
Have you tried these? Let us know what you think in the comments below!
Editor's note: The introduction to this recipe was updated on January 28, 2022 to include more information.
Advertisement – Continue Reading Below
2 c.

all-purpose flour

1 tsp.

kosher salt

1 tsp.

baking powder

1/2 tsp.

baking soda

1/2 c.

(1 stick) butter, softened

1/2 c.

granulated sugar

1/4 c.

packed brown sugar

1

large egg

1 tsp.

pure vanilla extract

1 c.

milk

1 c.

chocolate chips
Directions
Step

1

Preheat oven to 350° and line two muffin tins with liners. In a large bowl, whisk together flour, salt, baking powder, and baking soda.

Step

2

In another large bowl, using a hand mixer, beat butter and sugars together until light and fluffy. Add egg and beat until combined, then add vanilla. Add half of dry ingredients to wet ingredients and mix until just combined, then add milk and mix until combined. Add in remaining dry ingredients and mix until combined, then fold in chocolate chips.

Step

3

Divide batter evenly between muffin liners and bake until a toothpick inserted in the middle comes out clean, 20 to 23 minutes.
Nutrition (per serving): 211 calories, 3 g protein, 29 g carbohydrates, 1 g fiber, 16 g sugar, 10 g fat, 6 g saturated fat, 253 mg sodium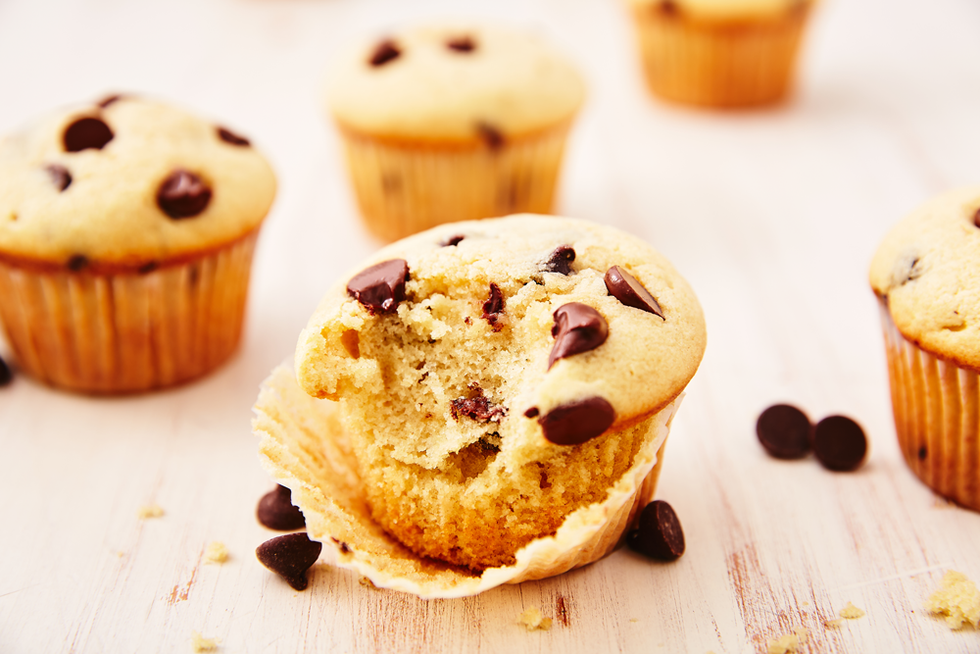 Parker Feierbach
This content is imported from poll. You may be able to find the same content in another format, or you may be able to find more information, at their web site.
Delish: Eat Like Every Day's the Weekend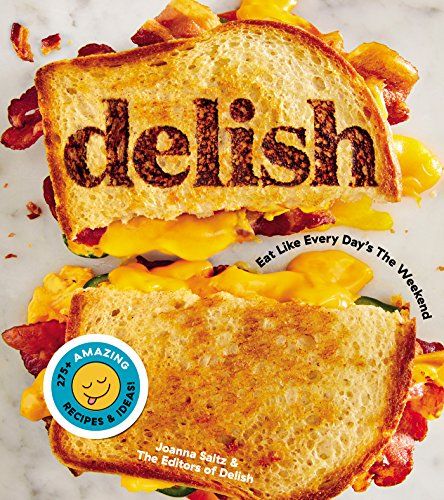 Delish: Eat Like Every Day's the Weekend
Now 45% Off
Makinze Gore
Food Editor
Makinze is currently Food Editor for Delish, where she develops recipes, creates and hosts recipe videos and is our current baking queen.. Reigning from Oklahoma, she's also our go-to for all things regarding Midwestern cuisine. She's also our expert pie crimper.
Advertisement – Continue Reading Below
Advertisement – Continue Reading Below