Make this batter into muffins for portable treats or bread to keep around the house.

By Taylor Kadlec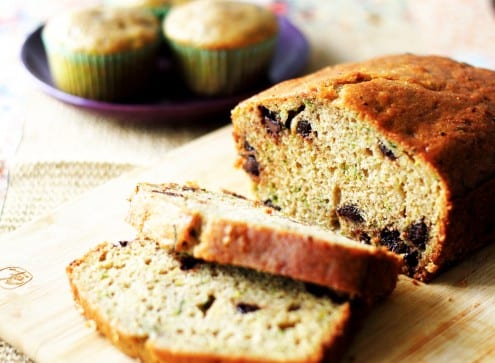 Are there any certain household chores that you don't like? I mean, I know none of them are particularly fun but I feel like we all have those certain ones that are just an extra pain in the you-know-what. For me, I really don't like unloading the dishwasher, folding and putting away laundry, and hand washing muffin pans. Yes, muffin pans. Can we all agree that it's the worst?! Just thinking about using my dish scrubber to clean all around the sides, the bottoms, and throughout the crease of each and every muffin makes me cringe.

The obvious solution for this is to use muffin liners, but those aren't always convenient. The other solution is to make bread instead of muffins. With this recipe that makes either two loaves or 24 muffins I compromised both ways: I made one loaf and twelve muffins. It was also the best of both worlds because I loved the portable-ness (yes, I'm making up words) of the muffins for a quick breakfast along with being able to smear a big slice of the bread for a tasty snack.
I adapted a few different recipes to make exactly what I wanted out of my zucchini bread. I decreased the sugar and oil and added Greek yogurt to make it healthier, along with swapping some of the all-purpose flour for whole wheat. Side note: I don't like using all whole-wheat flour in my baking because it tends to make things taste too healthy. And I don't want my baked goods to taste healthy. I also added chocolate chips, obviously to make it taste less healthy and more delicious. The combination of the cinnamon-spiced zucchini bread with the chocolate chips is perfect. If you have a bunch of zucchini in your fridge waiting to be used (I know you do!) this is a great way to use it.
Print
Make this batter into muffins for portable treats or bread to keep around the house.
Author:

Taylor Kadlec

Prep Time:

20 mins

Cook Time:

55 mins

Total Time:

1 hour 15 mins

Yield:

24

muffins or

2

loaves

1

x
Category:

Baking
3

eggs

1 1/2 cups

white sugar

1/2 cup

vegetable oil

1/2 cup

Greek yogurt

2 tsp

pure vanilla extract

2 1/2 cups

grated zucchini

2 cups

all-purpose flour

1 cup

whole-wheat flour

1 tsp

baking soda

1/2 tsp

baking powder

1 tsp

salt

1/2 tbsp

cinnamon

1 cup

semi-sweet chocolate chips
Preheat oven to 325 degrees F.
Grease two 9×4″ loaf pans or line 2 muffin pans with liners.
In medium bowl, combine flours, baking soda, baking powder, salt, and cinnamon.
In large bowl, beat together eggs and sugar until well combined, about 1 minute.
Add oil, Greek yogurt, and vanilla and beat until combined.
Add grated zucchini and fold in with spatula.
Add flour mixture to wet mixture and stir with spatula.
Fold in chocolate chips.
Divide batter evenly among loaf pans or muffin tins.
Bake muffins 15-18 minutes, until toothpick comes out clean.
Bake loaves 45-55 minutes, until toothpick comes out clean.
Let cool.
Enjoy!
Taylor Kadlec



Taylor Kadlec is a lover of all things food including baking, cooking, and of course, eating. She is a self-taught baker and cook, and she shares her kitchen adventures on her blog Greens & Chocolate, where healthy cooking meets sinful indulgence.