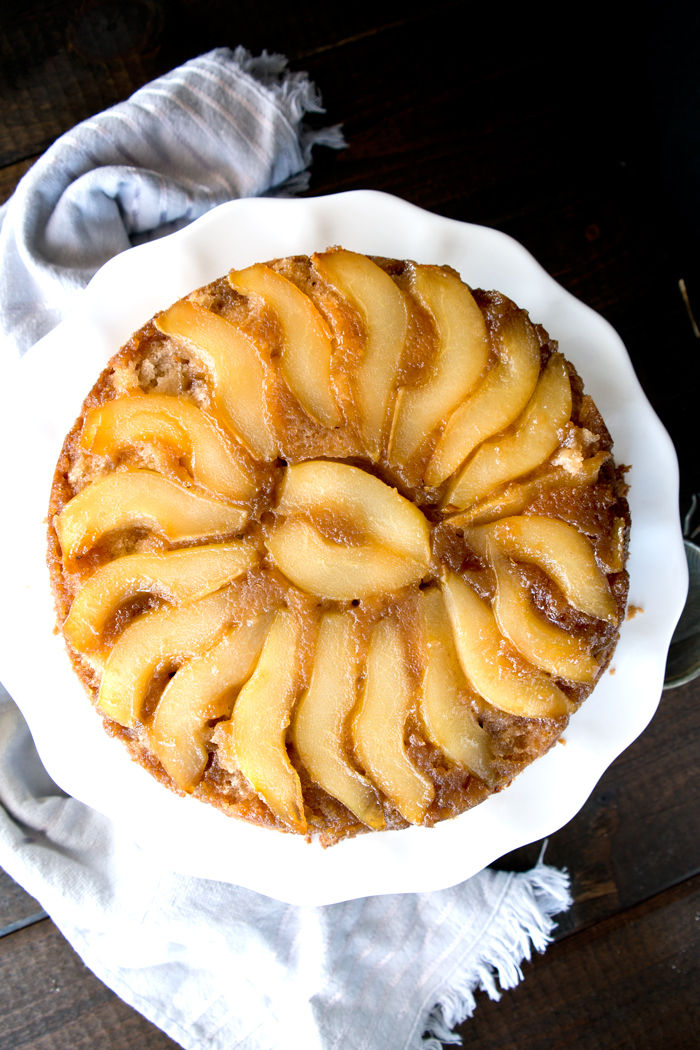 Cinnamon Pear Upside Down Cake. Sweet juicy pears enrobed in butter and brown sugar then covered in a moist and tender cinnamon cake. All baked together in one pan.
[social_share/] Yum

Todays offering is a Cinnamon Pear Upside Down Cake. It took a couple times to get this right. I either had too much cake batter or not enough cinnamon, needs more vanilla, you better slice those pears a little thinner this time and so on. But I finally reached this glorious Cinnamon Pear Upside Down Cake. My mom was my taste tester this week and she loved the first one I made and raved about it, even told me nothing needed to be changed. Then I presented her a bite of the final version and she couldn't believe how awesome it was and moms know best right? I have to admit I still like to get a compliment from mom because I know its genuine. How do I know? Because she would have flat out told me if the cake was awful, lol, nicely of course.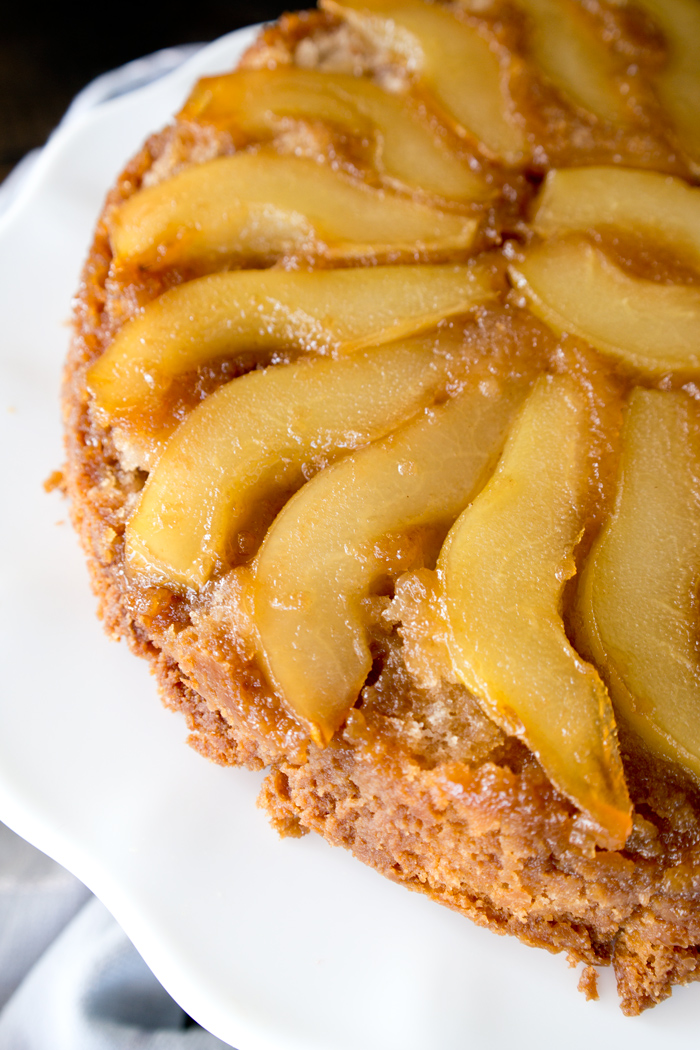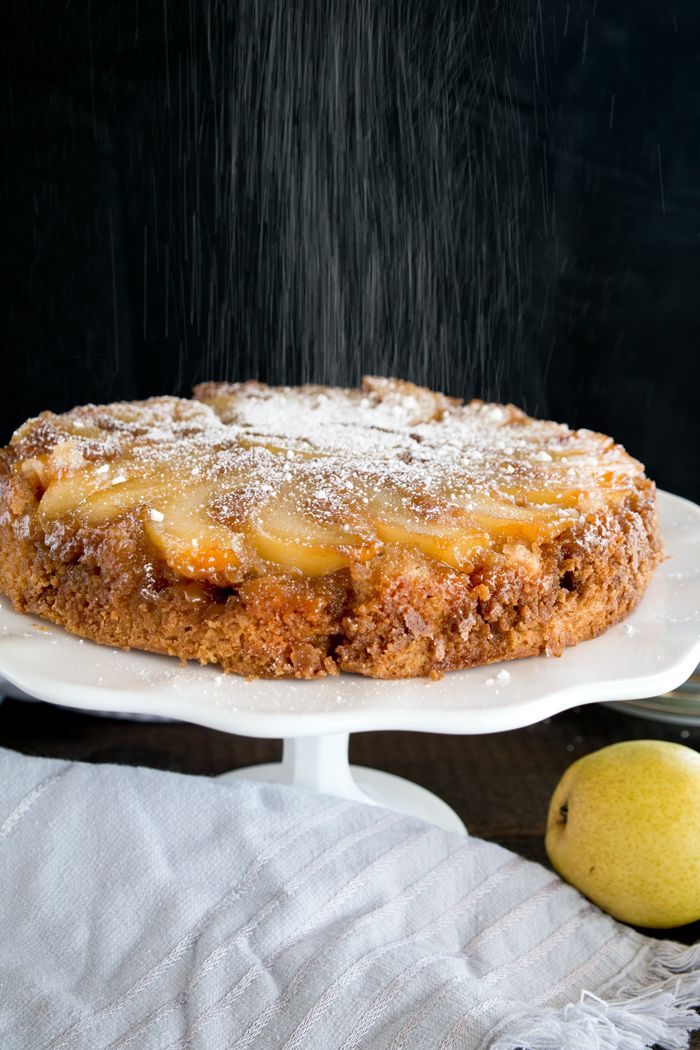 The upside down cake is sort of a marvel to me. All in one pan you have the cake, the garnish and icing (so to speak). You start with a brown sugar and butter bath poured into the bottom of the cake pan. Then carefully arrange sliced pears in a pretty arrangement. Next pour on this luxurious cake batter and bake.
As it bakes the brown sugar and butter bubble along with the sweet juice of the pears, caramelizing together as it cooks longer. The cake layer is baking up beautifully and the side of the cake touching the pears is soaking up the brown sugar caramel along with the outer edge of the cake. The pears are snuggled in beautifully thinking, "have we died and gone to heaven?", perfectly content right where they are.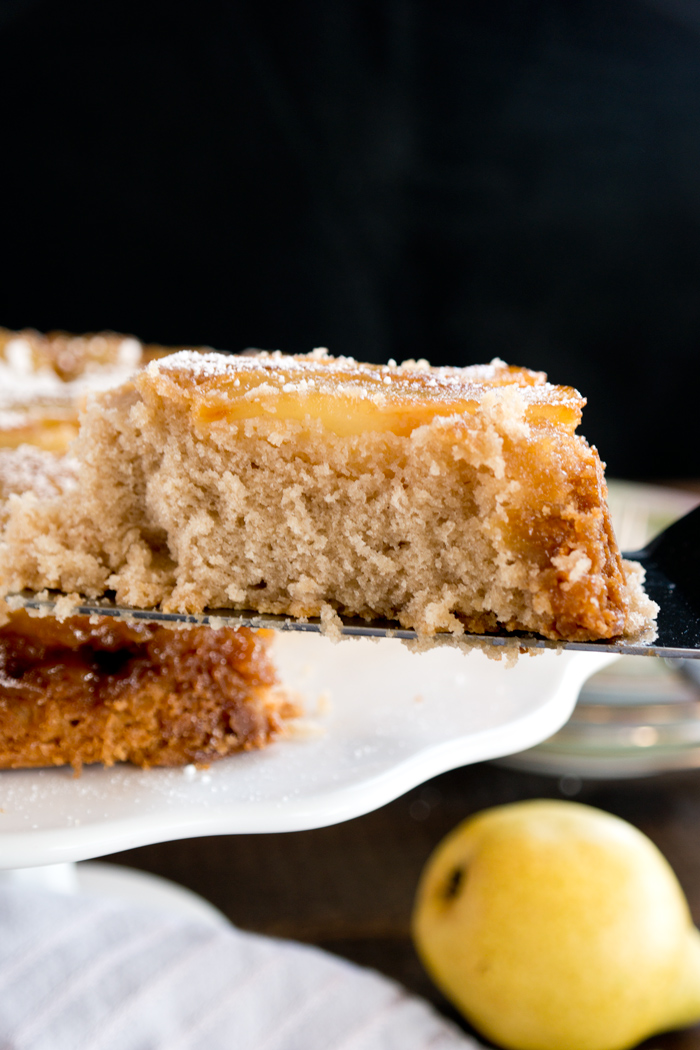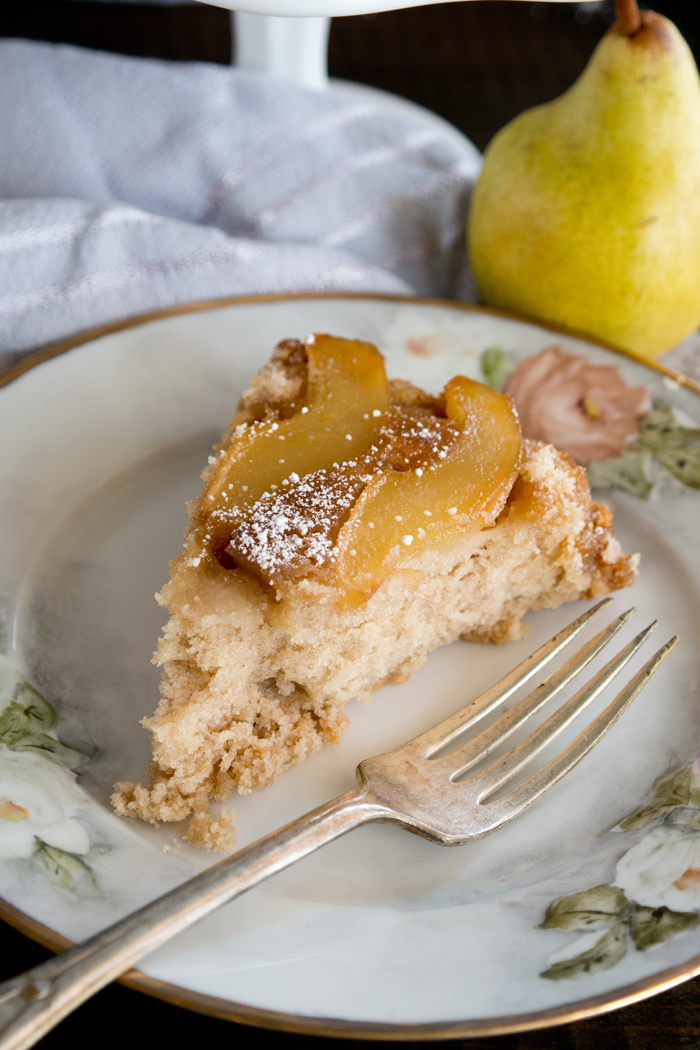 Then the moment comes when you have to invert the cake onto a cake plate and even though you did everything just right there is still a bit of uneasiness wondering if it will come out in one piece….And it does. A sigh of relief. Then you take a moment to look at and realize just how simple and beautiful this cake really is. It's rustic, shiny and golden yet right on trend with the season and more importantly with our tastebuds.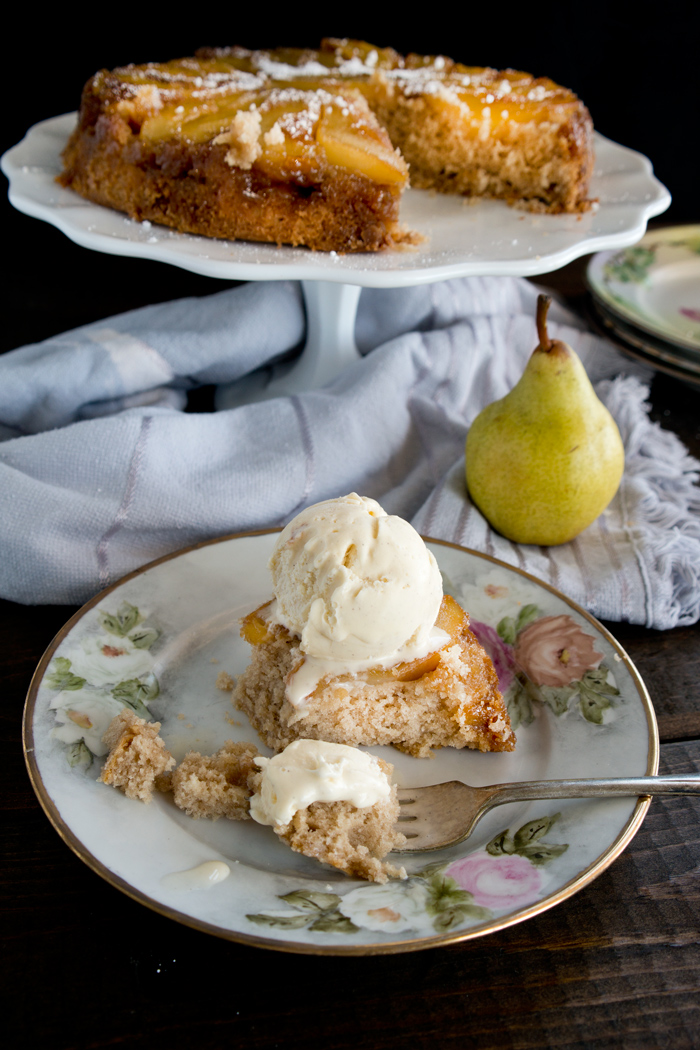 The moist and tender cake with the melt in your mouth pears, which still maintain their texture. And the warm comforting spiciness of cinnamon to balance the sweet. All wrapped into a beautiful presentation for friends and family.
Enjoy!
Stacey
FORGOT TO PIN IT? Here's your chance!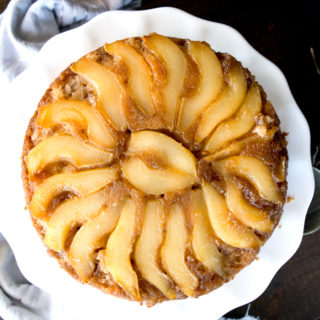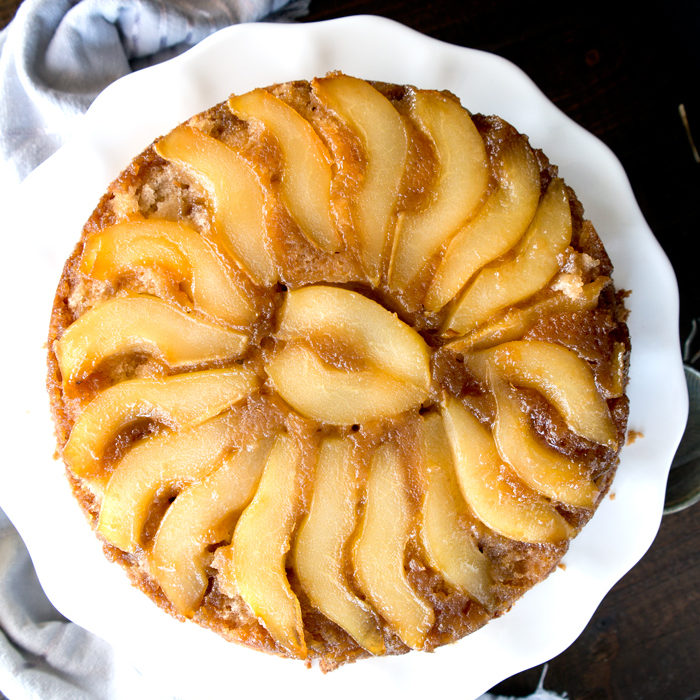 Stacey Thimmes – The Sugar Coated Cottage
Cinnamon Pear Upside Down Cake. Sweet juicy pears enrobed in butter and brown sugar then covered in a moist and tender cinnamon cake. All baked together in one pan.
Prep Time 15 mins
Cook Time 45 mins
Total Time 1 hr
Ingredients
ALL INGREDIENTS SHOULD BE ROOM TEMPERATURE:

3/4

cups

+ 1 Tbsp butter

divided – 1/4 cup + 1Tbsp for glaze, 1/2 cup for cake

2/3

cups

brown sugar

3-4

medium pears

peeled, cored and each pear sliced into 8 slices.*

3/4

cups

sugar

1

egg

2

tsp

vanilla

1 1/4

cups

cake flour

1 1/2

tsp

baking powder

1

tsp

cinnamon

pinch

of salt

1/2

cup

milk
Instructions
Preheat oven to 350 degrees F.

Grease and flour the inside edge of a 9″ cake pan, no need to grease the bottom.

Melt 1/4 cups + 1 Tbsp of butter.

Add to the butter the brown sugar and combine.

Pour mixture into prepared pan.

Arrange pear slices on top of brown sugar mixture. You can arrange them snuggly.

Cream the remaining 1/2 cup butter and granulated sugar together.

Add in the egg and vanilla, mix well.

In medium bowl add the flour, baking powder, salt and cinnamon. Stir to combine.

With mixer on low slowly add in the flour mixture to the butter mixture. Alternating with milk as needed.

Once all added mix on medium for 1 minute.

Pour cake batter over the pears.

Bake for 45 minutes or until toothpick inserted comes out clean.

Cool 10-15 minutes before inverting onto cake plate.

Let cool additional 15 minutes.
Notes
* Cutting the pears. To get 8 even slices I cut my pears in half, then cut the halves in two (giving me four) and then cut each fourth in half.
** Before inverting onto cake plate, run a knife gently around the edge of the cake to help loosen any areas that may be stuck.
*** When greasing the edges I used the cake spray and flour in one, makes it super easy.
****Dont forget this dessert goes great with ice cream!