Cupcakes the French would approve of.
Advertisement – Continue Reading Below
1

box vanilla cake mix, plus ingredients called for on box

1

box instant vanilla pudding

2 c.

cold milk

1 c.

butter, softened

4 c.

powdered sugar

1/2 tsp.

pure vanilla extract

Pinch of salt

3 tbsp.

heavy cream

1/2 c.

sugar
Directions
Step

1

Bake cupcakes: Preheat oven to 350° and line two cupcake pans with 18 liners.

Step

2

Prepare vanilla cake batter according to package instructions and divide between cupcake liners. Bake according to package instructions. Let cool completely.

Step

3

Make filling: In a large bowl, whisk together pudding mix and cold milk until thickened, about 3 minutes.

Step

4

Make frosting: In a large bowl using a hand mixer, beat butter until light and fluffy. Add half of the powdered sugar and beat until smooth. Add remaining powdered sugar, vanilla and salt, and beat until fluffy. Add heavy cream if the frosting is too thick.

Step

5

Using a paring knife or small melon scoop, cut a small well out of each cupcake and fill it with vanilla pudding. Then, using a small offset spatula, spread frosting on top. Sprinkle each cupcake immediately with sugar.

Step

6

Transfer filled and frosted cupcakes to a large runner baking sheet and broil until the sugar on top of the frosting caramelizes, about 2 minutes. Let cool completely, then serve.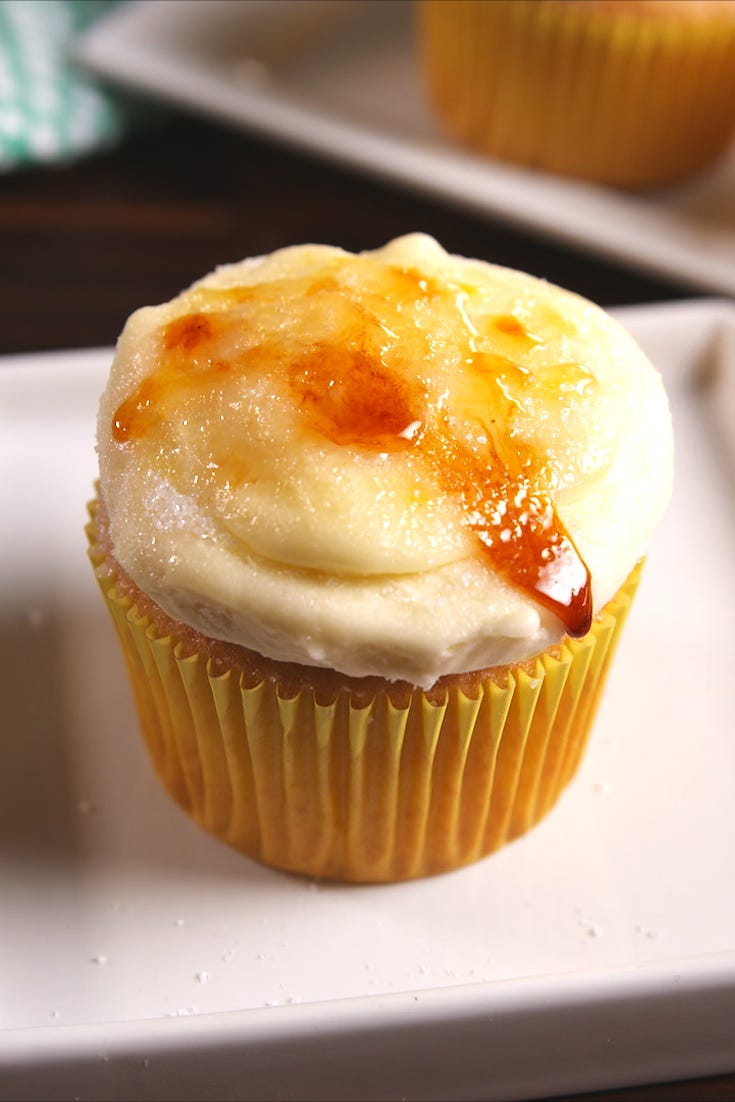 Chelsea Lupkin

Lauren Miyashiro
Freelance Contributor
Lauren Miyashiro is the former Food Director of Delish. She graduated culinary school in 2016 and mastered the art of the Crunchwrap in 2017.