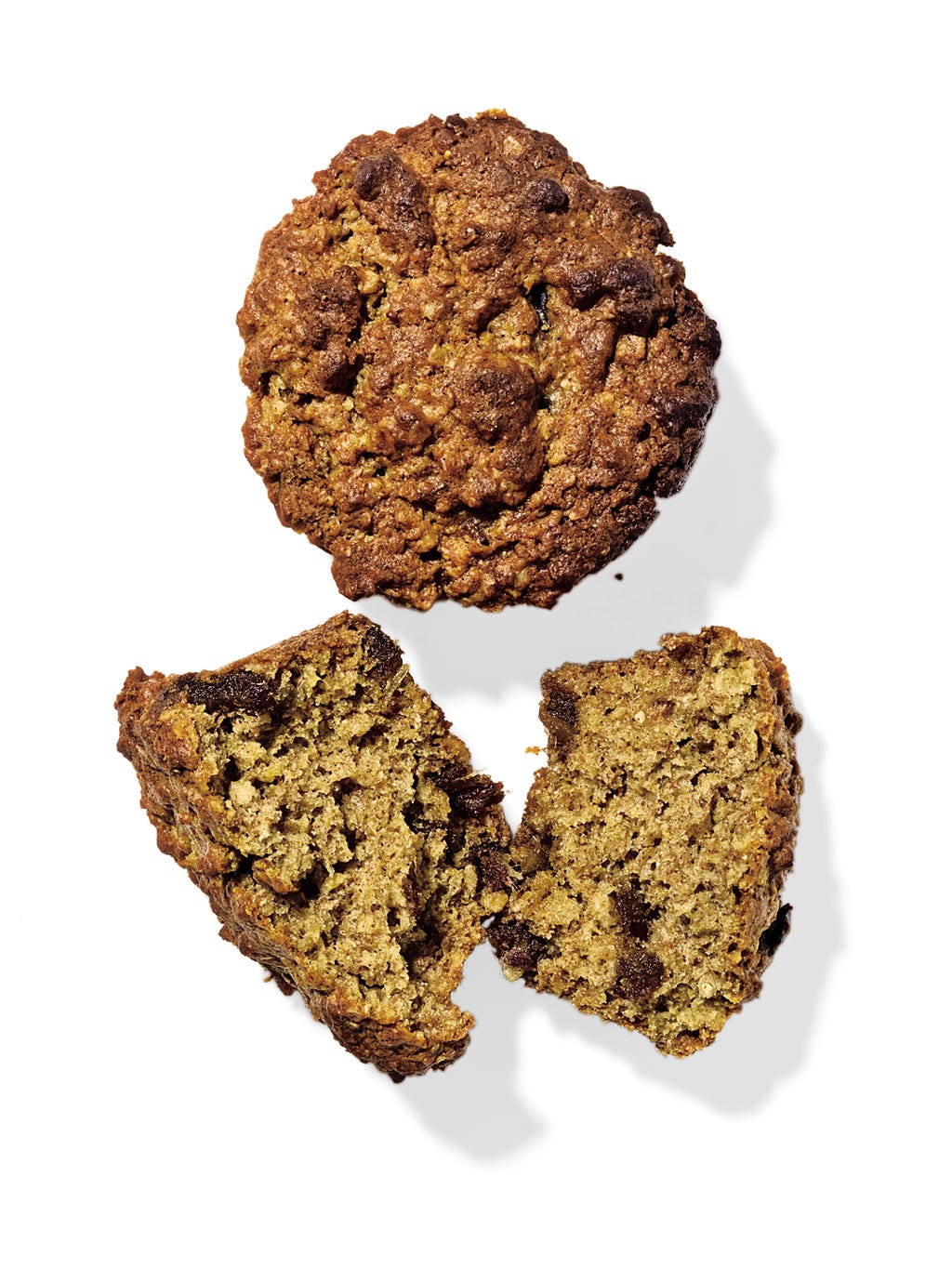 Todd Huffman
You'll feel bouncier than Shawn Johnson on a trampoline after eating one of these chewy, fruity oatmeal muffins. The natural sugars in the dates, prunes, and agave give you quick energy, but blood-sugar-regulating B vitamins in the oatmeal keep it flowing slow and steady so you don't spike and crash. And if 11 a.m. typically finds you in the office kitchen scrounging for unclaimed snacks, the impressive four grams of fiber and protein-rich whey powder are your answer, says Mayo Clinic dietitian Katherine Zeratsky, R.D.
Advertisement – Continue Reading Below
1 1/2 C oatmeal
1/3 C milk
3/4 C whole-wheat flour
1 scoop (2 heaping Tbsp) vanilla whey protein powder (such as Whey To Go Protein Powder)
2 tsp. baking powder
1/2 tsp. baking soda
2 tsp. cinnamon
14 dates, finely chopped (about 3/4 cup)
1 egg, beaten
4 tbsp. grapeseed oil
2 tbsp. agave syrup
1/2 C prune puree*
Directions
Step

1

Preheat oven to 400 degrees F.

Step

2

Combine oatmeal and milk in a bowl and let soak. In a separate large bowl, mix flour, whey protein, baking powder, baking soda, cinnamon, and dates.

Step

3

In another bowl, combine egg, oil, syrup, and prune puree. Add to oatmeal mixture, then stir in flour mix.

Step

4

Spoon batter into paper-lined muffin cups. Bake for 20 minutes or until tops spring back when lightly touched. Cool on a wire rack.

Step

5

Makes 12.
*Can't find prune puree? Head to the baby-food aisle. Two packages of Gerber 1st Foods prunes (2.5 oz each) will do the trick.
Advertisement – Continue Reading Below
Advertisement – Continue Reading Below