Always order eggs benny when out to brunch? Recreate the fave at home with this one-pan dish.
Advertisement – Continue Reading Below
Total Time:

2

hrs

30

mins
Butter, for skillet

8

English muffins, torn into small pieces

1 lb.

deli sliced ham, chopped

8

large eggs

2 c.

whole milk

1 tsp.

garlic powder

Kosher salt

Freshly ground black pepper
For the Hollandaise
4

large egg yolks

Juice of 1/2 lemon

1/2 c.

(1 stick) melted butter

Pinch cayenne pepper

Paprika, for garnish
Directions
Step

1

Butter a large oven-safe skillet. Alternate layers of English muffins and ham in skillet until they're both used up.

Step

2

In a large bowl, whisk together eggs, milk, and garlic powder
and season generously with salt and pepper. Pour mixture over
ingredients in skillet and cover with plastic wrap. Refrigerate at
least 1 hour or up to overnight.

Step

3

When ready to bake, preheat oven to 375°. Bake until bread is golden and eggs are cooked through,

1 hour. (Cover with foil if top is getting too brown.) Let cool.

Make Hollandaise

Step

1

Bring 2 inches of water to a boil in a small saucepan, then reduce heat to maintain a low simmer. In a medium heatproof bowl, whisk together egg yolks with lemon juice. Place over saucepan (be sure bottom of bowl doesn't touch water) and, while whisking vigorously, slowly add melted butter and whisk until thickened, about 2 minutes. Remove from heat and season with cayenne and salt.

Step

2

Drizzle hollandaise over bake and sprinkle with paprika before serving.
Hollandaise sauce IS FINICKY: Don't heat it too much or else the eggs will start scrambling (worst nightmare). Make sure the bowl never touches the water, and don't stop whisking.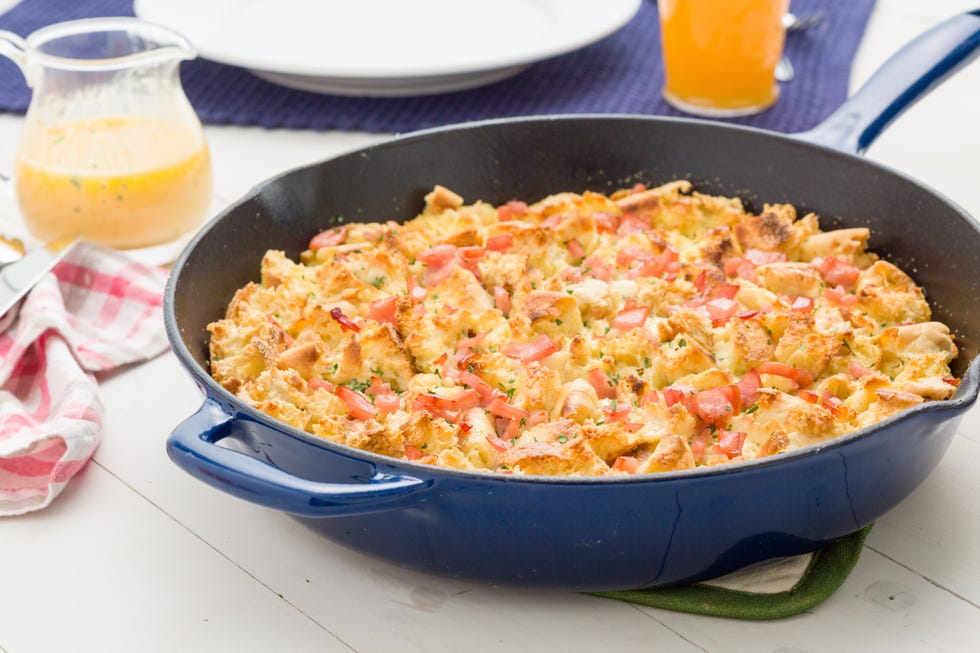 Ethan Calabrese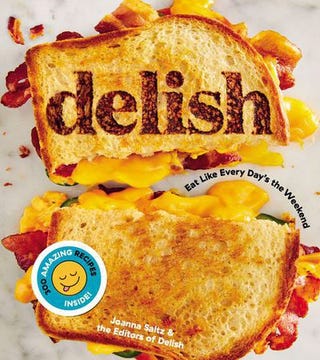 PRE-ORDER NOW Delish Cookbook, barnesandnoble.com

Lindsay Funston
Executive Editor
Lindsay Funston is the current Executive Editor at Delish, where she manages all food, culture, video and social content. She's worn many hats at the brand over the years: traveling the country in pursuit of pickles, creating gravity-defying "cheese pulls", and almost burning down the Delish kitchen with marshmallow cupcakes.