---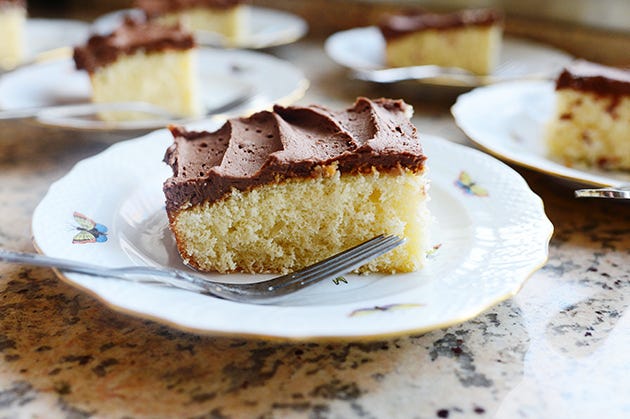 Epiphany is celebrated on January 6, and celebrates the Magi's visit to the Christ Child. Epiphany always held an added significance for my mother, because her third child—a slightly peculiar redhead who would later develop a penchant for breaking out in Ethel Merman songs in inappropriate settings—was born on Epiphany. Growing up in the Episcopal church, our congregation celebrated Epiphany each year with a party that culminated in the slicing up of an Epiphany cake, which held an assortment of trinkets. Each trinket signified something different, and it was always a fun treasure hunt to see if the piece you were handed included one. And if it didn't, you'd freak out and cry and demand another piece!
Just kidding on that last part.
I think.
Epiphany cakes hold different meanings in different cultures, regions, and churches—they're often called King Cakes, and sometimes are associated with Mardi Gras—and they're sometimes made from a yeast-based dough, puffed pastry, or a million ingredients in between. But in my Episcopalian experience, it doesn't really matter what kind of cake it is. What makes an Epiphany cake an Epiphany cake are the trinkets inside. And the significance of the trinkets.
And the meaning of the day you're celebrating.
Now, in a traditional Epiphany cake, there is only one trinket, and guess what it is? A bean. A single bean. Yippee! And the person who finds the bean is officially crowned "The King of the Feast" or "The King of Epiphany." In my church, The King of the Feast (or, in many cases, The King of the Feast's mom) receives the honor (whether or not it's considered an honor depends on the recipient!) of making the Epiphany cake the following year. But there are other trinkets with different meanings/blessing. I had to call my mom to remember what they were!
Dime – Wealth

Ring – Church's blessings

Thimble – Increased industry

Button – Increased spiritual knowledge

Baby – Will know Jesus more

Shoe – Will walk in the ways of the Lord

Fruit – Reap the fruit of Christian Living

Spinning Top – You watch too much Inception
(Forget about that last one.)
Here's how you make an Epiphany cake!
I used this basic yellow cake recipe from Better Homes and Gardens, but if I'd had a box of cake mix in my pantry, I would have used that. A basic cake was all I needed, and yellow cake with chocolate icing makes my family's heart go pitter pat.
Here's what you need for the cake: Cake flour (or you can use all-purpose, which the BHG recipe calls for), sugar, baking powder, butter, milk, vanilla, eggs, and salt.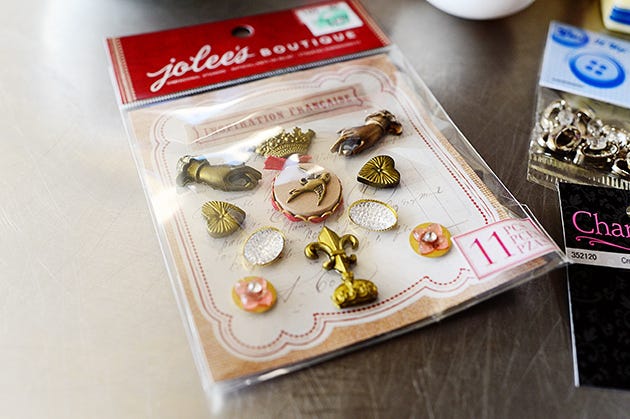 You also need trinkets! I found these at Hobby Lobby, and you can really use whatever you want.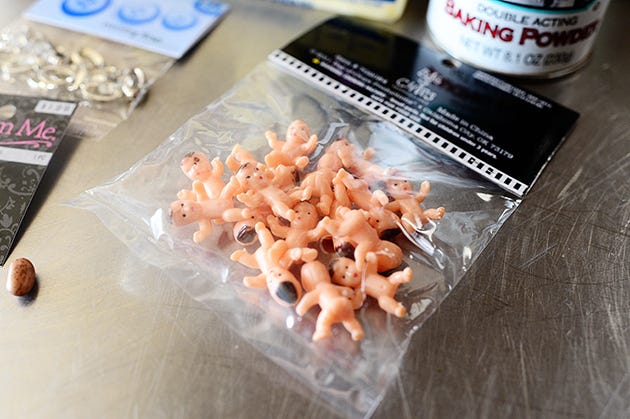 And of course, one of these would make a perfect baby Jesus.
Oh, dear.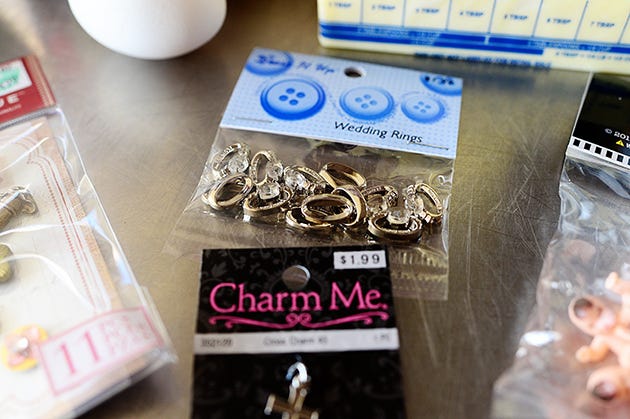 I got rings, as they seemed like something the Magi would bring the Christ King.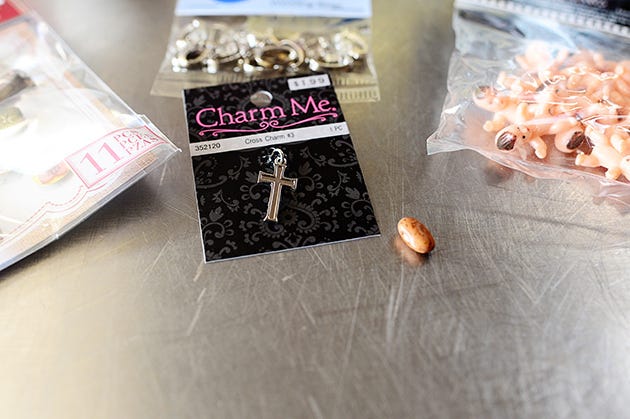 And the cross? I threw it in for good measure. Seemed appropriate.
Oh, and there's the bean.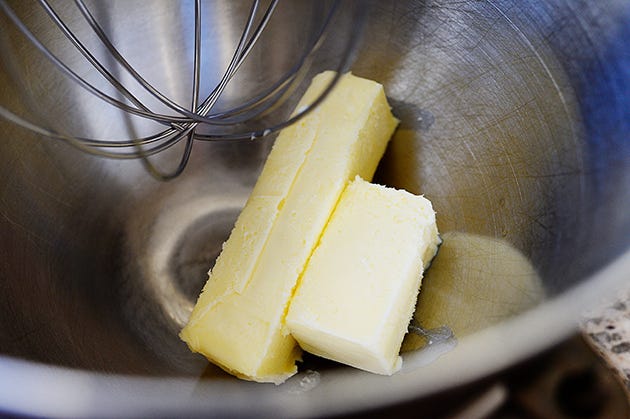 To make the cake, throw the butter into the bowl of a mixer.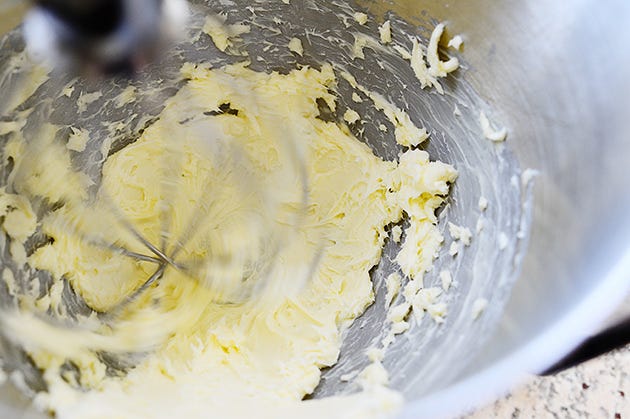 Whip it with the whisk attachment for about 30-45 seconds, or until it's nice and fluffy and soft.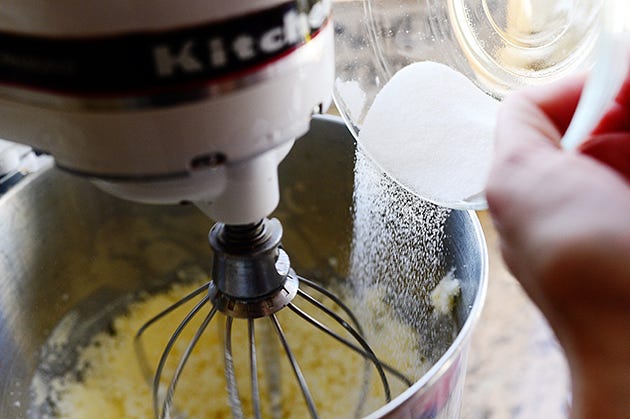 Add the sugar in about four batches, letting it incorporate with the butter after each addition.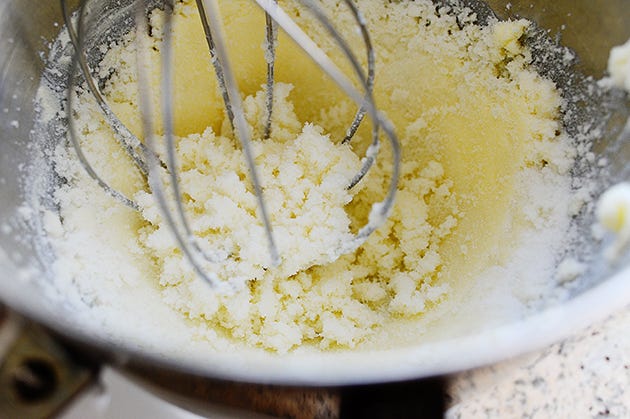 My butter was a little cold. Sorry.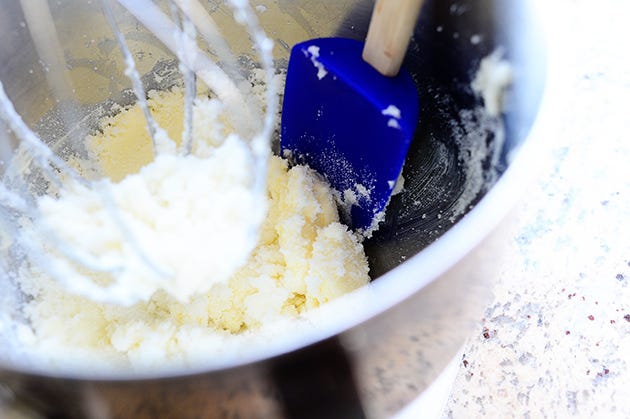 Scrape the bowl a couple of times to make sure the butter and sugar are totally fluffy.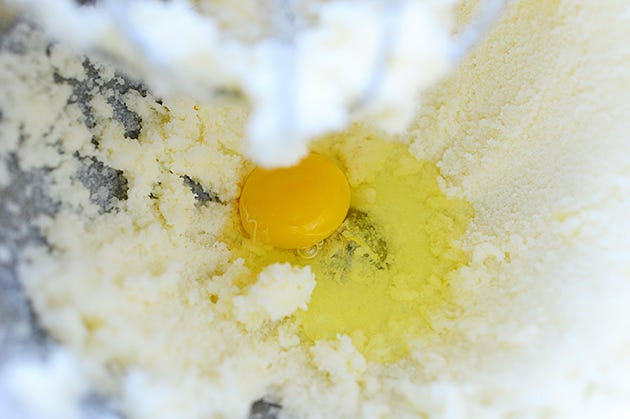 Then add the eggs one at a time, mixing it until it's all combined.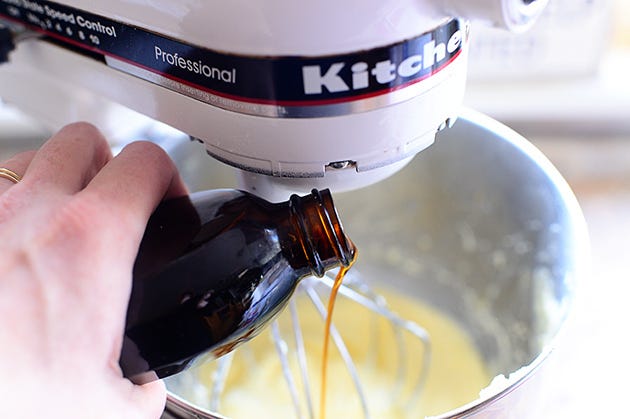 Add vanilla and mix it again.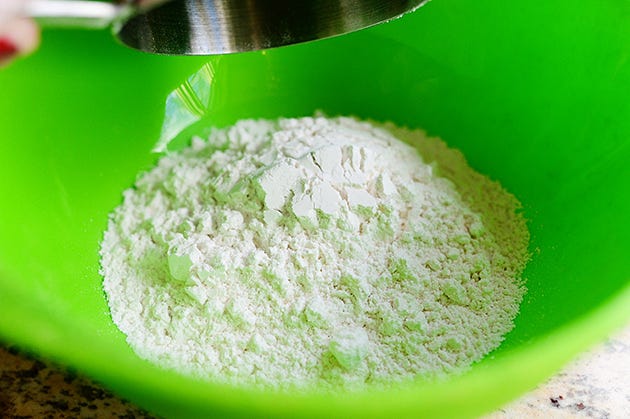 In a separate bowl, throw the cake flour…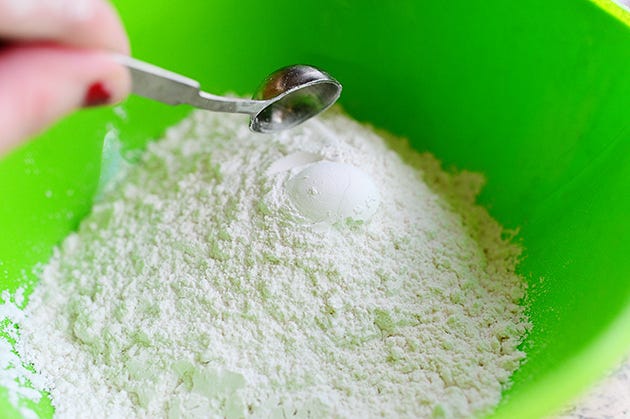 Baking powder…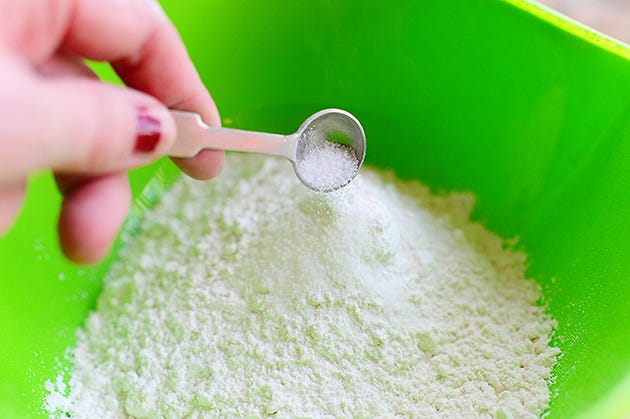 And salt.
Sorry about the nails, man. But I have to be me.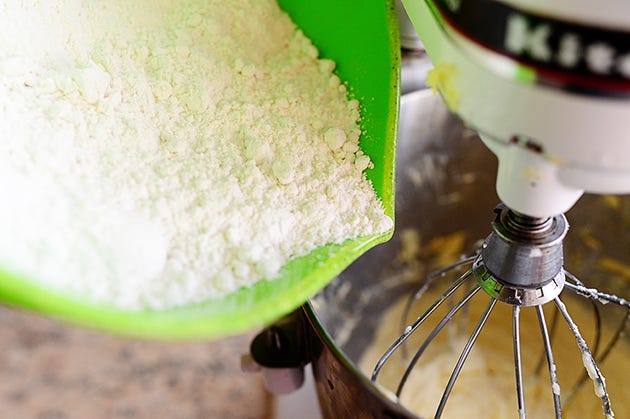 Stir around the mixture, then alternate adding it…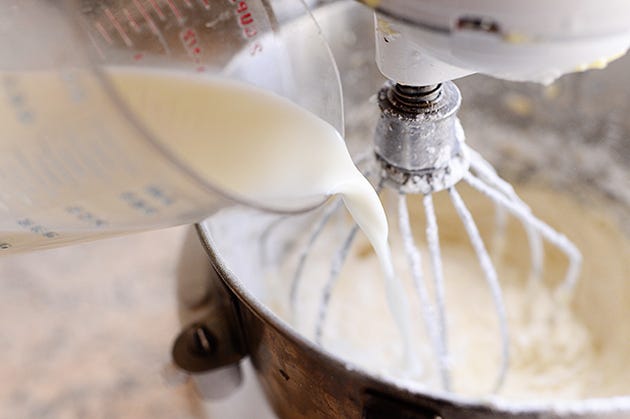 With the milk. Just keep going back and forth, barely mixing it each time…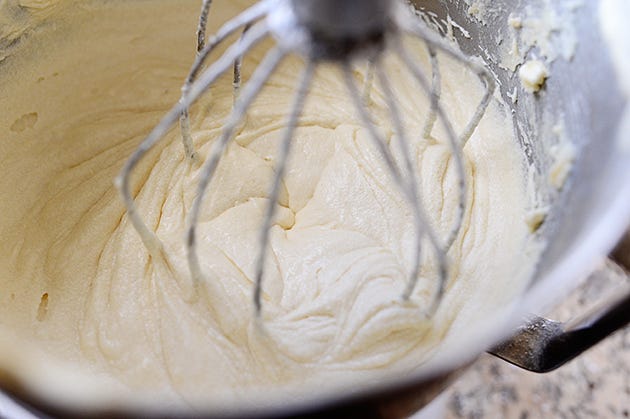 Until it's all mixed and smooth and totally lickable.
I'm Pioneer Woman, and I love to eat cake batter by the spoonful.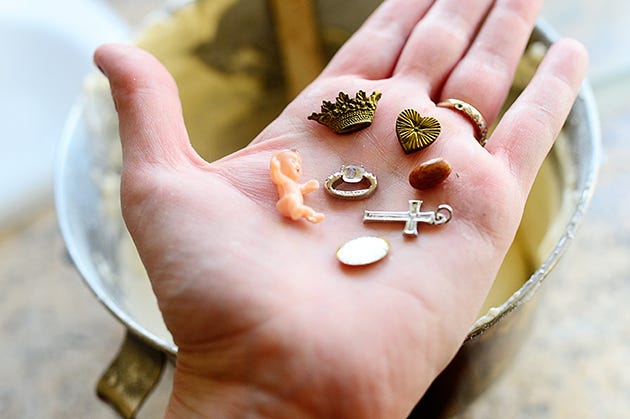 Now grab the trinkets…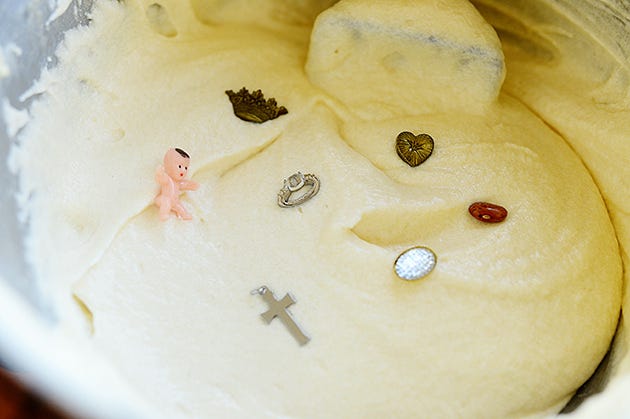 And throw them into the bowl! Then just fold them in so they're evenly distributed.
Important Note: If you don't want to throw the trinkets right into the batter, wrap them in small pieces of aluminum foil before throwing them in the batter. This creates a little bit of a barrier between the batter and the trinket, and it also gives the kids something to unwrap if they find the trinkets in their slice of cake!
But I didn't want to work that hard.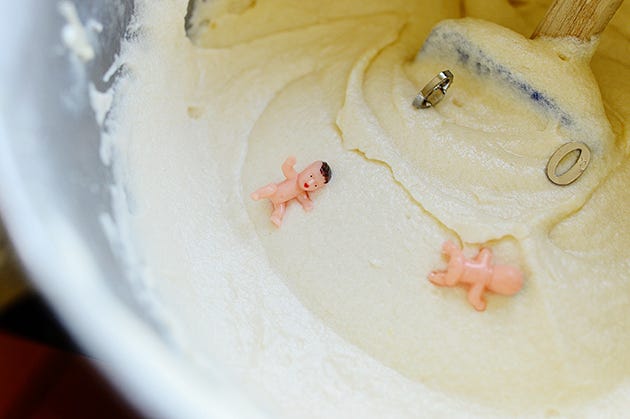 And guess what? You can also throw in a few more Baby Jesuses just to make sure the cake has plenty of surprises. It's not exactly theologically accurate…but then again, neither are electric ovens.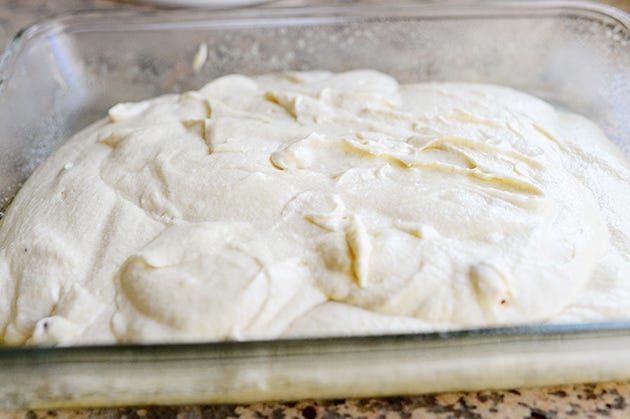 Thoroughly spray a 9 x 13 glass dish, and pour the batter right in.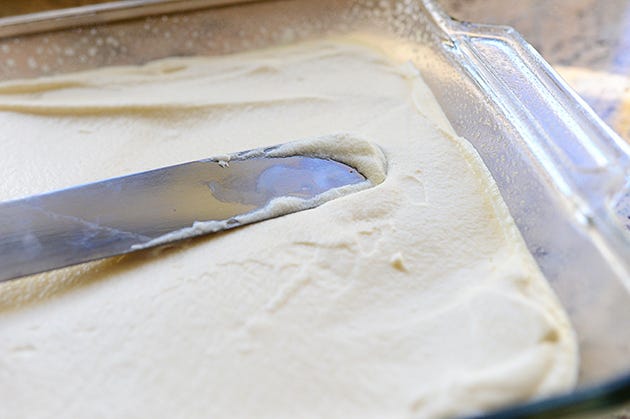 Use an offset spatula to even out the surface, then pop it into a 375 degree oven for about 20 to 25 minutes, or until it's no longer jiggly.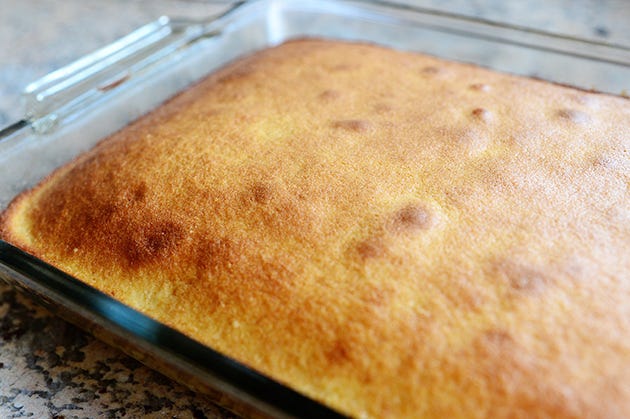 Zee cake ees done! Now just let it cool completely before you make the icing.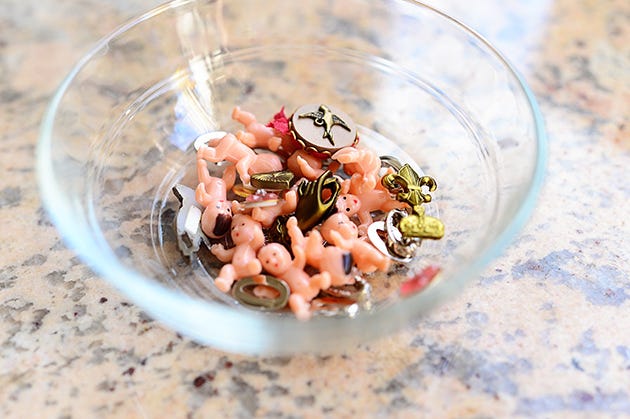 And put these away for next year!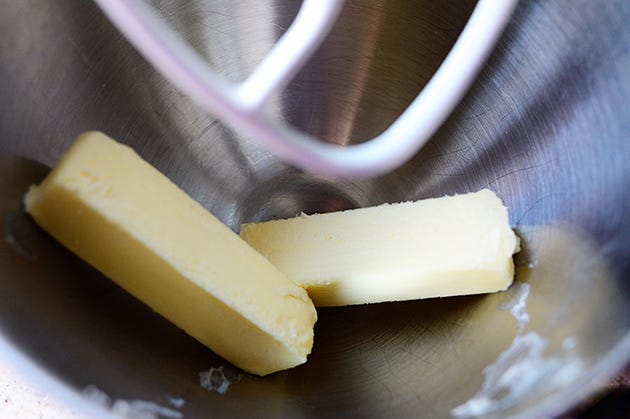 To make the icing, which comes from my friend Alice at Savory Sweet Life, throw two sticks of butter into the mixing bowl.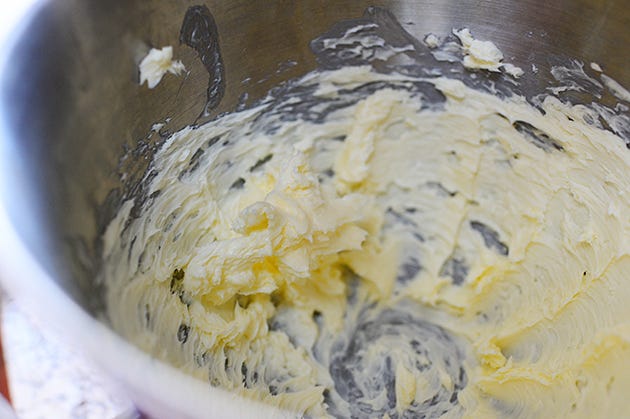 Whip it around with the paddle attachment until the butter's nice and soft.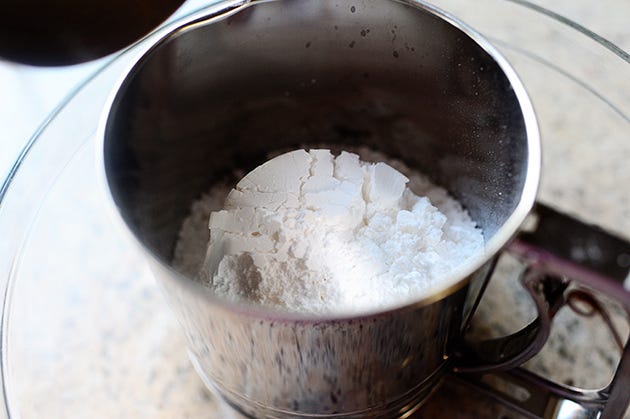 Next, sift together powdered sugar…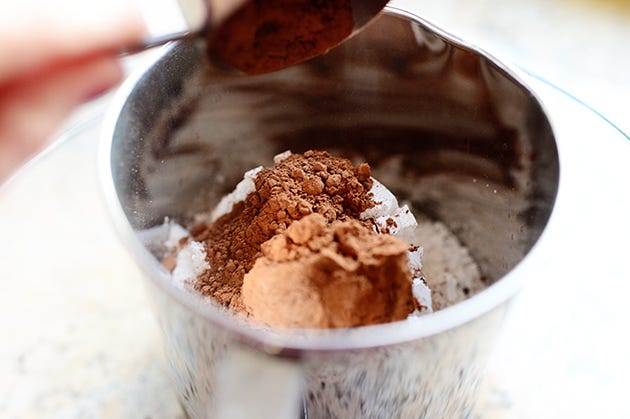 And cocoa.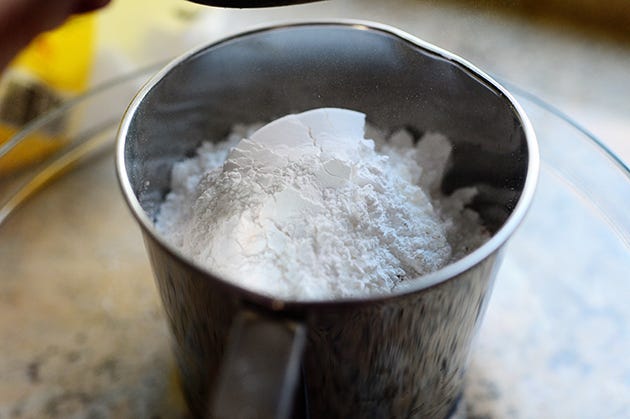 I like to layer them in the sifter so they'll sift evenly together.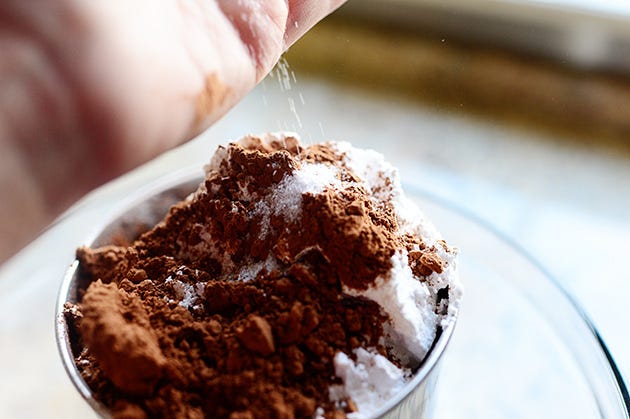 Add a little salt at the end…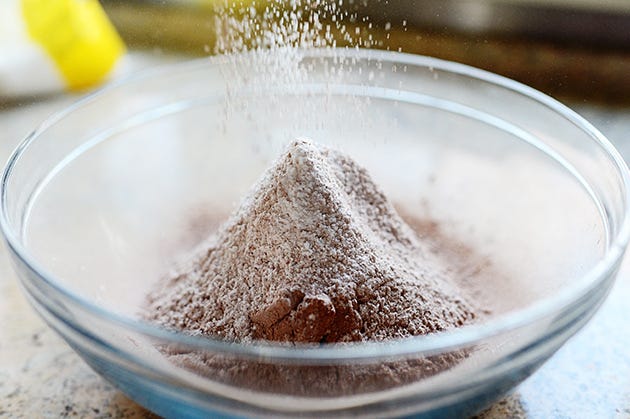 Then sift away!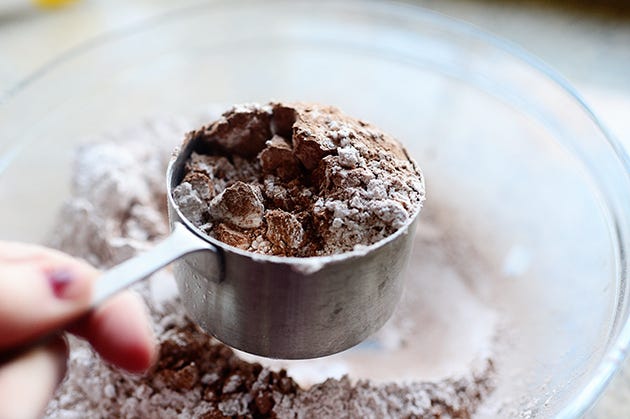 Add the sifted mixture a cup at a time…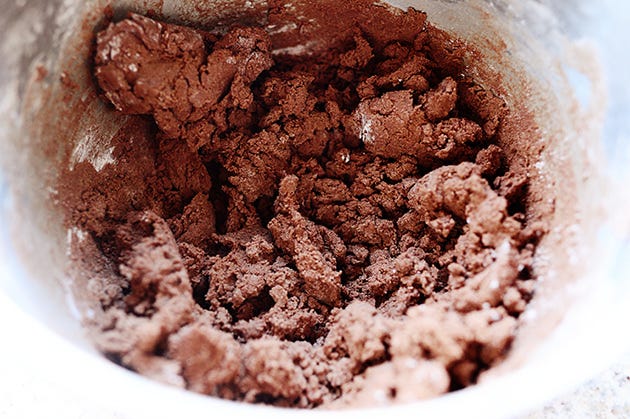 Until everything's a big, clumpy mess.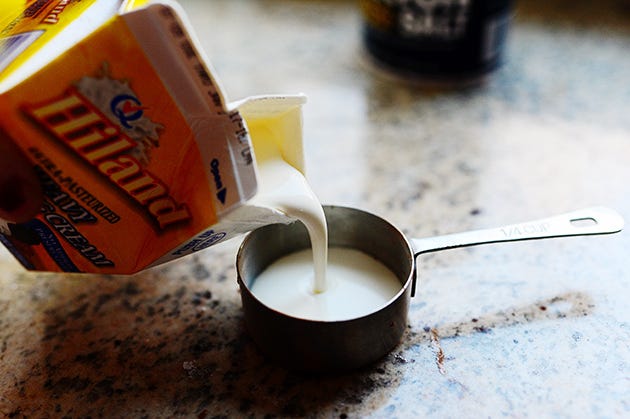 Next measure some heavy cream…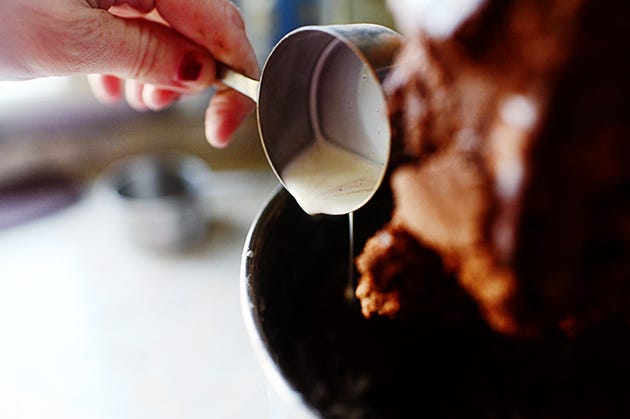 And drizzle it into the mixture.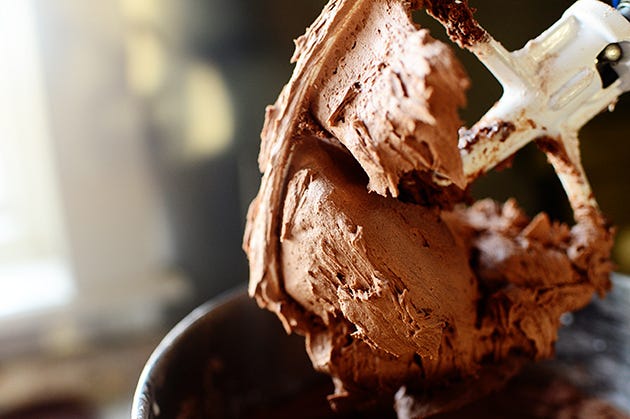 Whip the heck out of it until it's nice and smooth…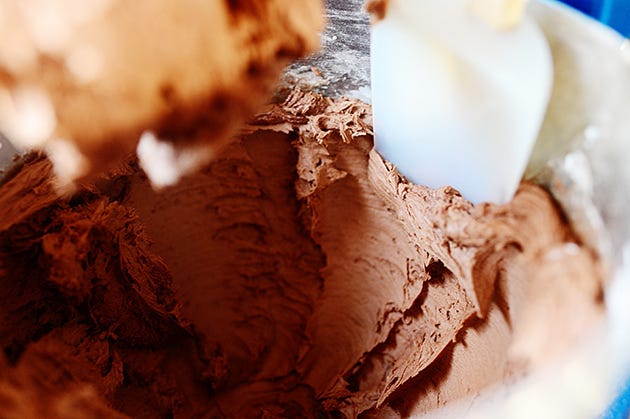 And you'll definitely want to scrape the toward the end, then mix it again. A messy but really decadent icing. Love this stuff.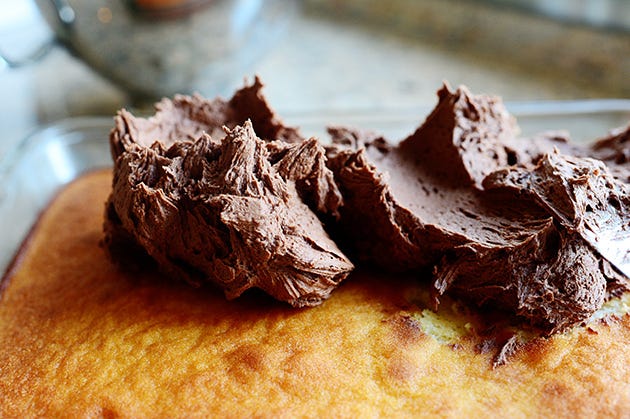 Plop it on top of the cake…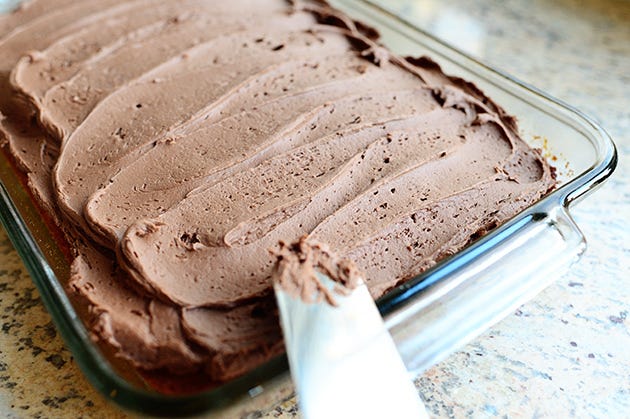 Then ice away!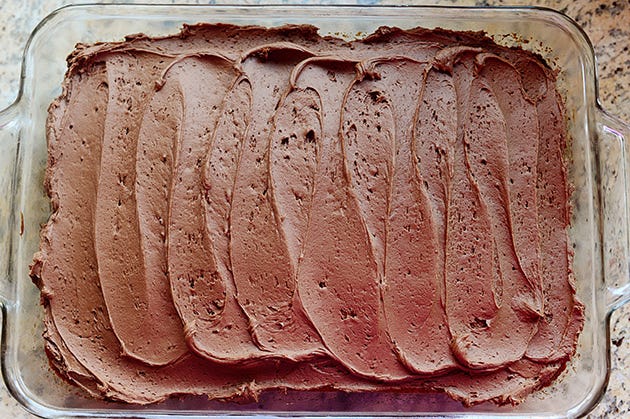 Glory Hallelujah.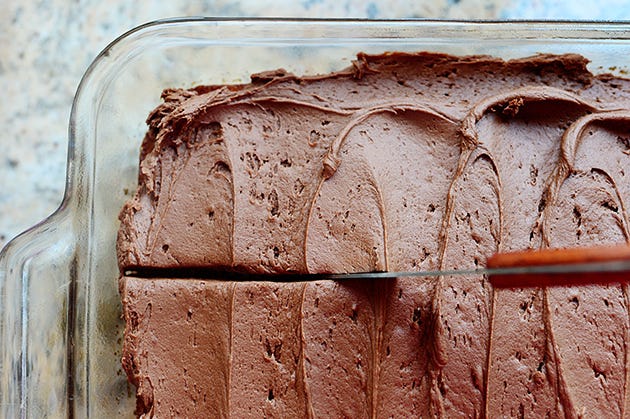 Cut the cake in 12 to 16 slices…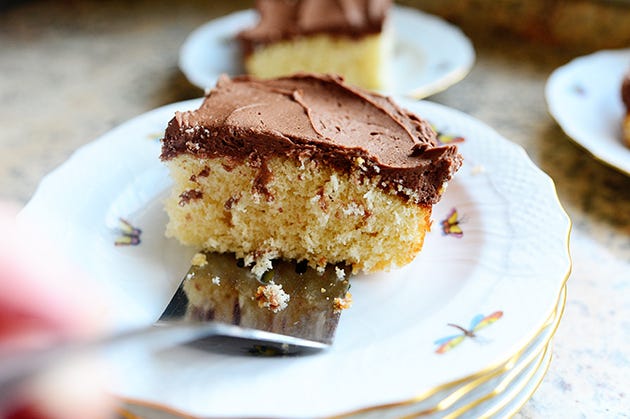 And serve 'em up!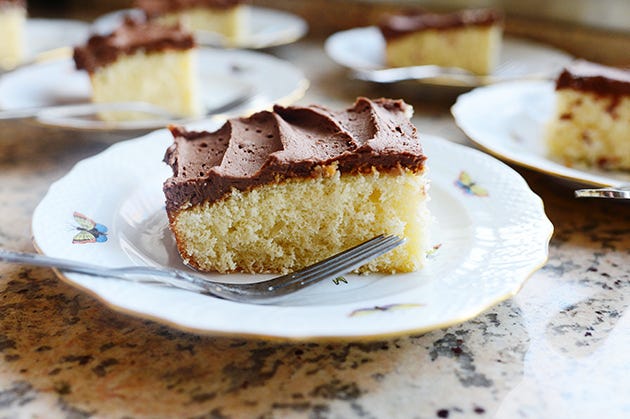 It's fun to try to find one of the trinkets as you're slicing the cake.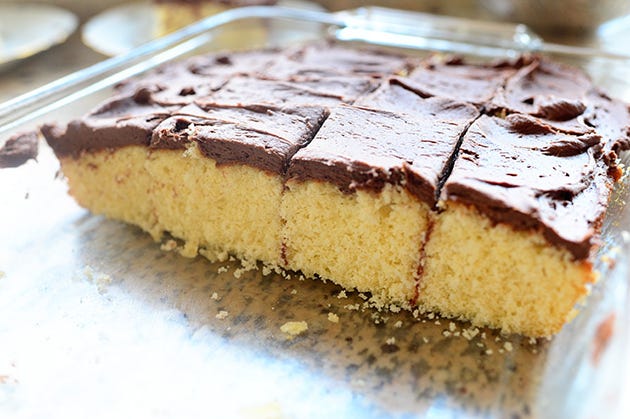 They're hiding!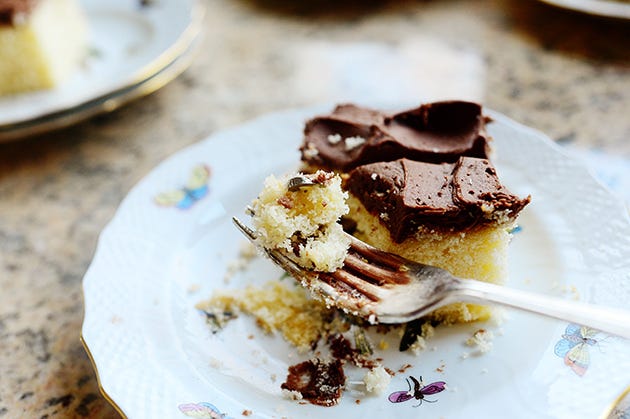 Oh…bingo!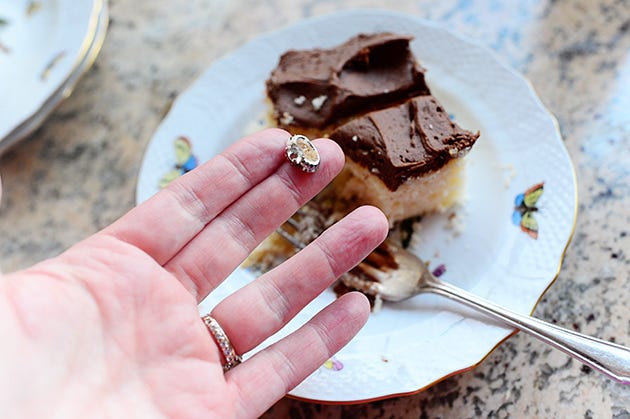 The ring.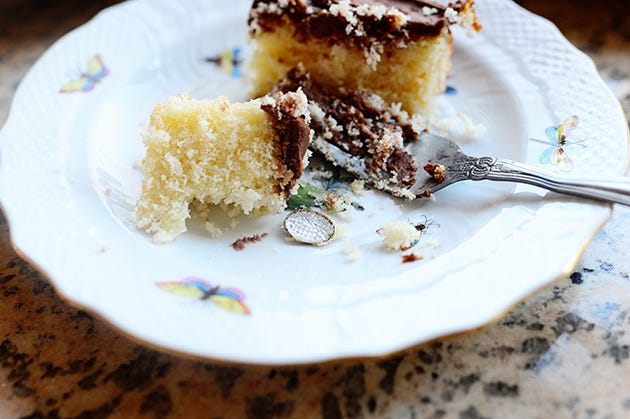 This pieces has one of the jewels…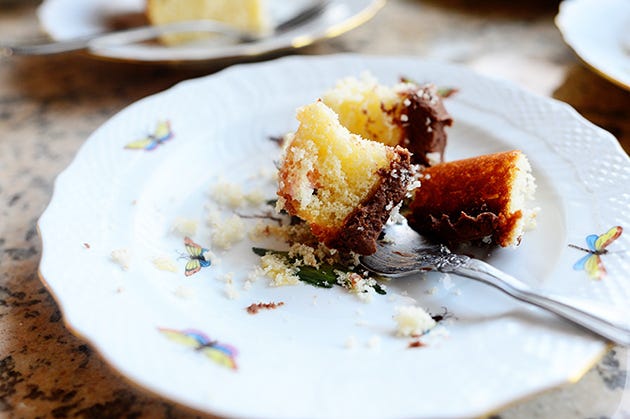 And ooooh…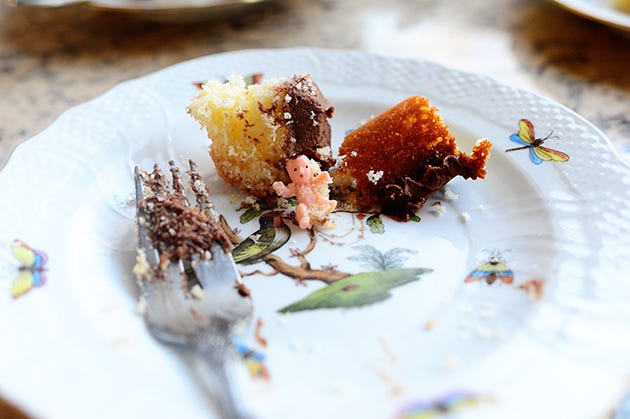 A Baby Jesus. Score! A direct hit!
Another Important Note: You definitely want to tell everyone you're serving that there are trinkets in the cake. If you use a light colored cake, it's pretty easy to see them.
Happy Epiphany!
Here's the printable, but again, note that you can use absolutely any cake of your choice.