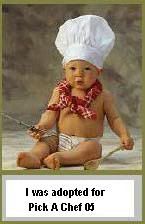 ">
Say Hi to my Toy Poodle Peek-A-Boo!
She was born on Mothers day, 2007
About Me ~ I was born in Arlington Virginia. My Mother and Father both worked for the F.B.I. After I was born we moved back to Tennessee, Where my parents were born. I have remained here because of the beautiful Mountains! We bought a Home overlooking the mountains of Cumberland Gap Tn.
I love to cook!!! Before I became disabled, I worked as a Caterer and as a Supervizing Manager in a Deli/Market for 15 years. It was my life. I miss it very much.
I have learned alot about cooking and baking from my Grandmother's and my Aunt's.We do a lot of canning, things like Jellies and Apple butter, Chow Chow,Mixed pickles, Strawberry jam, Gr. Beans and Pickled Beats. And my favorite is the homemade Strawberry Jam. We have even had several Mollasses Stir Offs in the Fall at my Church & we make Apple Butter and Cider. I was raised in the Southeast and we love to COOK. It must be something in the water? LOL & If it involves cooking count me in!!!
I Love the Food Network and all the cooking shows. I Have found alot of great recipes and made alot of friends from this Web site.
Participation Awards: