Recipe: flourless chocolate espresso truffle cake
Sometimes I'm bad at following instructions and other times I'm great at it. For instance, in the past several months, many wonderful bloggers have tagged me for various blogging awards. The gist of the blogging award is to display it in a post or on your blog, write whatever it is the award/meme wants you to write, pass it along to other recipients, and name the one who bestowed it upon you. I used to try and keep up with these, but after a while I just couldn't. As they piled up, I was less and less inclined to get around to them. So I hope all of the nice people who passed awards on to me aren't offended, but I don't see these making it to post at all. Thanks for thinking of me, really. I just find the whole award business to be one of those "we're all going to break our arms patting each other on the back" deals.

chopped valrhona semisweet chocolate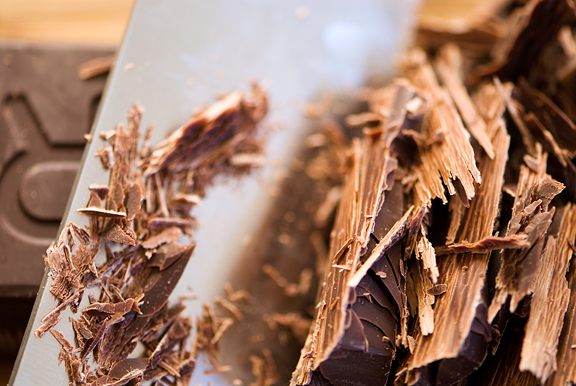 processed into fine crumbs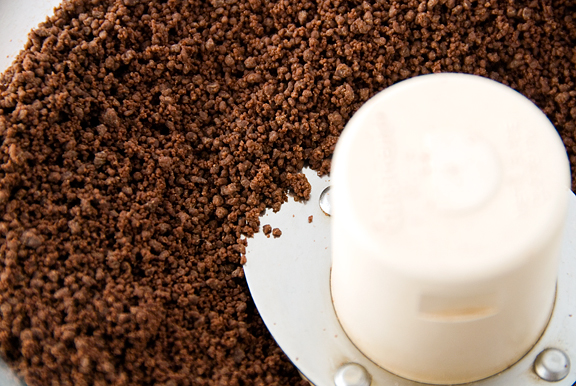 I've also completely ignored calls for me to rest. This is the eleventh time in ten months I've had to recuperate from surgery, chemo, radiation, or GI infection. I'm pretty familiar with what my body needs and doesn't need, what it can and cannot do. The whole notion of rest is a nice one, but there are times when you need to use your muscles or else you are going to lose your muscles. That doesn't mean I'm going to go out and run a 100-mile overland race, but it does mean I will get up and about and do what I feel I am capable of doing.
That said, I am very good at following the directions of doctors, coaches, (most) professors, instructors, and anyone working at McGuckin Hardware in Boulder. Dr. McHottie (my ER surgeon – that's not his real name, but Mollie inspired the nickname) has instructed me to use my judgment and increase activity slowly and cautiously. Yessiree.

sugar and espresso powder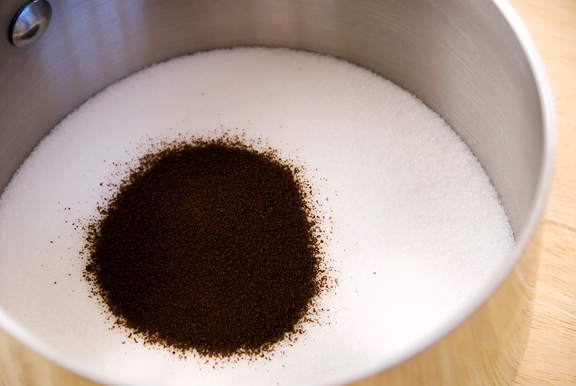 pouring espresso syrup into the chocolate
Jeremy's birthday was a few days ago, but I wasn't in any shape to bake him a cake. Good thing neither of us gets our panties in a wad over special dates – especially missing them – otherwise this would have been a year rife with stupid spats and temper tantrums. Because both of our birthdays are in September, we just treat the whole month as a lazy celebration of sorts. So today I got back to baking and I tried a flourless chocolate cake recipe as a nice warm up for Jeremy's birthday cake.
blend until smooth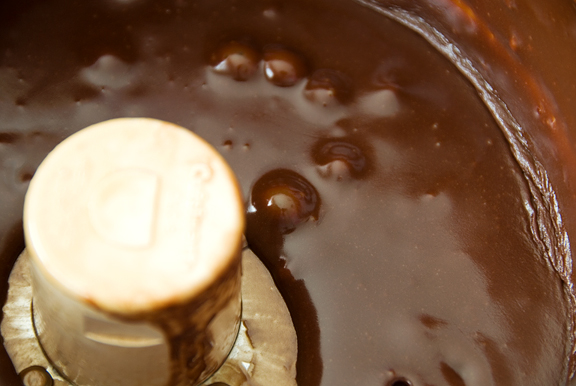 add butter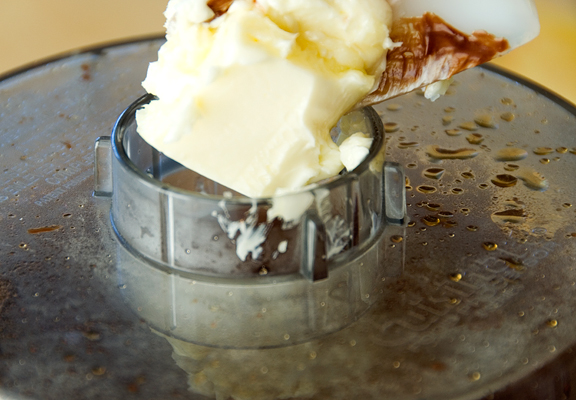 The last time I made a flourless chocolate cake (Boca Negra from Baking with Julia) I had issues with the cake setting because of my elevation. That was frustrating considering it was right before a dinner party. This time, I decided to try a version intended for high altitude, thanks to Susan G. Purdy. It's pretty easy to make (assuming you don't let the sugar syrup boil over like I did) and she gives directions for both sea-level and several other elevations.
pour batter into cake pan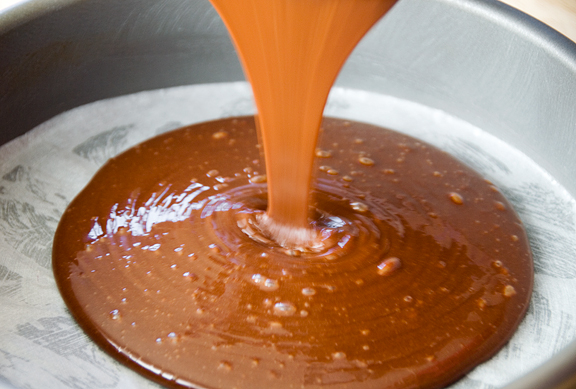 decorate
The flavor will depend on the quality of the chocolate you use. I opted for Valrhona 61% and I think the cake is pleasantly chocolaty, yet not too sweet, and enhanced with that hint of sharpness from the espresso. The texture at room temperature is silky and creamy. If you chill the slice, the mouth feel is more gooey and rich. Quite lovely topped with some fruit and barely sweetened freshly whipped cream.
now there's a happy slice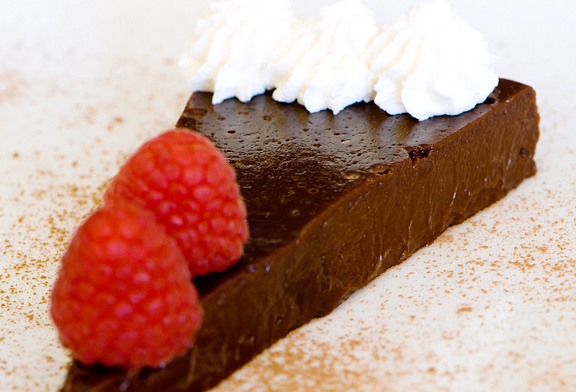 Flourless Chocolate Espresso Truffle Cake

[print recipe]

Pie in the Sky by Susan G. Purdy
8 oz. semisweet chocolate, coarsely chopped

1/2 cup water

1 cup sugar

2 tsps instant espresso powder

1/2 lb. unsalted butter, room temperature and cut into tbsp pieces

4 large eggs, room temperature
Sea level: Position rack in lower third of oven and preheat to 350°F. Have a roasting pan large enough to hold the cake pan at the ready.
8500 feet: Position rack in center of oven and preheat to 375°F. Place a roasting pan in oven and pour boiling water in to a depth of 1/2 inch.
All altitudes: Butter a 9×2-inch round cake pan. Place parchment paper on the base and brush butter over the paper. Put chocolate in the bowl of food processor and process for a minute until reduced to fine powder (I could only process it into fine crumbs). In a small saucepan, combine water, sugar, and espresso powder. Stir over medium heat until sugar and coffee dissolve. Bring syrup to point where you see little bubbles at the edges just before reaching a full boil (watch it carefully, it can boil over in seconds). Remove from heat. With processor running, slowly pour hot sugar syrup through the feed tube into the chocolate. Process for about 10 seconds to melt all the chocolate. Stop the processor, scrape down the bowl, and pulse a few more seconds. With machine running, add soft butter 2 pieces at a time, allowing them to melt completely (about 20 seconds) before adding more. When all the butter is added, pulse several times and scrape down the bowl to make sure the mixture is smooth. Break the eggs into a measuring cup with spout. Beat the eggs lightly then slowly pour them through the feed tube into the chocolate mixture, pulsing every few seconds to blend. Pulse just enough to incorporate without blending in too much air. Scrape the batter into the prepared pan.
Sea level: Boil a kettle of water. Set the cake pan in the roasting pan and place both on the oven shelf. Pour the boiling water carefully inot one corner of the pan to a depth of 1/2 inch. Bake for 30 to 38 minutes or just until the batter no longer sticks to your fingertip when you touch the top of the cake.
8500 feet: Carefully set the cake pan in the middle of the roasting pan of preheated water. Reduce temperature to 350°F. Bake for 25 to 33 minutes or just until the batter no longer sticks to your fingertip when you touch the top of the cake.
All altitudes: Remove both pans from oven (take care not to splash water). Lift the cake out of the roasting pan and set it on a wire rack to cool for 20 to 30 minutes until the pan bottom feels just comfortably warm to the touch. When cake is cooled, run a knife along the cake side to loosen it from the pan. Cover the top of the cake with plastic wrap and top the plastic wrap with a cake circle. Invert the cake pan and let the cake slide out with a gentle downward shake. Lift off the pan and peel off the parchment. Center a second plate over the cake and invert again. Remove the top plate and plastic. Decorate and serve or refrigerate until 30 minutes before serving.
September 16th, 2008: 5:05 pm

filed under baking, caffeine, cake, celebration, chocolate, confections, dessert, recipes, sweet