These flourless white chocolate blueberry muffins are gluten-free, oil-free, and dairy-free, but so soft and tender that you'd never be able to tell they're healthy! Whipped up in the blender in under 5 minutes flat, they make a delicious breakfast or snack!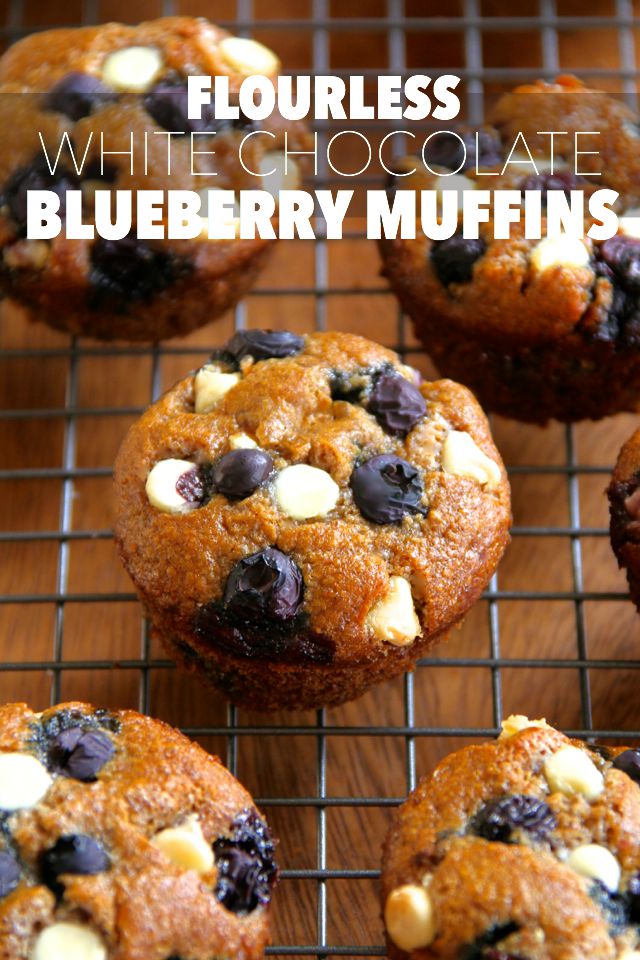 So I didn't even realize that it's been over two.whole.months since I posted a recipe for flourless muffins… and that's just not okay.
I usually try to make at least one new batch a month for you guys, but the last one to make an appearance was a much-loved chocolate zucchini, and that was all the way back in the beginning of June. Oops. I'm not sure what the heck happened to July, but what's say we end the muffin drought with a new summer-inspired batch for August…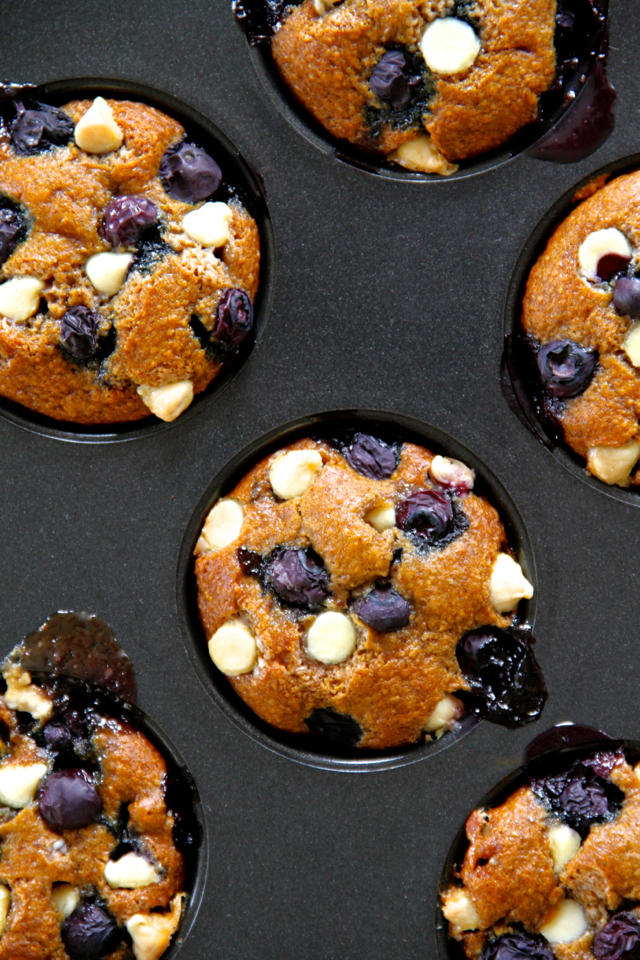 White.chocolate.blueberry. Swoon.
Remember how I promised not to include any chocolate in my next (read: this) recipe after bombarding you guys with a few back to back cocoa creations inspired by my very real (and ongoing) addiction? White chocolate doesn't technically count since there's no actual cocoa in it. If anything, it makes me think of some sort of candy… or at least that's the first thing that came to mind when I opened the bag and got a whiff of that sweet, sweet aroma. At which point I may or may not have started playing one of my favourite games — one for the bowl, two for my mouth.
Mmm hmm. There are definitely some perks to this baking business…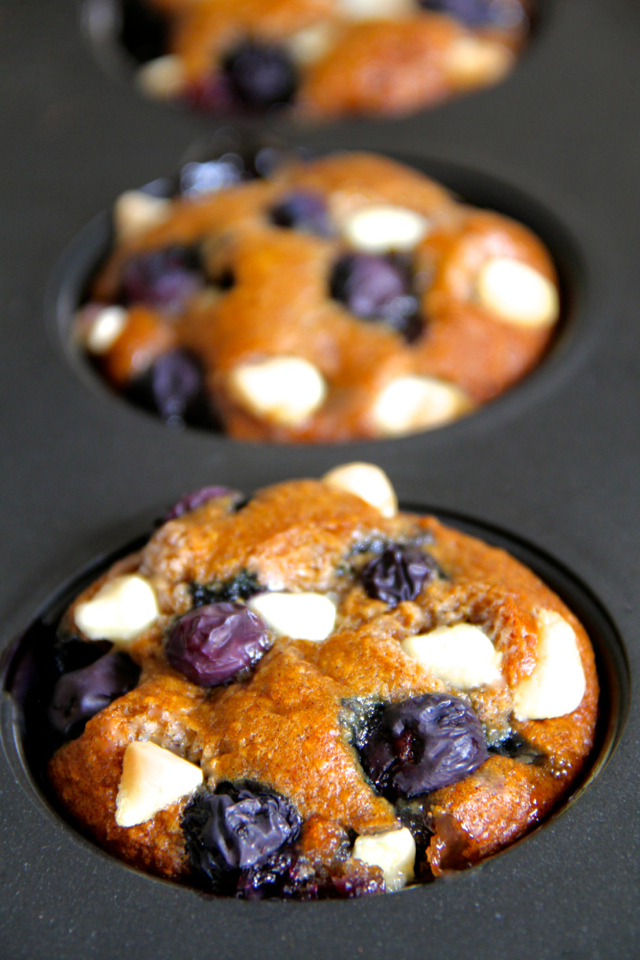 And if white chocolate isn't your jam? I'm betting that milk, semi-sweet, or dark work just as well. I just opted for white because it makes a killer combo and I find that the extra sweetness of the chips helps balance out the slight bitterness of the berries.
Riddle me this. Why is it that berries tend to get more bitter when they're cooked, whereas almost every other fruit gets sweeter? I'd Google it and let you know, but… knowing me? My online ADD would kick in and I'd start clicking through to 100 different links, end up with 20 open tabs in my browser (I've got 10 as is), and not manage to get this recipe up for you guys in time… which would be a shame because you need this kind of deliciousness in your life…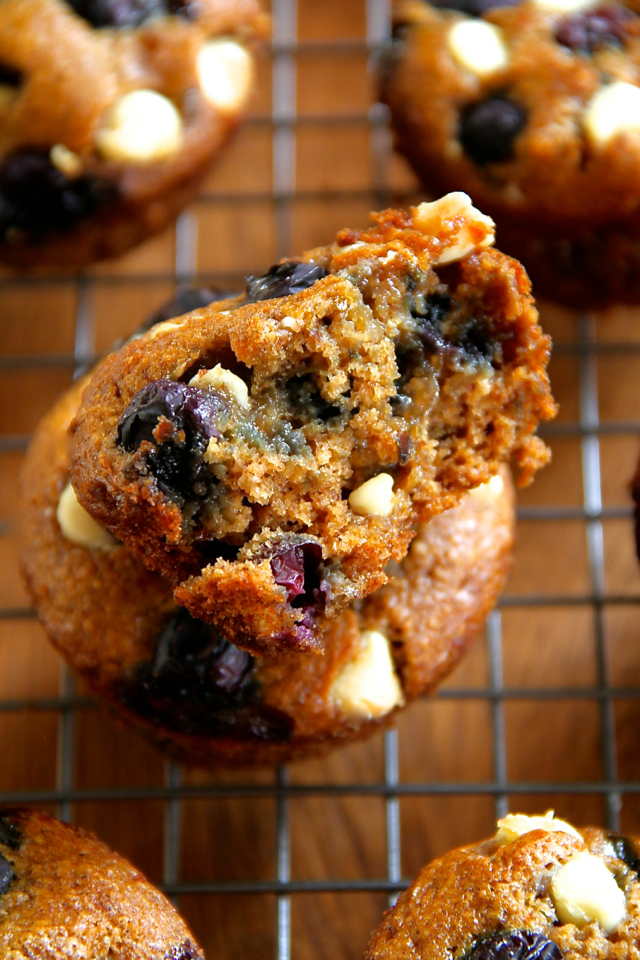 Flourless muffin are, without a doubt, some of the most popular recipes here on Spoons, and you'd understand why if you ever had a taste…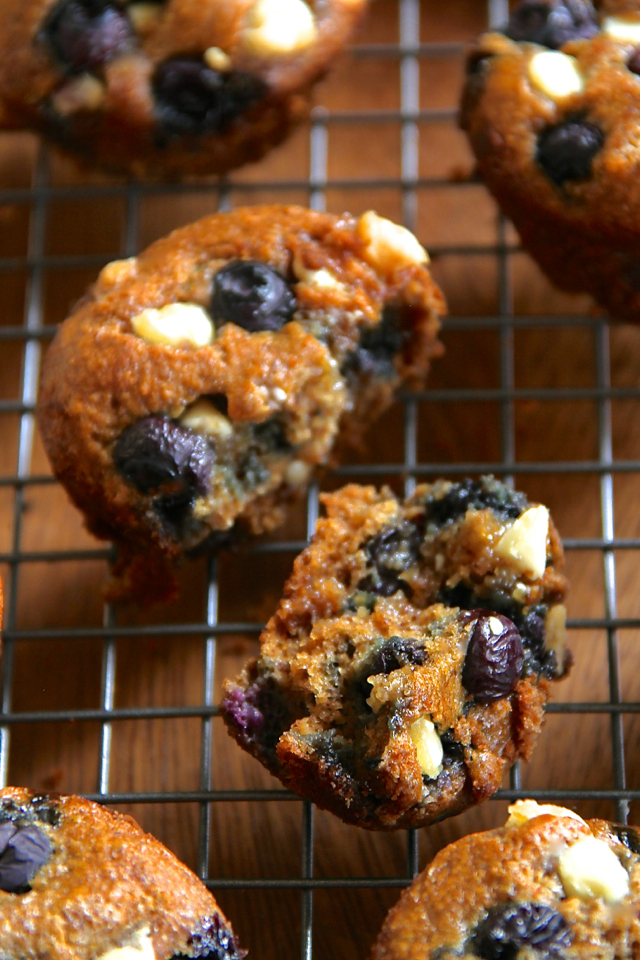 They're slightly denser and fudgier than your average muffin because of the fact that they don't have any flour to fluff them up, but that just puts them somewhere between a muffin and a brownie (or blondie), which is never a bad thing in my books. And they're so ridiculously soft and tender, that they literally melt in your mouth.
They're also gluten-free, dairy-free, oil-free, refined sugar-free, and easily made nut-free with one simple substitution.  And the best part is that you only need about 5 minutes and a blender/food processor to whip them up. Well, that and some patience to get you through the 20 minutes of delicious smells wafting from your kitchen… but I promise you that the wait is more than worth it.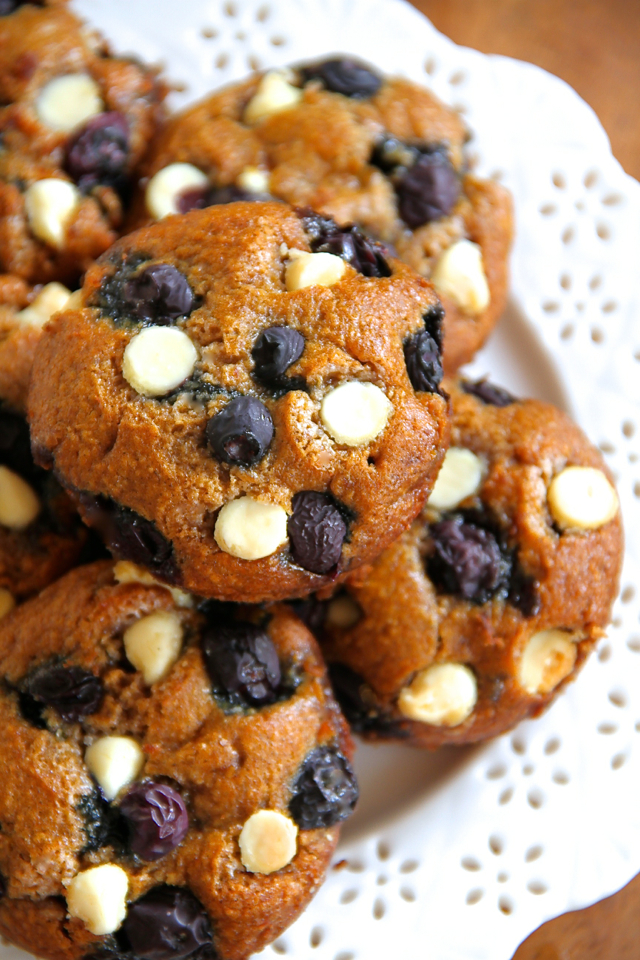 I'd love to know if you make this recipe! Leave a comment and rating down below to let me know what you think, and subscribe to our mailing list to receive new recipes in your inbox!
Print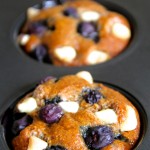 Flourless White Chocolate Blueberry Muffins
---
Author:

Amanda @ Running with Spoons


Total Time:

25 mins


Yield:

9

muffins

1

x
1/4 cup

almond butter*

1

ripe medium banana

1

large egg

¼ cup

honey

3/4 cup

rolled oats**

2 Tbsp

. ground flaxseed

1 tsp

. vanilla extract

½ tsp

. baking soda

1/2 cup

fresh blueberries, coated with 1/2 Tbsp. cornstarch***

1/4 cup

white chocolate chips
Prevent your screen from going dark

---
Instructions
Preheat oven to 350F and prepare a muffin pan by spraying 9 cavities with cooking spray. Set aside.
Add all ingredients except for blueberries and chocolate chips to a blender and blend on high until oats are broken down and batter is smooth and creamy. Stir in blueberries and chocolate chips by hand.
Pour batter into prepared muffin pan, filling each cavity until it is about ¾ full.
Bake for 10-12 minutes, until the tops of your muffins are set and a toothpick inserted into the middle comes out clean. Allow muffins to cool in pan for ~10 minutes before removing. Store in an air-tight container for up to a week.
Notes
* You can easily sub this out with another nut butter, or use a sunflower seed or soy nut butter to make these nut-free. ** Make sure to use certified gluten-free oats if you need these to be gluten-free. *** The cornstarch absorbs some of the liquid that the berries release while cooking, preventing the finished muffins from becoming too soggy. You could probably also coat them with oat or coconut flour.
Prep Time:

5 mins

Cook Time:

20 mins
Keywords: blueberries, blueberry muffins, flourless muffins, gluten-free, healthy, healthy blueberry muffins, muffins, recipe, white chocolate, white chocolate blueberry muffins

Looking for more flourless muffin recipes? Try one of these!
Flourless Chocolate Zucchini Muffins
Flourless Banana Bread Muffins
Flourless Morning Glory Muffins
Banana Oat Greek Yogurt Muffins
Flourless Chocolate Chip Zucchini Banana Muffins