Think of these sweet treats as corn muffins times two: They get flavor from both cornmeal and lots of fresh corn. The crumb is delicate and moist.
Advertisement – Continue Reading Below
1 c. all-purpose flour
3/4 c. fine stone-ground cornmeal
1/4 c. rye flour
2 tbsp. rye flour
1 tbsp. baking powder
1/2 tsp. baking soda
1 1/2 c. buttermilk
1/2 c. canola oil
1/4 c. honey
6 tbsp. unsalted butter
1/4 c. sugar
1 3/4 tsp. kosher salt
4 large eggs
1 c. fresh corn kernels
Directions
Step

1

Preheat the oven to 400 degrees F and line two 12-cup muffin tins with paper or foil liners. In a medium bowl, whisk the all-purpose flour with the cornmeal, rye flour, baking powder, and baking soda. In another medium bowl, whisk the buttermilk with the oil and honey.

Step

2

In a stand mixer fitted with the paddle or using a handheld electric mixer, beat the butter, sugar, and salt at medium-high speed until light and fluffy, 1 to 2 minutes. Beat in the eggs 1 at a time, scraping down the side of the bowl as needed. Add the dry ingredients and beat at medium speed until evenly combined. At low speed, gradually beat in the buttermilk mixture until just incorporated, then fold in the corn.

Step

3

Spoon the batter into the prepared muffin cups. Bake for about 15 minutes, until a toothpick inserted in the center of the muffins comes out clean. Let the muffins cool in the pans for 10 minutes before turning them out onto a rack to cool completely.

Looking for more dessert ideas? Check out our homemade chocolate chip cookie recipes, apple pie recipes, and chocolate cake recipes.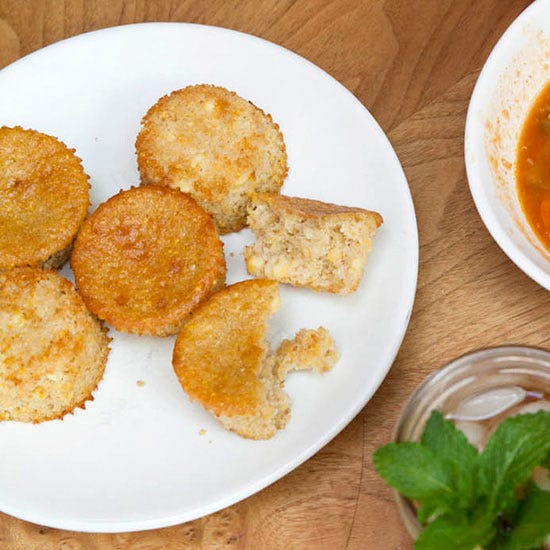 Brigitte Sire
Advertisement – Continue Reading Below
Advertisement – Continue Reading Below