When farmers' markets are in full swing, cookbook author and hunter Georgia Pellegrini loves making these jumbo sugar-topped muffins with fresh strawberries and rhubarb.
Advertisement – Continue Reading Below
3 c. all-purpose flour
3/4 c. turbinado sugar
1 tbsp. baking powder
1/2 tsp. baking soda
1 tsp. kosher salt
1 stick unsalted butter
2 tbsp. unsalted butter
2 large eggs
1 1/2 c. buttermilk
1 3/4 c. diced strawberries
1 3/4 c. diced fresh rhubarb
1 tsp. finely grated lemon zest
Directions
Step

1

Preheat the oven to 375 degrees F and position the rack in the lower third of the oven. Coat 6 jumbo muffin cups with nonstick baking spray. In a large bowl, mix the flour with the sugar, baking powder, baking soda, and salt. In another large bowl, beat the butter with the eggs until well combined. Fold in the dry ingredients and buttermilk in 2 alternating additions, then fold in the diced strawberries, rhubarb, and the grated lemon zest.

Step

2

Spoon the batter into the prepared muffin cups and sprinkle the tops generously with sugar. Bake for 50 to 60 minutes, until golden on top and a toothpick inserted in the center of a muffin comes out clean. Transfer the muffins to a rack to cool before serving.

Looking for more breakfast recipes? Start the day with one of our French toast recipes, easy quiche recipes, or breakfast casserole recipes that feed the whole family.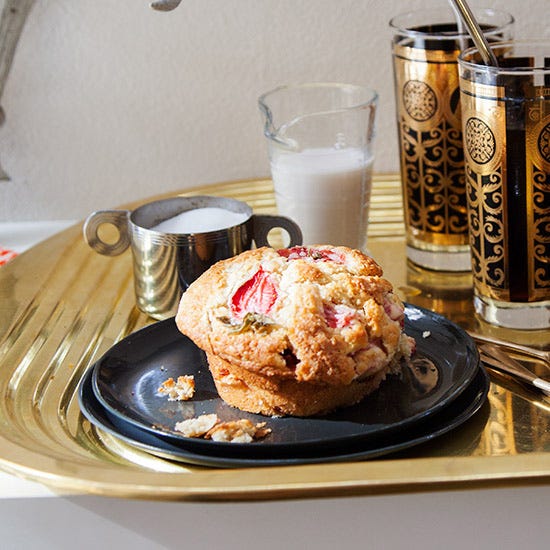 Cedric Angeles