by Joy the Baker 151 Comments
What is it with me?  I'm always taking things too far.  I'm obsessed.
Yes… so I love pancakes.  This much you know is true.  But pancakes turned into muffins?  Really?  I'm a nut job.
Oh me.  Oh my.
Is there some sort of support group for pancake addiction?
Essentially, with these muffins, we're talking about a browned butter muffin with a beautiful sticky maple glaze.
The best part about these beauties is that you can add anything you like to them… just as you would pancakes.
Blueberry Pancake Muffins?  Milk Chocolate Chip Pancake Muffins?  Cinnamon Pancake Muffins?  Crispy Bacon Pancake Muffins?  If you can dream it up, you can probably put it in this muffin.  Super yum!
Maple Syrup Pancake Muffins
makes 12 glorious muffins
Print this Recipe!
for the muffins:
7 Tablespoons unsalted butter
1/3 cup whole milk
1 large egg
1 large egg yolk
1 Tablespoon maple syrup
1 teaspoon vanilla extract
1 1/2 cups all-purpose flour
3/4 cup sugar
1 1/2 teaspoons baking powder
3/4 teaspoon salt
For the Maple Glaze:
3/4 cup pure maple syrup
1 Tablespoon lemon juice
Put a rack in the upper third of the oven and preheat oven to 375 degrees F.  Line muffin pan with paper or foil liners
Melt butter in a small saucepan over medium heat.  Keep an eye on the butter.  Melt and cook down the butter until little brown bits appear in the pan.  The crackling will subside and butter will begin to brown fairly quickly after that.  Keep a close eye.  Remove from heat.
Whisk milk, egg, yolk, maple syrup, and vanilla until combined.  Add the brown butter and stir to combine.
Whisk together flour, sugar, baking powder and salt in a medium bowl  Add milk and butter mixture all at one and stir gently to combine.
Divide the batter among muffin cups and spread evenly.
Bake until golden and crisp and a wooden pick inserted into the center of a muffin comes out clean, about 18-20 minutes.
While the muffins are baking make the maple glaze.
In a small saucepan simmer maple syrup and lemon juice, stirring occasionally, until reduced to a thick (thicker than maple syrup) syrup.  This will take about 15 minutes over a low flame.
Remove from heat and wait for the muffins to finish baking.  When muffins are out of the oven and cool enough to handle, poke a few holes in the muffin top with a toothpick and dip each muffin top in the maple glaze.  After dipping all twelve muffins, start with the first muffin you dipped and dip each muffin again.
Reader Interactions
Trackbacks
[…] Maple Syrup Pancake Muffins […]

[…] Maple Syrup Pancake Muffins […]

[…] My four year old loves pancakes. He could eat them every Saturday and Sunday. I love pancakes, but enough is enough sometimes. To keep the peace with him, I try to do different things with pancakes. There always is the big pancake and that's a huge hit. I recently tried pancake muffins from Joy the Baker. […]

[…] we successfully lighten up a family pumpkin bread recipe. Next we decided to tackle this wonderful maple pancake muffin recipe. The genius part of the recipe is the maple syrup glaze on top of the muffin. Really, you could do […]
This site uses Akismet to reduce spam. Learn how your comment data is processed.
RELATED POSTS IN Breakfast
King Cake-Inspired Easy Bostock
This Bostock toast is a delightful marriage of toast and almond croissant. Toast turns pastry.  We're topping these toasts with orange marmalade and sliced almonds inspired by my favorite almond-filled french King Cake. It's Mardi Gras, friends!  The big BIG weekend and Fat Tuesday are just days away and who would I be if I…
Read More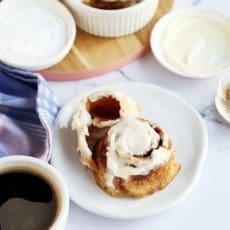 How To Make The Best Single Serve Cinnamon Roll
Micro batch baking – the invitation is to get all the way into it with me!  This is all very Kristin Wiig  making herself a single, sad cupcake in the movie Bridesmaids, save for the fact that there is absolutely zero sadness in me eating a single cinnamon roll over the kitchen sink in my…
Read More
Christmas Morning Orange Rolls
Think of tender breakfast rolls and cinnamon rolls without the cinnamon, scented with heavenly orange and just the right amount of warming nutmeg and ginger. Honestly if cinnamon rolls disappeared from the world, we'd all be just fine – these orange rolls hit the spot. I'm headed back to Los Angeles for the Christmas weekend…
Read More