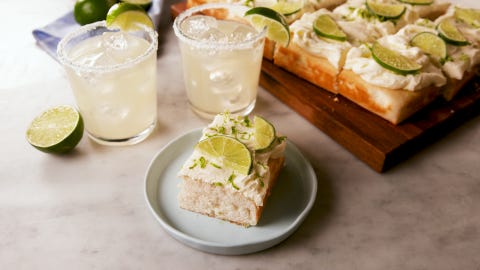 The tequila frosting is AMAZING. You'll want to eat it straight from the bowl by the spoonful.
Advertisement – Continue Reading Below
For the cake
Nonstick cooking spray

1

box white cake mix

1 c.

water

1/3 c.

Duke's Mayonnaise

3

egg whites

Zest of 1 lime
For the tequila frosting
1 c.

(2 sticks) butter, softened

4 c.

powdered sugar

1/4 c.

tequila

3 tbsp.

fresh lime juice

Zest of 1 lime

1

lime, halved and very thinly sliced, for garnish

1/2 tsp.

salt
Directions
Step

1

Make cake: Preheat oven to 350° and line a 9"-x-13" metal pan with parchment paper leaving at least a two-inch overhang on the two long sides. Grease with cooking spray. In a large bowl, combine the cake mix, water, Duke's Mayonnaise, egg whites, and lime zest and blend on medium-high until smooth, about 2 minutes. Pour into the prepared pan and bake, rotating the pan halfway through, until a toothpick inserted into the middle comes out clean, about 28 minutes. Let cool completely.

Step

2

Meanwhile, make frosting: In another large bowl, using a hand mixer, beat butter with half the powdered sugar until smooth. Add remaining powdered sugar, tequila, lime juice, and 1/2  teaspoon of salt, and beat until fluffy.

Step

3

Assemble the cake: Using the parchment overhang, remove cake from pan and place on a platter. Spread frosting evenly over the top. Top with lime slices and lime zest and serve.
Don't have parchment paper or a metal pan? For step 1, use a 9"-x-13" glass pan and cooking spray.
Advertisement – Continue Reading Below
Advertisement – Continue Reading Below