We may earn commission from links on this page, but we only recommend products we back.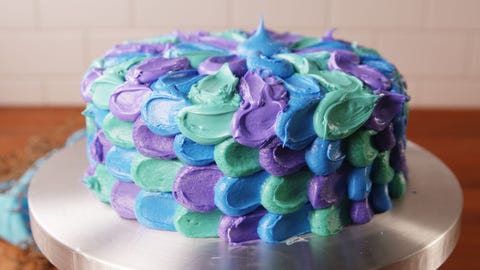 Nothing fishy going on here.
Advertisement – Continue Reading Below
1 box vanilla cake mix, plus ingredients called for on box
1 1/2 c. butter, softened
6 c. powdered sugar
2 tsp. pure vanilla extract
6 tbsp. heavy cream
1 tsp. purple gel food coloring
1 tsp. Blue gel food coloring
1 tsp. teal gel food coloring
Directions
Step

1

Preheat oven to 350°. Line two 8" round cake pans with parchment paper and grease with cooking spray.

Step

2

Prepare cake mix according to package instructions.

Step

3

Divide cake batter between prepared pans and bake according to package instructions.

Step

4

Let cakes cool in pans for 10 minutes, then invert onto wire racks to cool completely.

Step

5

Make frosting: In a large bowl using a hand mixer, beat butter and half of the powdered sugar until smooth. Add the remaining powdered sugar, vanilla and 4 tablespoons heavy cream and beat until fluffy. If the mixture is too stiff, add more heavy cream.

Step

6

Place a dab of frosting on cake plate (to keep cake in place) and place parchment strips on each side of the cake plate. Place down first cake and top with frosting, then top with second cake and frost with a thin crumb coat of frosting.

Step

7

Divide remaining frosting into three small bowls and stir one shade of gel food coloring into each bowl of frosting.

Step

8

Place each color of frosting into its own piping bag fitted with a large round piping tip.

Step

9

Starting at the top of one side of the cake, pipe a small circle of purple frosting. Directly underneath the purple frosting circle, pipe a small circle of blue frosting, following by a circle of teal frosting underneath. Continue in a vertical line in the same order of colors until you run out of space on the cake.

Step

10

Using an offset spatula, smear each circle of frosting horizontally across the side of the cake about 1 inch. Note: Use a different spatula for each color of frosting to avoid mixing the shades.

Step

11

Repeats steps 9 and 10, slightly overlapping the circles of frosting with the smeared frosting to create a mermaid-scale effect until you run out of space on the side of the cake.

Step

12

Repeat the same circle and smear technique with the frosting on top of the cake, but in concentric circles this time.
Chelsea Lupkin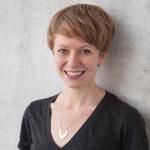 Lyndsey Matthews
Freelance Writer
Lyndsey Matthews is the Destination News Editor for AFAR; previously she was a Lifestyle Editor across all of Hearst Digital Media's brands, and a digital editor at Martha Stewart Weddings and Travel + Leisure.
Advertisement – Continue Reading Below
Advertisement – Continue Reading Below