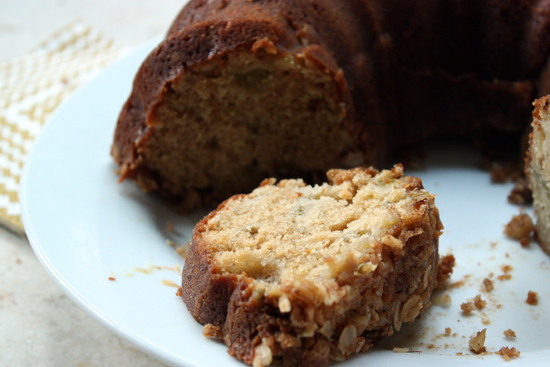 A year ago, after we moved into our new house, my neighbor welcomed us with a warm, rhubarb cake. Lucky for us, it was the beginning of a very tasty next-door relationship.
About a year ago, I wrote about the warm apple, rhubarb cake that my new neighbor delivered to our door.  I speculated that we might have "hit the neighbor jackpot."  A year later, I can confirm that we have a kind family living next door who are very generous with their baked goods.
A few weeks ago, the doorbell rang at about 8 p.m. and there they were extending a warm apple pie for no special reason. The family had been apple picking and Miranda had whipped up a few pies and generously donated one to our household. A surprise, hot apple pie delivery on a crisp autumn eve? The world IS still a good place.
Not too long ago, a woman named Beverly left a comment on my original post about this cake.  She said, "It has been almost a year now. Do you know her well enough to ask for the recipe? It looks wonderful."  The answer is "yes."  I asked and found that Miranda was just as generous with her recipe as she is with her baked goods.
As might be expected, my first attempt was not quite as successful as her veteran product. The moist cake was delicious but I was sorry that I used a bundt pan, which resulted in the crumble topping on the bottom of the cake instead of the top as was the case with her loaf cake.  She has a few variations of the recipe that I have included below.  I'm not sure if you can find rhubarb anywhere at this time of year.  I made this cake with the last stalks from my garden.  But, I suggest you bookmark this gem until you can get your hands on some and enjoy a little of my neighborly luck into your kitchen.
Miranda's Apple Rhubarb Cake



2 cups flour

1 t baking soda

1/2 t salt

1/2 t ginger

1/2 cup butter

1.5 cup brown sugar

1 egg

1 cup sour cream

1 t vanilla

1 1/2 cups chopped fresh rhubarb

1 cup apple, peeled and chopped into 1/2 inch chunks

(Rhubarb only option – replace apple with additional cup of rhubarb)
Topping:

1/2 cup sugar

1/2 cup chopped walnuts

1 t cinnamon

1/2 cup rolled oats

2 Tablespoons melted butter

(can also add chocolate chips)
Mix, flour, soda, salt & ginger and set aside.  In a large mixing bowl, cream together butter and brown sugar.  Beat in egg.  Beat in flour and sour cream alternately until blended.  Mix in vanilla and rhubarb.  Spread in a greased/floured pan (either 9 x 13, bread pan or bundt works).  For topping, mix together sugar, nuts, cinnamon, oats and melted butter into a crumble.  Sprinkle over top.  Bake at 350 degrees for 45 – 55 minutes.
PRINT RECIPE