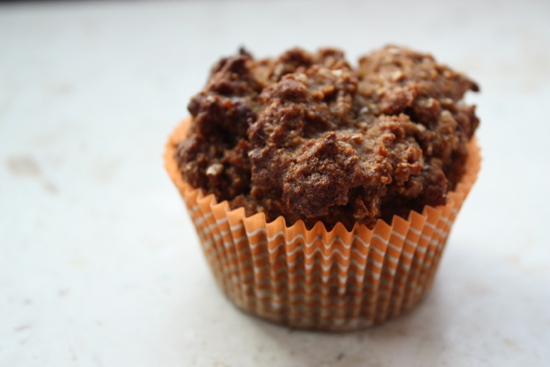 My bran muffin kick continues. While preparing a "mise en place" of muffin ingredients on Sunday evenings, I calmly consider the week ahead and before any anticipation of stress takes over, I happily remember that I will inaugurate the workweek with a healthy, warm baked good.
I found this recipe on the back of my Bob's Red Mill Wheat Bran package. I was drawn to it for its list of natural ingredients and lack of processed and refined items. Together, these ingredients produced a pretty solid muffin. After my first bite, I was hesitant and worried that they were a bit too dense but both my husband and Mini Whipped showed immediate approval. The little tyke had such continued enthusiasm for these muffins that it made for a difficult photo shoot: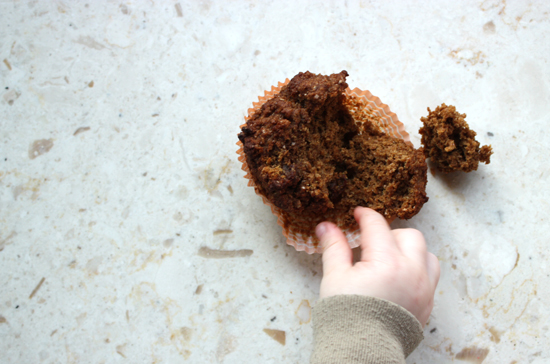 Molasses Bran Muffins

From Bob's Red Mill
1 cup Wheat Bran

1 1/2 cups Whole Wheat Flour

1/2 cup Raisins (Unsulfured)

1 tsp. Baking Powder

1 tsp. Baking Soda

1 cup Milk

1/2 cup Molasses (or Honey)

3/4 cup Applesauce

1/4 cup chopped Nuts (optional)

2 Tbsp. Oil

2 Eggs, beaten
Preheat oven to 400°F. Combine wheat bran, flour, baking soda and baking powder. Stir in nuts and raisins. In a separate bowl, blend applesauce, milk, molasses, oil and egg. Add to dry ingredients and stir just until moistened. Spoon into greased muffin tin (or paper muffin cups) and bake for 15-20 minutes. Makes 12 marvelous muffins.
Nutritional Information:

Serving Size: 1 Muffin

Calories 180, Calories from Fat 50, Total Fat 6g, Saturated Fat 1g, Cholesterol 35mg, Sodium 180mg, Total Carbohydrates 32g, Dietary Fiber 4g, Sugars 14g, Protein 5g.
PRINT RECIPE