Here's what you can do with a mug, a microwave oven and some Nutella.

By Nashira Usef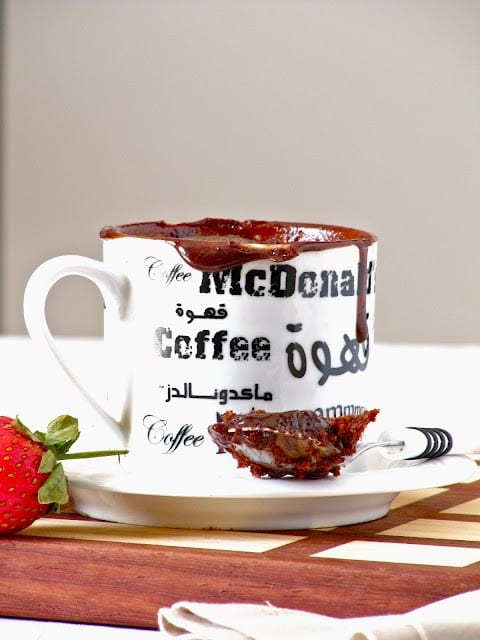 I'm sure you have heard of cakes that can be made in the microwave in less than 5 minutes. I'm also sure you have seen, perhaps even tried a few recipes storming the web for quite sometime now.
I'll be honest: I've tried two recipes before this one. But sadly, they turned out to be disasters—they were too dry, eggy and mostly tasted like a mug-shaped rubbery trash, eek. Even a good serving of vanilla ice-cream did nothing to improve the taste. My experience was so disappointing that I thought 5-minute cakes were a hoax.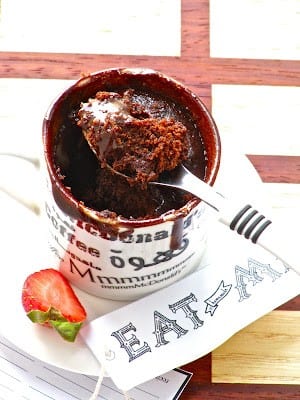 So naturally, I was skeptical when I saw this recipe. Until I made it, that it. Man, I was sold in less than 5 minutes. The cake turned out so wonderfully—sinfully scrumptious with warm chocolate oozing out when I dug in with a spoon, mmm!
This recipe is incredible. Sinful. Gooey. Fluffy. Warm. Microwaved in less than 2 minutes. And, tastes like a dream! It's so good, you won't believe until you give it a try. It takes just a few basic ingredients—add nutella and you have a dreamy delight that yells to be devoured—something like a molten lava cake—by far one of the best I've tasted, 2 minute or 12 minute.
The only downside is the number of pounds it packs—it's seriously high on the calories. So if you are calorie conscious, make smaller servings in small mugs so you can share it with others. I'd suggest doing three small mugs instead of 2 medium ones.
I sifted the flour and cocoa, stirred the ingredients in a bowl, and then poured the batter into mugs to ¾ full. I watched it like a hawk while microwaving, stopping every 30 seconds to check if it was done, plus whenever I thought it almost overflowed. Result? Irresistibly incredible!
The best part is, you don't even need a topping like whipped cream or ice cream to enjoy this dish, it's absolutely delish on its own. I did the cream topping just for the photographs—scooped it out before enjoying the cake with pieces of fresh strawberries, my style.
So go grab your jar of nutella and chocolate, and get to this crazy yummy recipe. It's a must try!
Print
Nutella Lava Mug Cake
2-minute gooey, molten lava cake—the best chocolate treat ever! It's splendidly simple, works like a dream and totally swoon-worthy.
Author:

Nashira Usef

Prep Time:

2 mins

Cook Time:

2 mins

Total Time:

4 minutes

Yield:

2

-3

1

x
4 tablespoons

self rising flour, sifted

3 tablespoons

unsweetened cocoa powder, sifted?(I used Cadbury's)

4 tablespoons

caster sugar

1

medium egg

3 tablespoons

Nutella

3 tablespoons

milk

3 tablespoons

olive, or vegetable oil (I used olive)

2

–

3

teaspoon chocolate chips (I used Hershey's semi-sweet chocolate chips)
Prevent your screen from going dark

Combine all ingredients except chocolate chips in a bowl. Beat well with a whisk until smooth and blended. Divide the batter between 3 small microwave safe mugs, or two medium mugs. Important thing is to fill mugs up to just ¾ full, if not the cake will overflow when it rises. Then tip in 1 teaspoon chocolate chips into each cup and push it into the batter until completely covered.
Microwave on high power for anywhere between 30 seconds to 3 minutes—I did two cups, together. Please note that cooking time will depend on microwave wattage. Mine took 1.5 minutes (850 watts oven), whereas the original recipe says it was done in 30 seconds—so watch out. The key for the perfect lava cake is not to overcook the batter. The cake should rise a bit, ideally with a moist, fluffy, gooey texture, and glossy, fudgy top. The more you cook, the cake will toughen up and dry—so slightly undercook and keep an eye on it the whole time.
Top with whipped cream, if you like. And of course, serve with strawberries or raspberries—the perfect partner for chocolate. Enjoy!
Notes
*Heavily adapted from Nutella Mug Cake recipe at Family Kitchen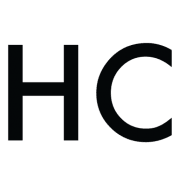 Nashira Usef



Nashira Usef is the author of the food blog, Plateful—a cleanly
designed website chronicling her love for delicious home-cooked meals,
and passion for beautiful photography and styling. For her, food is a
lifestyle, with focus on cooking healthy, wholesome and deliciously
appetizing meals drawn from her Indian heritage along with
cross-cultural flavors discovered as an expatriate living in the
Middle East. Nashira resides in Doha, Qatar with her husband and two
children.