This cake is fragrant and reminiscent of the freshness of a bright early summer day. The texture is dense but not too heavy. The flavor of the orange is brighter but this is really all about the mint, which hits you later and lingers.

By Rinku Bhattacharya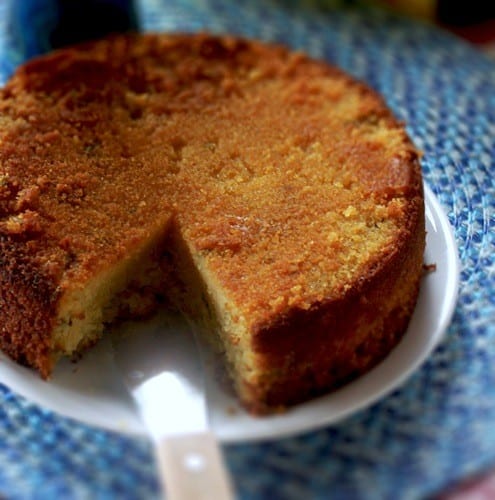 Does your cooking get influenced by the weather? I mean, just seasons aside, if you were to block everything away, do you cook different when the skies are blue and filled with white clouds, versus the cloudy days when the clouds are puffy with prominent silver linings?
Given, my love for cooking with the seasons, it would be hard to say whether the skies and the weather independently influence by table, but they certainly do. So, yesterday was a perfect early summer day, breezy full of airy white clouds and I actually had a day of. I had to do an airport run and deal with the plumber but I did get time to savor the fresh herbs in my backyard and of course make time to cobble up a fresh and fruity cake bursting with the flavors of summer.
Yes, I cooked up an orange and mint cake. I have had luck with cooking these Mediterranean style cakes. There is a lemon basil one, that is waiting its turn to be shared and I promise to do this before the season is over.
Print
Author:

Rinku Bhattacharya

Prep Time:

20 mins

Cook Time:

30 mins

Total Time:

50 minutes

Yield:

8

1

x
¼ cup

butter, softened

½ cup

olive oil

1 cup

sugar (I used the raw cane sugar)

3

eggs

1 cup

all purpose white flour

1 teaspoon

baking powder

½ cup

almond meal

1 tablespoon

fresh orange zest

2 tablespoons

minced fresh mint

1 cup

of fresh orange juice
Prevent your screen from going dark

Place the butter and oil in a mixing bowl and beat until well mixed.
Add in the sugar and mix well until nice and smooth.
Beat the eggs and add into the oil and butter mixture and mix well.
Sift in the flour and the baking powder into the mixture and mix in a little at a time.
Fold in the orange zest and mint.
Gradually add in the orange juice to mix into a nice smooth batter.
Grease and flour a 9-inch spring form pan.
Bake in a 350 degree oven for about 40 minutes.
Cool for 10 minutes and remove from the oven and cool thoroughly outside.
Enjoy thick wedges with tea or maybe orange juice for some more fun.
Rinku Bhattacharya




Rinku Bhattacharya, is a teacher of Indian Cooking and the author of the blog, Spice Chronicles. A busy working mother Rinku is committed to offering a practical approach of flavorful, everyday cooking often with an Indian Accent.
An author of three cookbooks,
Instant Indian, Classic Foods for Every Region of India made easy in the Instant Pot,
Spices and Seasons, Simple, Sustainable. Indian Flavors and
The Bengali Five Spice Chronicles.
Rinku's passion for food starts with cooking and trying new recipes and extends to pairing and drinking wine with food and trying usual combinations by fusing various culinary influences.
Rinku and her family are very committed to a sustainable lifestyle, and she uses mostly local produce for her recipes. She is joined in this effort by her husband who is an avid gardener and her children, Deepta and Aadi.