This post may contain affiliate links. Please see disclosure for more information. Published: · Modified: by Dee
This easy Orange Crush Soda Pop Cake is made with just 3 ingredients and is perfect when you need a light dessert for summer. Take it to parties, picnics, potlucks and cookouts, and watch it disappear!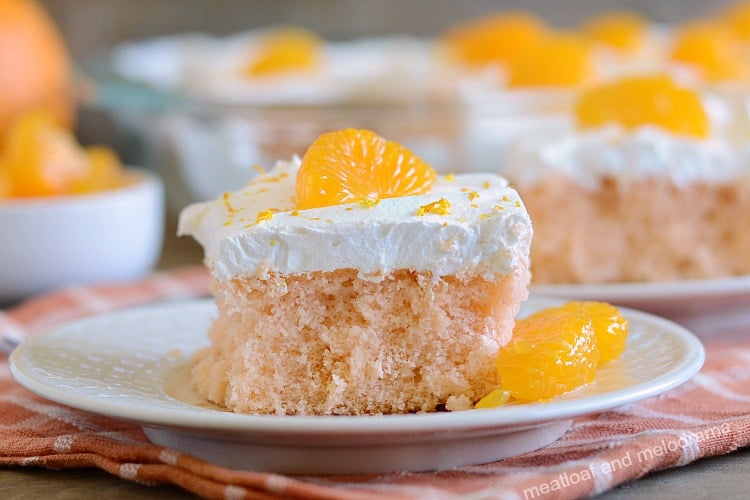 Not too long ago, I made a super easy lemon lime soda cake, and my family absolutely loved it. To be honest, my kids will eat just about any kind of cake — they're not picky like that! But this particular cake, which was made with just a can of Sprite and a box of cake mix, was so light and fluffy that everybody raved about it.
Actually, the Hubs loved it — I mean, he really loved it, and he couldn't stop talking about it! And ever since the last little crumb of that delicious cake was eaten, the Hubs has been after me to make a cake with Orange Crush soda and a box of cake mix. So, it's the same basic cake recipe, only the flavor of pop is different.
How to Make Orange Crush Soda Pop Cake with just Cake Mix and Soda
Just like the lemon lime soda cake, this 3 ingredient Orange Crush cake is incredibly easy to make and. It's fun, too — almost like a mini science experiment.
All you do is mix a can of Orange Crush soda pop with a box of white or yellow cake mix. Then, you sit back and watch it fizz like crazy. Even my older kids were impressed!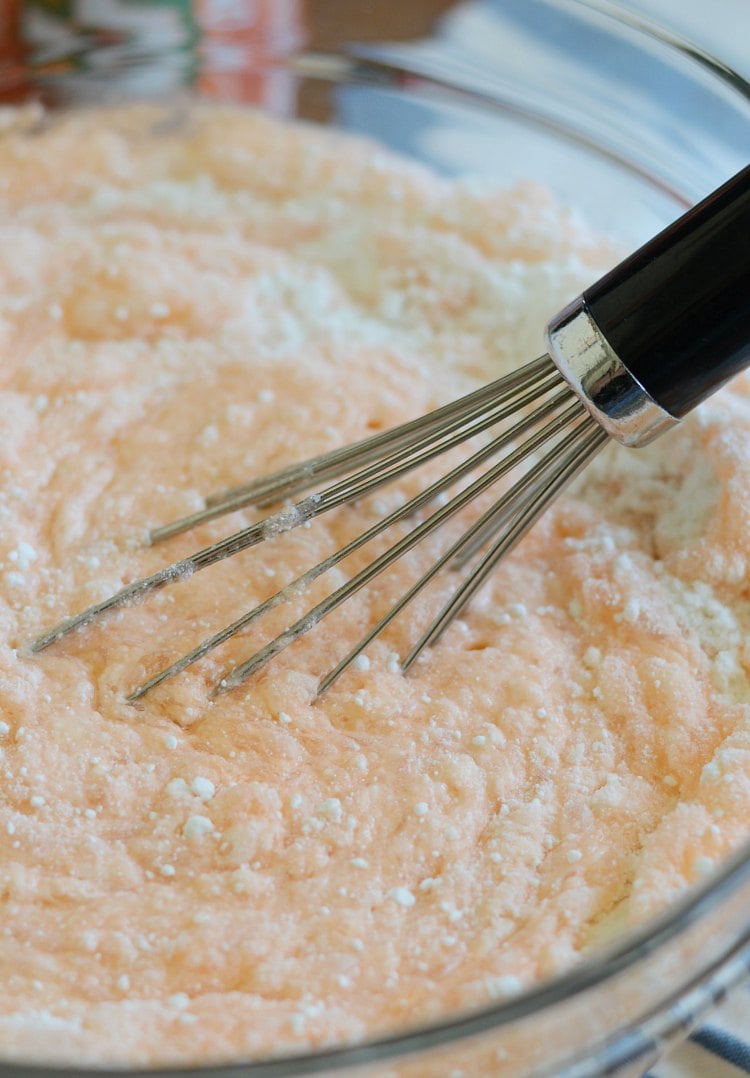 Just mix the soda and the cake mix, and then spread the batter in a greased baking dish, and bake it. You can use any type of frosting you want, but I like using whipped topping (Cool Whip) because it keeps the cake nice and light.
When I made the lemon lime soda cake, I sprinkled lemon and lime zest over the top. This just adds an extra pop of color. So with this cake, I added some fresh orange zest for extra color and a little bit more orange flavor.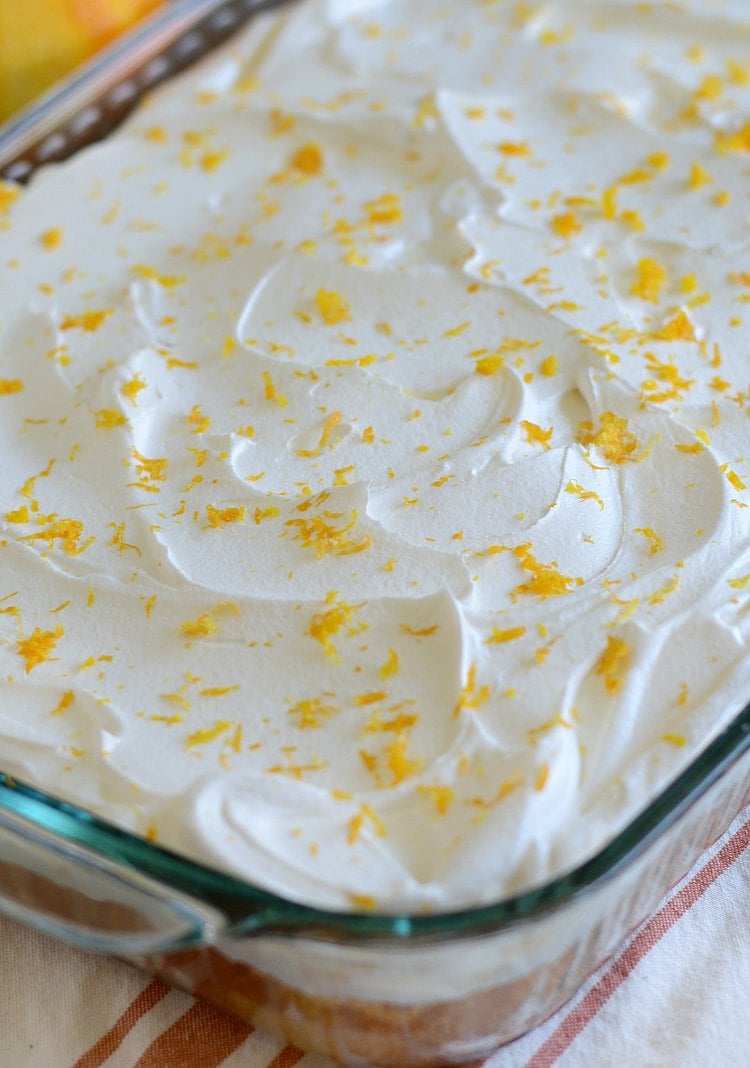 And before I served this cake, I added some canned mandarin orange slices over the top. Isn't it pretty?! There's not a ton of orange flavor, but it's just enough.
This Orange Crush cake is still nice and light and very fluffy.  It's especially perfect as a summer dessert, but you can enjoy it all year long if you want! And you can use any brand of orange soda — we just happened to buy this one.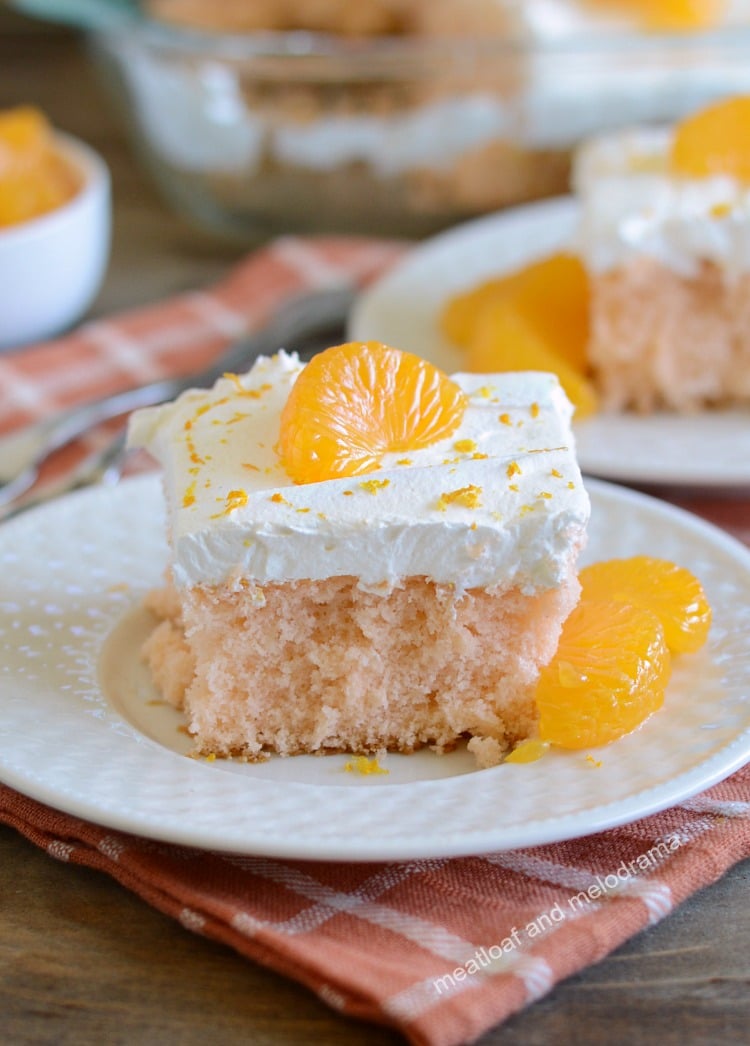 Recipe for Orange Crush Soda Pop Cake
Recipe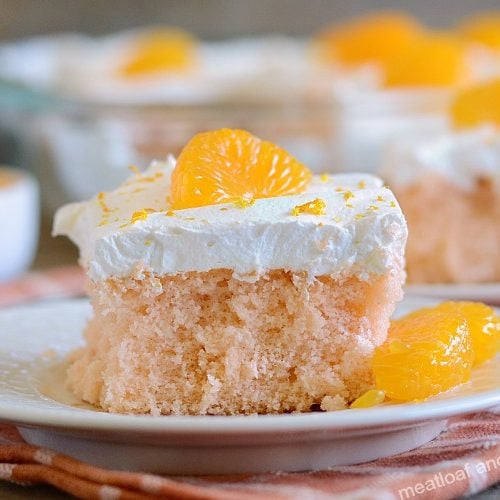 Orange Crush Soda Pop Cake
Published by Dee
Orange Crush Soda Pop Cake is made with just three ingredients and is a perfect light summer dessert for parties, picnics and potlucks
Prep Time 5 minutes mins
Cook Time 30 minutes mins
Total Time 35 minutes mins
Course Dessert
Cuisine American
Servings 12
Calories 207 kcal
Ingredients
1

16.25-ounce box

white cake mix

1

12-ounce can

orange soda pop

1

8-ounce tub

whipped topping, like Cool Whip, thawed

orange zest and mandarin oranges for garnish, optional
Instructions
Preheat oven to 350 degrees

Grease a 13 X 9-inch baking pan with cooking spray

In a large mixing bowl mix the cake mix with the can of soda pop until smooth and well combined

Pour batter into prepared baking dish, and bake for 30 minutes or until toothpick comes out clean in center

Remove from oven, let cool completely, and frost with whipped topping. Add orange zest and mandarin orange slices for garnish, if desired
Nutrition information is estimated. Please do your own calculation to fit special diets.
Nutrition
Calories: 207kcal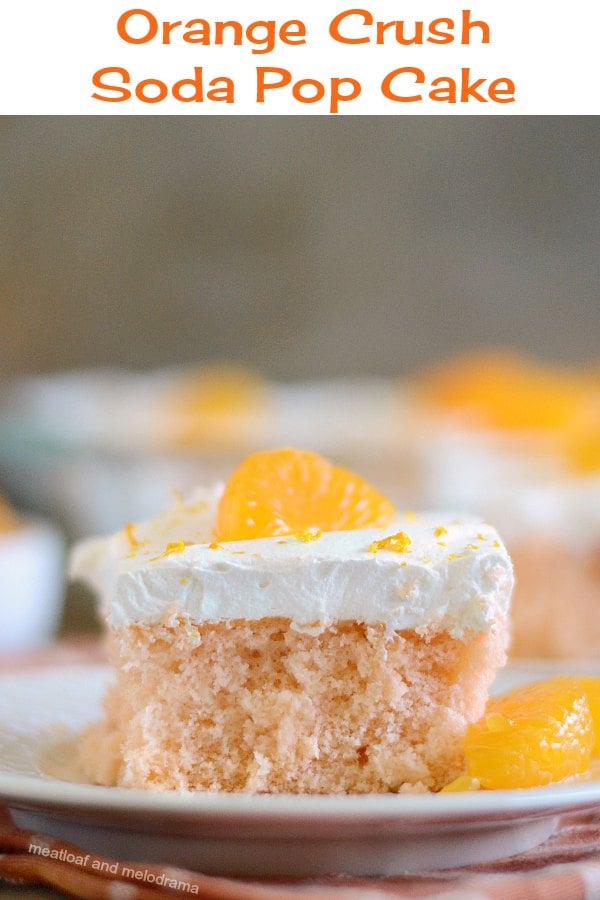 I hope you enjoy this easy Orange Crush soda pop cake as much as we do!

Reader Interactions