| Filed Under: Dessert, Recipes
I think I am definitely feeling better these days. Today, I even busted into the kitchen and baked something. The kidlets were a little more than excited to say the least. Noah kept telling me, 'Oooh, I love cake, it's Nummy!! What should I do?' Ya think my kidlets are missing some home-baked goodness? It was getting pretty sad around here, there were many a night's dinner that they had pretzels, cheddar bunnies and string cheese on the menu. Sorry my littles, I'm pretty sure I'm on the upswing now 🙂
I am really starting to want to eat things now, not cravings yet, just desires to have something as opposed to all the weeks and months of nothing looking good (or smelling good) to eat at all. Mainly, I have wanted to eat sweets…desserts…SUGAR! And random ethnic food…Thai food lovers, anyone?
So, today I had a total desire (and energy if you can believe it!) to make…
Orange Juice Cake!
It's soooo good!!! My mom used to make all this time when I was a kid and it is AWESOME! My momma is the best baker around, hands down. But, like anyone who is just born to bake, my mom never writes down any recipes, she just makes them up as she goes, no measuring, nothing, none, nada! You can see how this crushed me and my sisters when we all left the house and wanted recipes for all the goodness she baked us. We got a lot of, 'Oh, I don't know, maybe 2 cups of sugar and 4 cups of flour?' Aaargh!! Frustration central!! Suffice it to say, many of our first trials at any of my mom's recipes never came out quite right.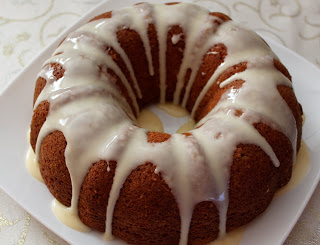 Well, this is my take on my momma's orange juice cake recipe, it is sort of the cheater's version of it, she would cringe to know there is a box cake in there. And I have to agree, homemade is always better but when you are in a crunch this does the trick nicely! It tastes great and is oh-so-moist and delish! I hope you like it too, easy and yummy…what can get better than that!?!
Orange Juice Cake
Recipe Type: Dessert
Prep time:
Cook time:
Total time:
Serves: 8-10
Ingredients
1 (18.25) box of yellow cake mix
1 small box of vanilla pudding
3/4 cup orange juice
1/2 cup vegetable oil
1 teaspoon orange extract
4 eggs
Orange Icing/Glaze:
1 cup powered sugar
1-2 tablespoons orange juice
Instructions
Mix all the cake ingredients together in a large bowl until well blended.
Pour batter into a greased bundt cake pan.
Bake at 325 degrees for 50-60 minutes or until cake tester comes out clean. Place on a baking rack to cool for 10 minutes and then flip cake out and let cool the rest of the way out of the bundt pan on the cooling rack.
Once cool, mix the glaze and pour over the top
Ahhh, don't you just love it when you flip a cake out of it's pan an it comes out perfectly!!!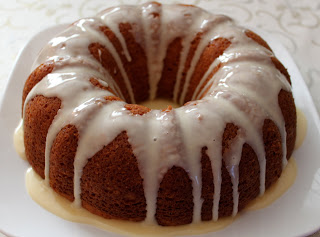 Look at all the sugar-y goodness, my house smells SOgood right now!!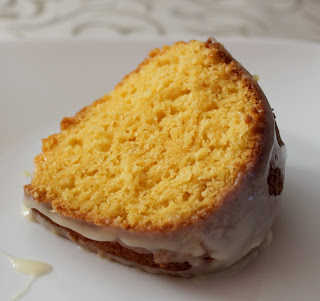 Yum!
And, since there's orange juice in it it's totally healthy, right!?!