Banana bread is the king of quick breads—it's easy, delicious, and honestly quite perfect. So when I went to the drawing board to reinvent it, I decided the best route was…not to.  Instead, I turned the bread into an even quicker treat: muffins. And because it's Delish, I couldn't just stop at banana bread muffins—an indulgent spin was in order.
I also added in two healthy ingredients for those with New Years resolutions, and the best part is you wouldn't know it. To begin, I reunited bananas with peanut butter (a classic pairing) and then brought in peanut butter's partner in crime, jelly. I wanted these muffins to be beautiful and retain the gooeyness of a PB&J, so I added a swirl of the two.
While this all might seem quite indulgent, it's also the New Year so I swapped in two secret ingredients, whole wheat flour and Country Crock® Plant Butter to make it dairy-free—you wouldn't even know I did it. The texture is so moist and tender and the muffins are richly flavored, yet just a little healthier. Some may choose to have just PB&J, others just banana bread. I like 'em together, and I know you will, too.
Advertisement – Continue Reading Below
1 1/2 c.

whole wheat flour

1 tsp.

baking powder

1 tsp.

baking soda

1/2 tsp.

kosher salt

1/2 tsp.

ground cinnamon

1

stick Country Crock® Plant Butter with Avocado Oil, room temperature

3/4 c.

packed dark drown sugar

2

large eggs, room temperature

3

large ripe bananas, mashed ( 1 1/2 c. mashed)

1 tsp.

pure vanilla extract

4 tbsp.

strawberry jelly

6 tbsp.

smooth peanut butter
Directions
Step

1

Preheat oven to 350. Line a standard muffin tin with paper liners.

Step

2

In a medium bowl, whisk the flour, baking powder, baking soda, salt, and cinnamon.

Step

3

In a large bowl, beat the Country Crock® Plant Butter and brown sugar until light and fluffy, about 2 minutes. Add the eggs and beat until combined. Add the bananas and vanilla and beat until combined.

Step

4

Add the dry ingredients to the wet ingredients and beat until just combined.

Step

5

Divide batter into prepared muffin tins. Top each with 1 ½ teaspoon peanut butter and 1 teaspoon of warm jelly. Swirl with a knife, carefully, keeping the jelly in the center of the muffin.

Step

6

Bake until golden and a toothpick comes out clean, about 20 to 22 minutes. Let cool slightly. Serve warm or at room temperature.
AmazonBasics AmazonBasics Nonstick Carbon Steel Muffin Pan, Set of 2, 12 Cups Each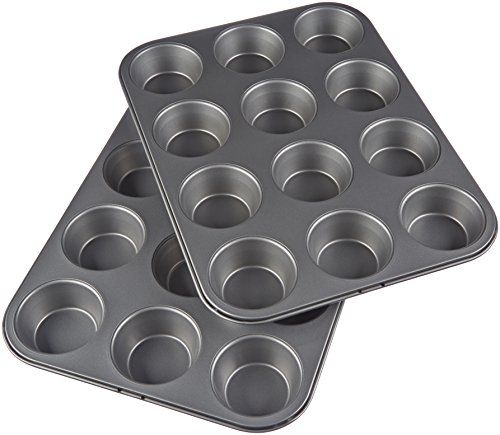 AmazonBasics AmazonBasics Nonstick Carbon Steel Muffin Pan, Set of 2, 12 Cups Each