The cornmeal, the skillet, and the whole upside-down business make for a crispy edge on each piece of cake, with a soft interior and a gooey, sweet caramel glaze.

By Bowen Close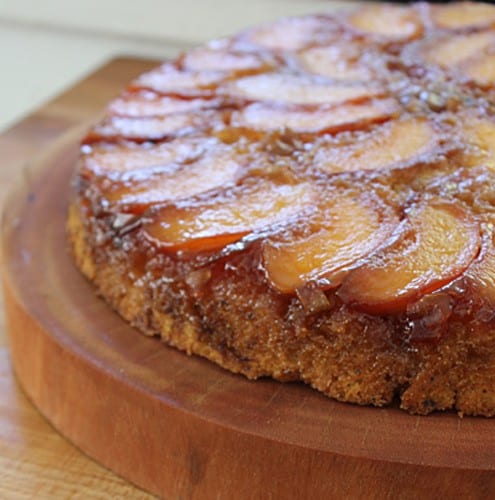 My husband and I moved away from our decade-long home of Southern California on Monday, but before we left we got in a few good weeks of the stone fruit. The first peaches showed up at the Farmers' Market about a month ago, and by the time we left, peaches, nectarines, plums, pluots, and other stone fruits were overflowing the farm stands.  I knew I needed to get in some good baking in my own kitchen before we became nomads for the next 12 months, and a week or so before we left I baked a peach upside-down cornmeal skillet cake to take to dinner at a friend's house in Laguna Beach. It was our last visit to the beach before we left, but the dinner we had was too good for me to dwell on that, and this cake was the perfect end to a summer dinner.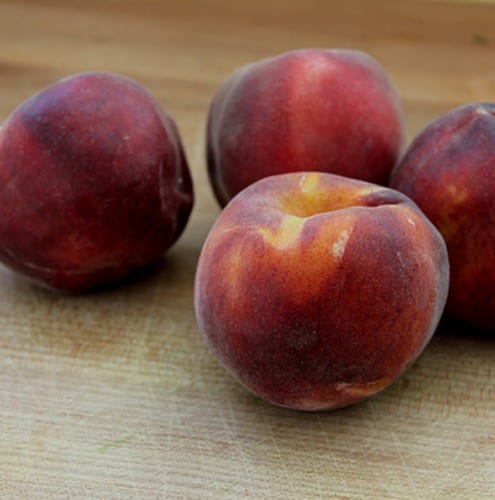 I originally picked out this recipe because of a few peaches in the fridge quickly entering their softest phase of life, and knew I had to post it here because of its incredible resemblance to the cornmeal cookies I posted recently. A little less flour, a little more cornmeal, half the amount of butter, and the addition of just under a cup of buttermilk makes cookies a cake, apparently. Substitute a lime glaze for sliced peaches and caramel, and you have a beautiful, elegantly simple and rustic dessert.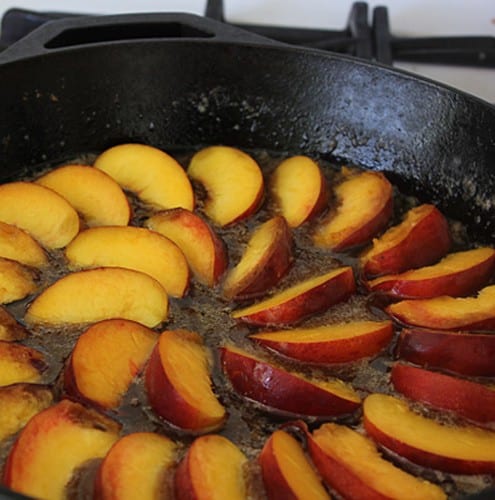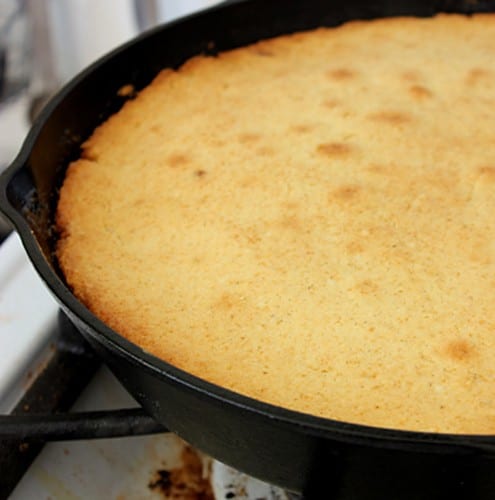 The cornmeal, the skillet, and the whole upside-down business make for a crispy edge on each piece of cake, with a soft interior and a gooey, sweet caramel glaze. The peaches and the cake sort of melt into each other on the top, making those fruit-adjacent bits of cake particularly delicious.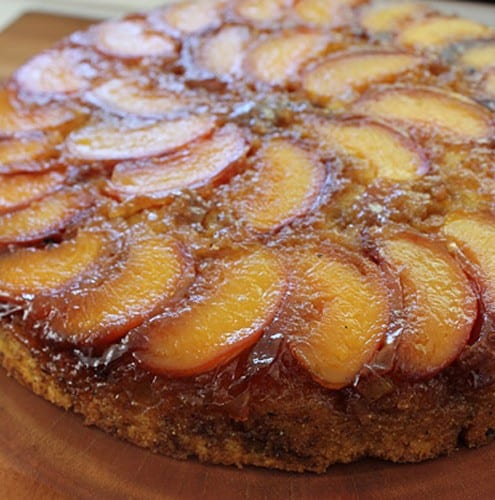 You can easily make this cake with any sort of soft fruit you have in the house, particularly stone fruits and berries. The peaches go especially well with the caramel sauce, I think, but I'm sure other fruits would be great too.
I used a 10-inch cast iron skillet here, but my guess is that a 9-inch cake pan would work as well. You may need to increase the baking time a few minutes to make sure the thicker cake is baked all the way through, and just make sure you let it cool significantly in the pan before you flip, to insure against the lovely fruit and caramel layer staying behind in the pan.
Recipe is adapted from Rustic Fruit Desserts, by Cory Schreiber and Julie Richardson.
Print
Peach upside-down cornmeal skillet cake
Crisp, fluffy cornmeal cake topped with gooey caramel and sweet, juicy peaches.
Author:

Bowen Close (Bowen Appétit)

Prep Time:

15 mins

Cook Time:

40 mins

Total Time:

55 minutes

Yield:

8

1

x
4

peaches (or fruit, enough to cover the bottom of your skillet or cake pan)

1/4 cup

(

2 ounces

) butter
Approximately

1/2 cup

brown sugar

1 1/4 cups

flour

1 cup

cornmeal

1 1/2 Tbsp

. baking powder

1/4 tsp

. baking soda

1/2 tsp

. salt

1/2 cup

(

4 ounces

) butter, room temperature

2/3 cup

sugar

2

eggs

2 tsp

. vanilla extract

3/4 cup

buttermilk
Preheat oven to 350F.
Halve and pit the peaches, then slice each half into approximately 6 slices. Set aside. (If you're using particularly small fruits – like small apricots – you may want to use whole fruit halves.)
Either in a 10-inch cast iron skillet (in which you will bake the cake) or in a medium-size skillet, melt the butter over medium heat. Add the brown sugar and stir until the sugar dissolves and the mixture forms a fairly smooth caramel. Reduce the heat if needed to keep from burning the caramel.
If using the cast iron skillet, arrange the slices of fruit on top of the caramel (if using fruit halves, either the cut or the peel side can go down). If using a cake pan, spread the caramel sauce into the bottom of the pan and arrange the fruit on top. Set pan, fruit, and caramel aside.
To make the cake, whisk togethr the flour, cornmeal, baking powder, baking soda, and salt in a medium bowl. Set aside.
Using a stand mixer, handheld mixer, or wooden spoon, cream together the butter and sugar on until light and fluffy. This should take about 3-5 minutes in a stand mixer on medium speed or a handheld mixer on high, or about 10 minutes if using a wooden spoon.
Add eggs one at a time, beating on medium until thoroughly combined after each. Add vanilla and continue to beat for another minute. Scrape down bowl and paddle to make sure everything is thoroughly incorporated.
Slowly add the flour mixture in three additions, alternating with the buttermilk and beginning and ending with the dry ingredients. Be careful not to beat any longer than necessary. Mix only just until flour is completely incorporated, finishing with a wooden spoon if desired.
Spread the batter on top of the fruit in the pan. Bake for approximately 25-30 minutes, or until the top of the cake is golden brown and the center of the cake springs back lightly when pressed.
Cool the cake on a wire rack at least 20 minutes before flipping over onto a flat surface. The cake is best eaten the day it is made, but also makes a fabulous breakfast the next morning.
Bowen Close


Bowen Close believes that food should make people happy and healthy, and loves bringing together people with creative, delicious food made from the heart. She loves making farm-inspired, flavorful dishes with sustainable ingredients – whether that's a big plate of roasted veggies, a towering chocolate layer cake, or a cocktail utilizing backyard ingredients – and collects recipes and other food-related stories on her website, Bowen Appétit. She is a chef, cooking instructor, and food writer living in Southern California with her husband and fully stocked pantry.