This adult Funfetti cake is basically the birthday cake of our dreams. Three layers of tender vanilla cakes are covered with a not-too-sweet and slightly tangy buttercream. The sour cream in the frosting adds a delicious, subtle tang that compliments the colorful cake really well. Top it off with colorful sprinkles and a handful of candles and you've got a classic birthday cake that is guaranteed to make the recipient smile.
This recipe is very simple and can be as exact or as casual as you like. Some folks trim their cake tops and go nuts on the decorating, but for us, we think a bit of a rustic cake is perfect for a hearty celebration. Speaking of decorating, using a rotating cake stand is awesome, but if you don't have one you can use anything that spins, from a lazy Susan to a bar stool!
Not a fan of vanilla on vanilla? We've got tons of delicious frostings you could swap in! Try our classic chocolate buttercream or our peanut butter frosting for an irresistible take on the classic.
Made this? Let us know how it went in the comment section below!
Advertisement – Continue Reading Below
For the cake
1 1/2 c.

(3 sticks) butter, softened

2 1/4 c.

granulated sugar

4

large eggs

1 tbsp.

pure vanilla extract

3 c.

all-purpose flour

1/4 c.

cornstarch

2 tsp.

baking powder

1 tsp.

kosher salt

1 1/4 c.

milk

1/2 c.

sprinkles, plus more for garnish, if desired
For buttercream
1 1/2 c.

butter, softened

6 c.

powdered sugar

1/4 c.

sour cream

1 tsp.

pure vanilla extract

1/4 c.

heavy cream

Pinch of kosher salt
Nutrition Information
Per Serving (Serves 16)

Calories

759

Fat

39 g

Saturated fat

24 g

Trans fat

1 g

Cholesterol

147 mg

Sodium

206 mg

Carbohydrates

100 g

Fiber

1 g

Sugar

80 g

Protein

5 g

Vitamin D

1 mcg

Calcium

92 mg

Iron

1 mg

Potassium

89 mg

Note: The information shown is Edamam's estimate based on available ingredients and preparation. It should not be considered a substitute for a professional nutritionist's advice.

Powered by
Directions
Step

1

Make cake: Preheat oven to 350° and line three 8″ cake pans with parchment paper.

Step

2

In a large bowl using hand mixer (or in the bowl of a stand mixer), beat together butter and sugar until light and fluffy. Add eggs one at a time, beating well after each addition. Add vanilla and mix until combined.

Step

3

In another large bowl, whisk together flour, cornstarch, baking powder, and salt. Add half of the dry ingredients to the wet ingredients, beating until just combined. Pour in the milk and mix until fully incorporated. Add remaining dry ingredients and stir until just combined. Fold in sprinkles.

Step

4

Divide batter evenly between prepared cake pans. Bake until slightly golden on top and a toothpick inserted into the middle comes out clean, about 30 to 35 minutes. Let cool completely.

Step

5

Meanwhile, make buttercream: in a large bowl using a hand mixer, beat butter until light and fluffy, 2 to 3 minutes. Add powdered sugar, sour cream, vanilla, heavy cream, and salt and beat until smooth.

Step

6

Assemble cake: Place the bottom layer of the cake on your serving platter and spread with buttercream; repeat with the second layer of cake. Place the last layer of cake on top, then frost the entire cake with buttercream. Garnish with more sprinkles, if desired.
This content is imported from poll. You may be able to find the same content in another format, or you may be able to find more information, at their web site.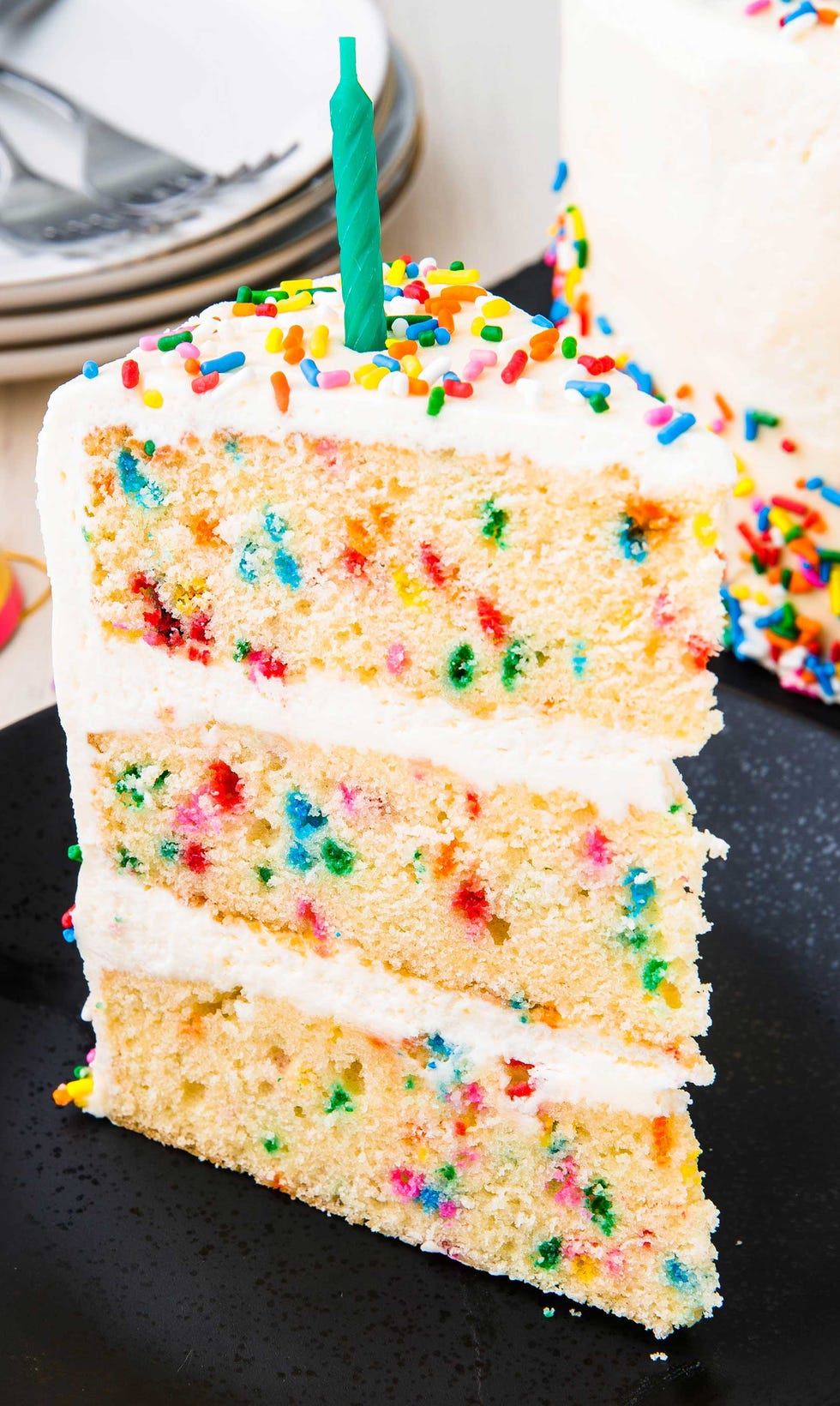 Parker Feierbach

Lena Abraham
Contributor
Lena Abraham is a freelance contributor with Delish, and was formerly Senior Food Editor, where she developed and styled recipes for video and photo, and also stayed on top of current food trends. She's been working in the food industry for over 10 years, and will argue that the best fish tacos in the world are made in New York. Don't @ her.