This is a beautiful, moist, flavorful, delicious, yummy, happy pound cake…and it contains lemon-lime pop.
Important question: do you say "pop" to describe soft drinks? I do. I tried to resist it, I did…but soft drinks are "pop" around here in Pawhuska, and it's cemented in my lexicon forever.
This is a version of the old 7-Up cakes many of us enjoyed in the seventies, and this isn't the first dessert I've shared with you that incorporates pop. Have you tried the Apple Dumplings made with Mountain Dew? If not…don't. They're evil. And they must be destroyed. This pound cake must be destroyed, too. But not until after you try it once! Just kidding… it's my daughter's favorite—"This is the best cake of my whole life," she says. See if you agree!

Serve it alone with a cup of coffee for a mid-morning snack or second breakfast or as a scrumptious dessert with ice cream and raspberry sauce, or with syrupy strawberries and whipped cream. It's a versatile, yummy pound cake that'll add a little joy to your life.
Advertisement – Continue Reading Below
Ingredients
Cooking spray

3

sticks butter

3 c.

sugar

5

whole eggs, at room temperature

1 tsp.

butter flavoring

2 tsp.

lemon extract

3 c.

all-purpose flour

1 c.

Sprite, 7-UP, or Sierra Mist
Directions
Step

1

Preheat the oven to 325˚ and thoroughly grease a bundt pan with cooking spray.

Step

2

In the bowl of a stand mixer, add the butter and cream until fluffy. Add the sugar, 1 cup at a time, mixing after each addition. Add the eggs, 1 at a time, mixing after each addition. Add the butter flavoring and lemon extract and mix well.

Step

3

Add the flour, 1 cup at a time, mixing well after each addition. With the mixer on low, add the soft drink, then mix together gently until combined. Scrape sides of bowl, then mix briefly.

Step

4

Pour into the greased Bundt pan and bake for 1 hour to 1 hour 10 minutes, until the cake is no longer jiggly.

Step

5

Remove cake from oven and invert pan until cake drops out. Slice and chow down!
---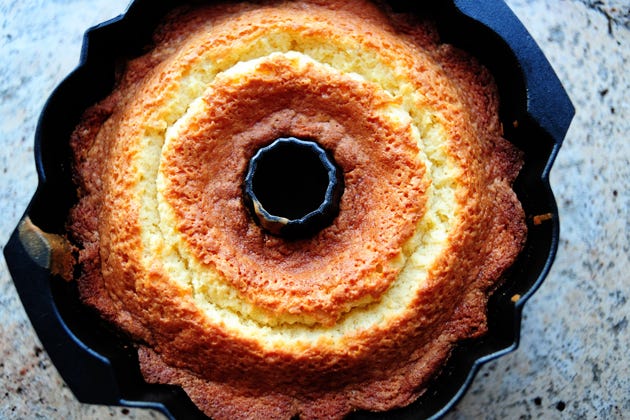 I used to say "coke." Whether it was Sprite, Dr. Pepper, Diet Pepsi, or Fresca, if I had a hankering for something fizzy I'd always say "I need a coke."
But then the Wranglers came into my life. It's been "pop" ever since.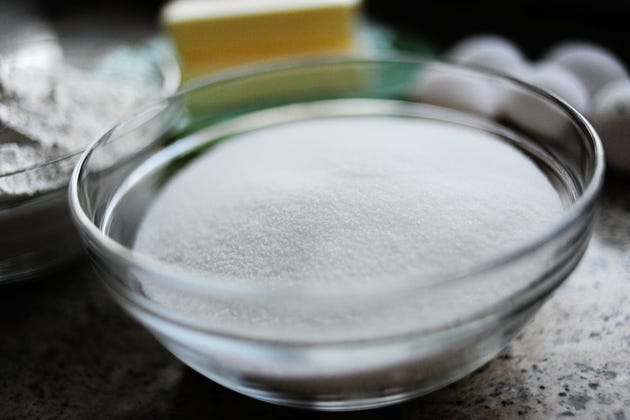 You'll need three cups of sugar…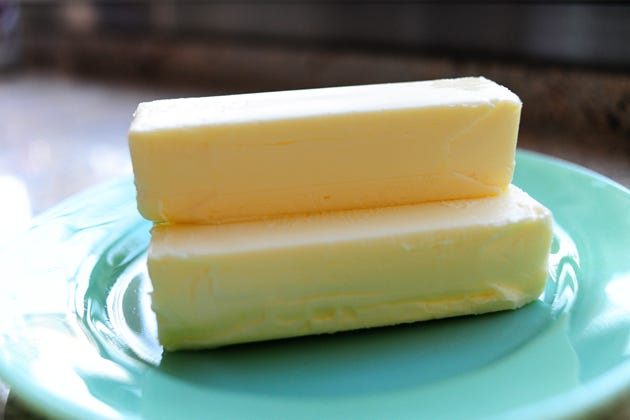 Three sticks of butter, softened.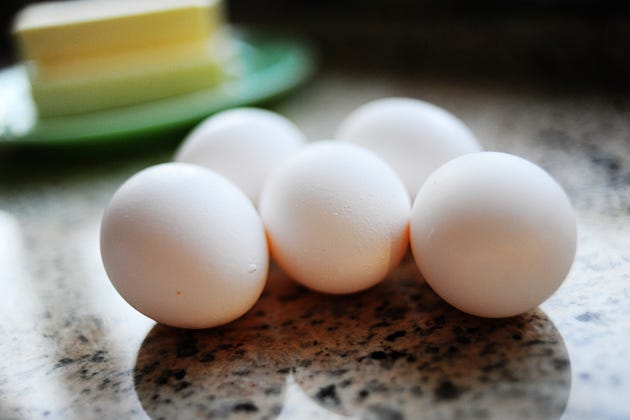 Five eggs. Room temperature is best.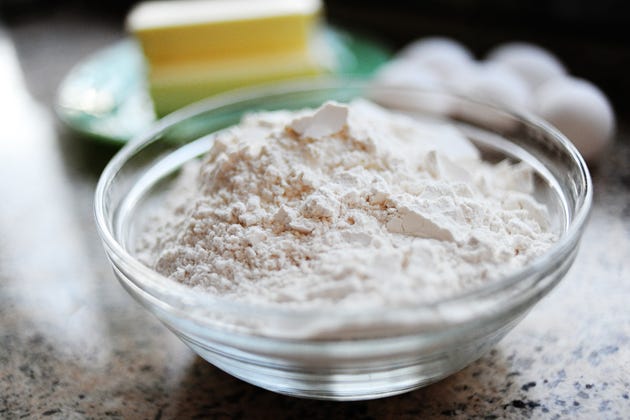 3 cups of flour…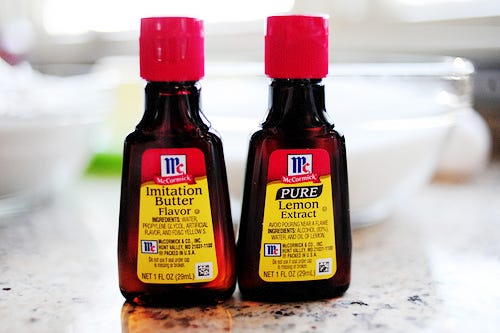 And you need these two flavorings: Butter and Lemon.
They make things really yummy!
And you need one more thing.
You need…
You need…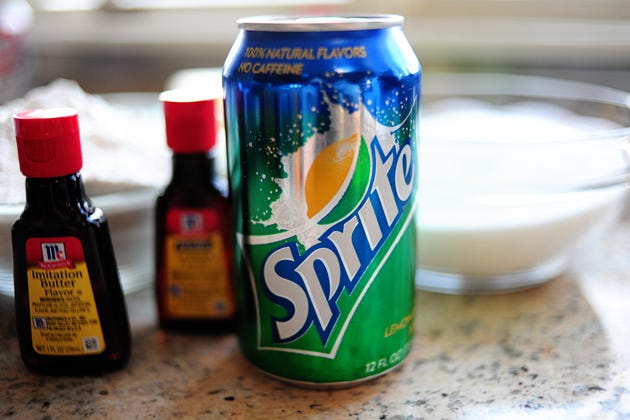 You need this! Well, you could use 7-UP, too. Sierra Mist, if you're feeling particularly edgy and dangerous.
Sierra Mist always brings out the wild beast in me.
Unfortunately for Marlboro Man, all I had was Sprite.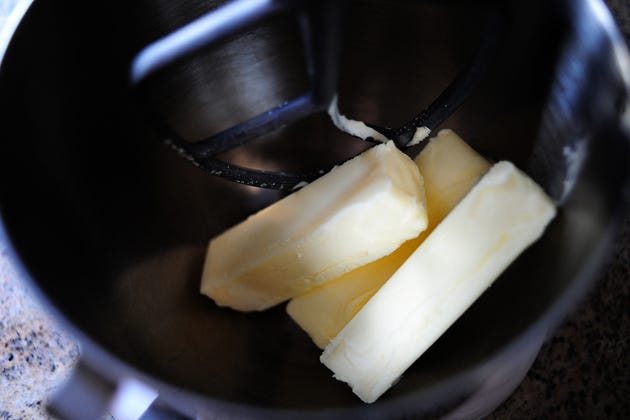 Throw the butter into the mixing bowl.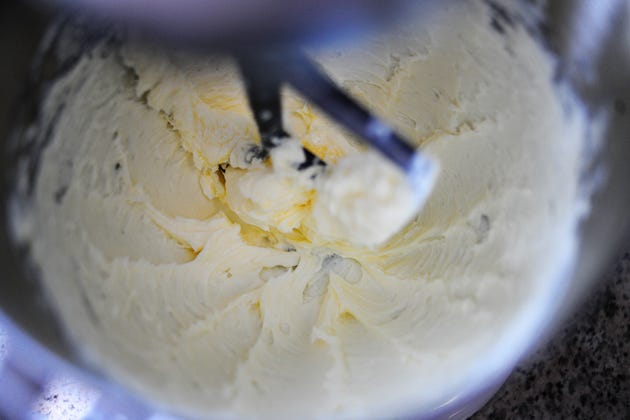 Beat it until it's fluffy.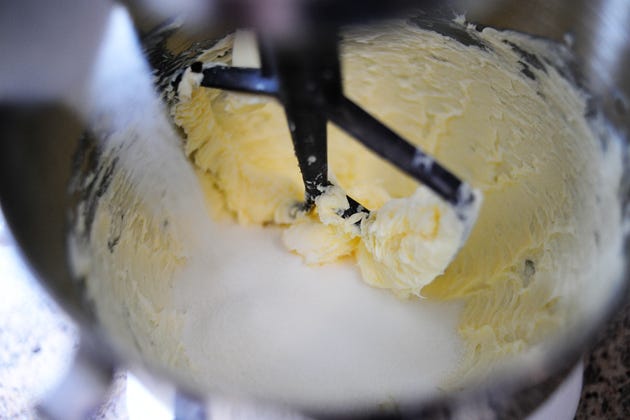 Add the sugar one cup at a time.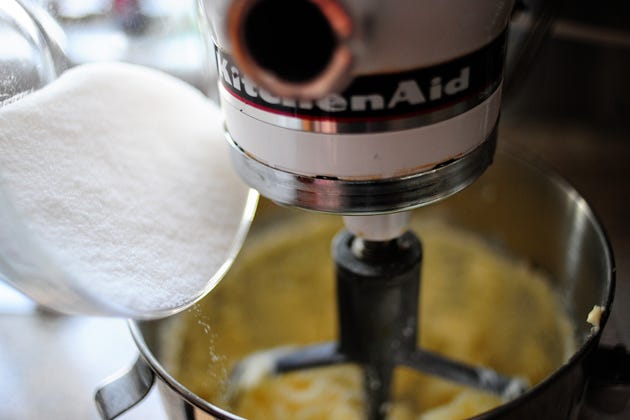 Beat for about ten seconds after each addition.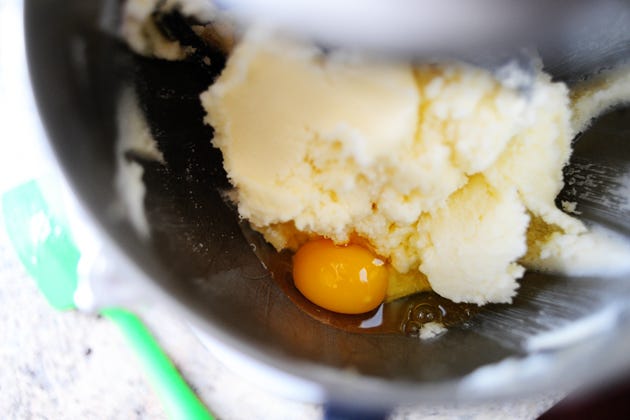 Next, add the eggs one at a time, beating after each addition.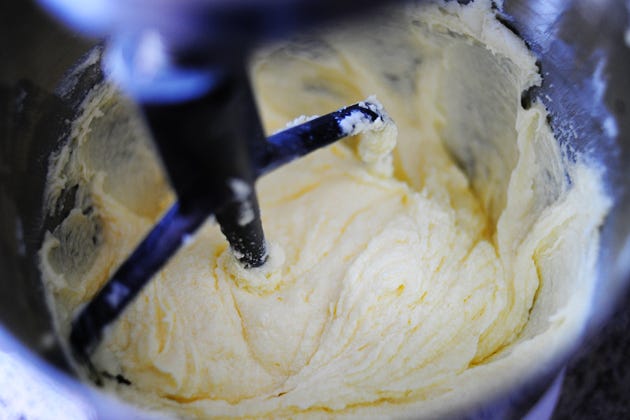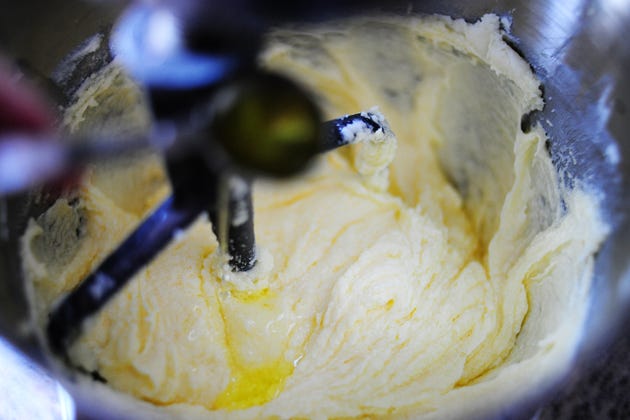 Now add 1 teaspoon of the butter flavoring…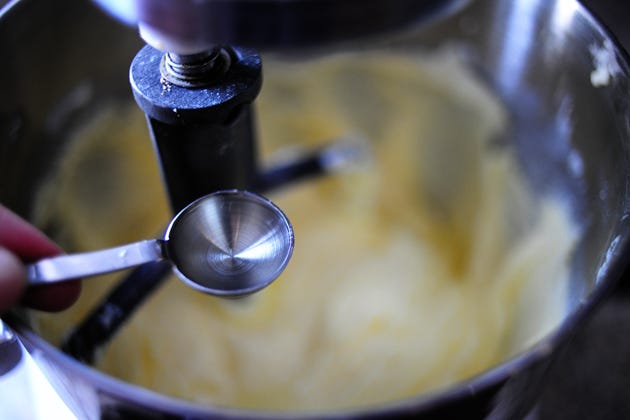 And two teaspoons of the lemon flavoring.
You'll be glad you did!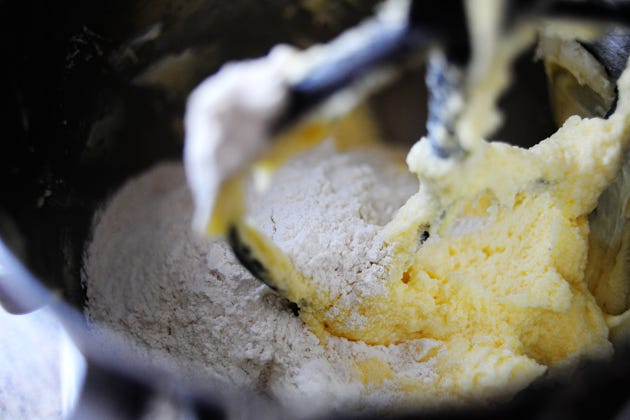 Mix in the extracts, then add the flour, 1 cup at a time. Mix briefly after each addition.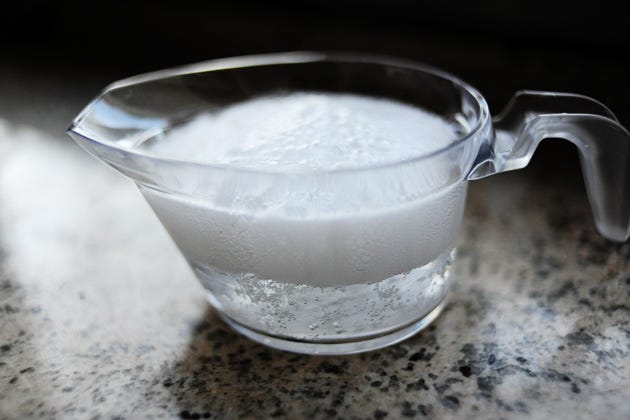 Measure 1 cup of Sprite/7-UP/Sierra Mist.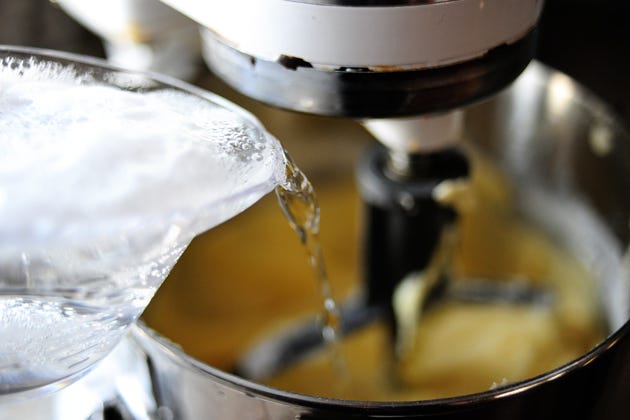 Pour it into the bowl with the mixer on low…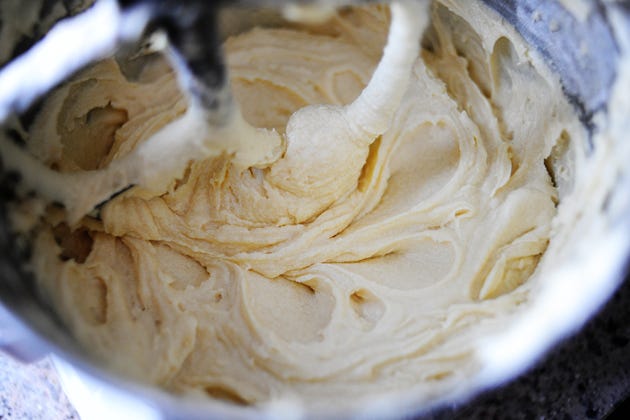 And mix gently until it's all combined. Give the bowl a scrape with a rubber spatula, then mix for a few seconds more. Yummy! I love cake batter and try to accidentally get as much on my fingers as possible.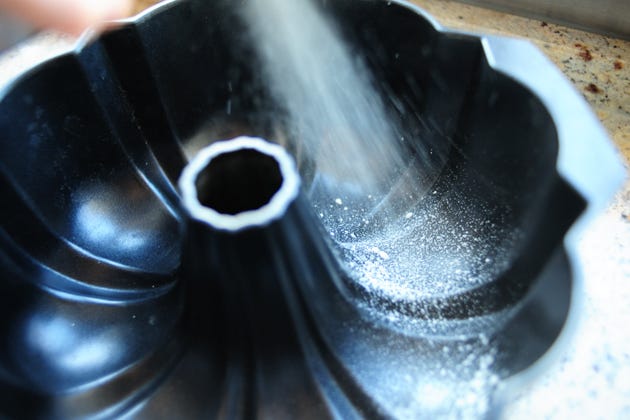 Now…grab that Bundt pan, baby! Grease it very well. I use baking spray, and I really spray it silly.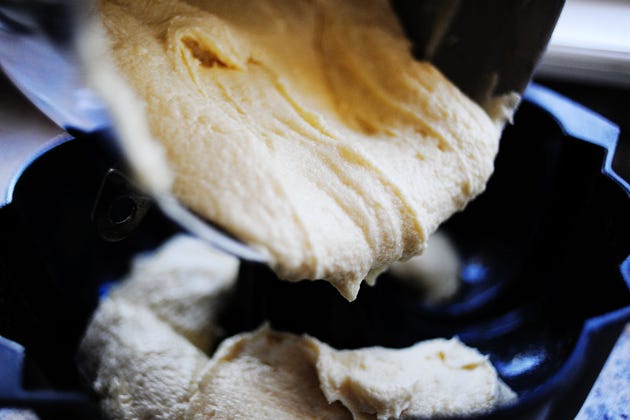 Pour the batter into the pan…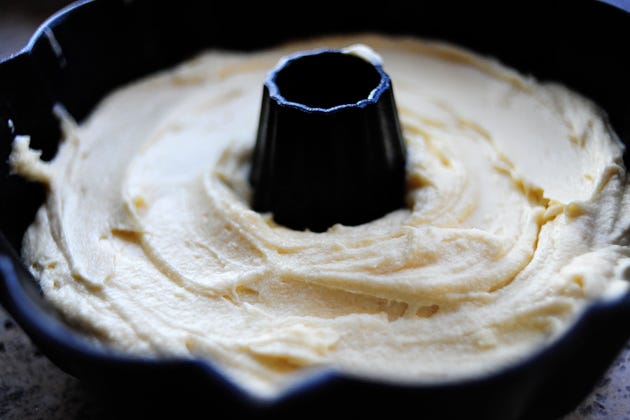 Bake it for 1 hour, or until golden brown and no longer jiggly.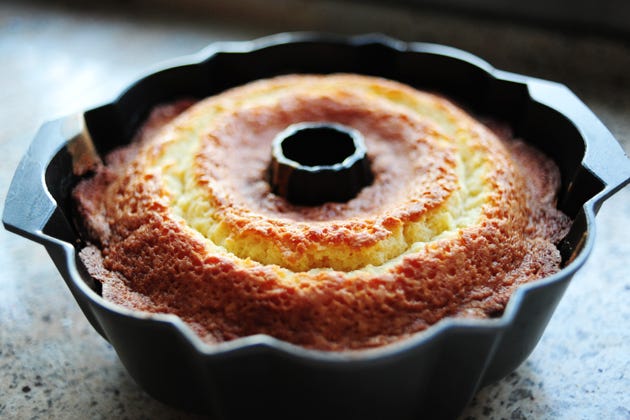 Hello, beautiful baby!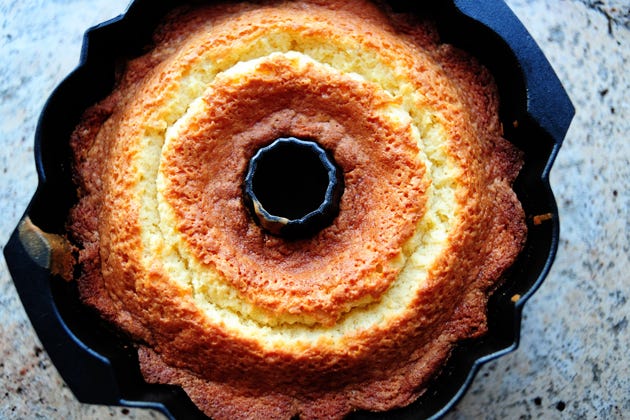 This is delicious, folks. Absolutely delicious. Invert it onto a plate (let the cake sit, inverted, until the cake eventually drops), then cut into slices.
Enjoy!