by Joy the Baker 109 Comments
Apparently we're quickly approaching November.  Wait… what!?  In the blink of an eye we'll be eating turkey for Thanksgiving, wrapping holiday gifts, and kissing at midnight… that's how fast this year is going!
What are we going to do about this? Is there some sort of pause button.
The only thing I can think do to do slow things down involves these healthy-ish Pumpkin Millet and Chocolate Muffins, a cup of milky tea, and Food and Wine Magazine.  Did you slow things down this weekend?  Was there pumpkin and chocolate, too?
This is real life.  Warm muffin.  Milk tea.  Food magazine.
I don't slow down very often… I'm a terrible relaxer.  A short moment that looks like this?  Yea… it's a nice and necessary recharge.
Ps.  You should totally know that I ate three muffins… not just the one pictured here.  Three.  They're small.  No biggie.
Oh!  My little bit of downtime has given me all sorts of holiday pie ideas.  Get your pie tins out!  It's going to get delicious here.
I love the simplicity of these muffins.  I think you will too.
No mixer necessary.  All you need is a few bowls, pureed pumpkin, and crunchy dry millet.
The millet adds a tender, healthful crunch to the muffins.  Like nuts… without being nuts.
The muffins are moist and pumpkin-y.  Perfect for the season.
Perfect perfect perfect with chocolate.
You have to balance out all of that whole wheat flour and millet with chocolate, right?
It's all about balance.
Ps.  I'm so bad at balance… that has everything to do with the fact that I'm a terrible relaxer.
I must admit that this recipe is very similar to other recipes here at Joy the Baker.
I like pumpkin.  I like chocolate.  I like millet.
If you'll recall, the Banana Millet Bread was pretty stellar, and these Soft Pumpkin Cookies are bonkers delicious.
Also… you can totally go vegan with this Vegan Pumpkin Walnut Bread.
Just lookin' out for you!
Pumpkin, Millet, and Chocolate Muffins
makes about 16 muffins
adapted from Cookie and Kate
Print this Recipe!
1/2 cup vegetable oil
3/4 cup brown sugar
2 large eggs
1 cup pureed pumpkin
2 teaspoons pure vanilla extract
1 3/4 cup whole wheat flour
1/2 teaspoon salt
1 teaspoon baking soda
1 teaspoon ground cinnamon
1/2 teaspoon ground ginger
1/4 teaspoon fresh ground nutmeg
1/2 cup dry millet
1/4 cup buttermilk
3/4 cup dark chocolate chips
Place a rack in the center of the oven and preheat oven to 325 degrees F.  Line a muffin tin with paper or foil liners and set aside.
In a large bowl, whisk together oil, brown sugar, eggs, pureed pumpkin, and vanilla extract.
In a medium bowl, whisk together flour, salt, baking soda, spices, and millet.
Add the dry ingredients, all at once to the wet ingredients.  Add the butter milk and fold together.  When batter is almost completely mixed, fold in the chocolate chips.
Spoon batter into prepared pan.  Fill muffin cups three quarters full.  Bake for 15to 17 minutes, or until a skewer inserted in the center of a muffin comes out clean.  Let rest for at least 15 minutes before serving.  Serve warm or at room temperature.  Muffins will last, well wrapped at room temperature, for up to 3 days.
These muffins also freeze really well.  Seal in a freezer-safe bag and store in the freezer.  I like to eat these right from the freezer.  It's possible that I am not normal.
Reader Interactions
Trackbacks
[…] And of course, Fall brings pumpkin!  I could eat pumpkin goodies year round, but yesterday when I stepped outside for an early morning out, and felt the slightly cooler Atlanta air, I knew I was ready for Fall.  So, I whipped up these pumpkin butter muffins for my mister.  They were a winner. (This recipe was inspired by Joy the Baker) […]

[…] Pumpkin Muffins (bring on the fall) […]

[…] made 2 more batches of these muffins for my co-workers and family (and me) to enjoy.  Is it time to admit I have a […]

[…] than breakfast, but muffin-shaped so you can totally get away with them for breakfast, these Pumpkin, Millet and Chocolate Muffins from Joy the Baker are amazing.   I think the crunch from the raw millet is my favorite part. […]

[…] adapted this recipe from one of my favorite websites – Joy the Baker. She used chocolate chips in her recipe, which is a great way to go.  I decided to go the […]

[…] 3. I know that everyone is a twitter about Fall bringing autumn leaves and boots but we must not forget that with Fall comes with all things pumpkin flavored. I mean walking into Trader Joes is like walking into a grocery stores Thanksgiving. Here is a little pumpkin muffin treat brought to you by Joy the Baker. […]

[…] new favorite pumpkin muffins from joy the baker! they turned out amazing and i adapted her recipe to be gluten-free and vegan. i […]
This site uses Akismet to reduce spam. Learn how your comment data is processed.
RELATED POSTS IN Bread
Smoked Sausage Jambalaya Buttermilk Biscuits
These mile-high jambalaya buttermilk biscuits are stacked with all the savory flavors of New Orleans' most comforting rice dish.  These tender biscuits are absolutely stacked with Zatarain's Cajun-Style Smoked Sausage, onions, peppers, and roasted tomatoes. We're taking big bites of Mardi Gras this year – here's how! Friends, we have a bonafide tradition in the…
Read More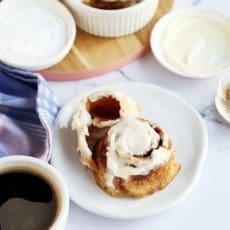 How To Make The Best Single Serve Cinnamon Roll
Micro batch baking – the invitation is to get all the way into it with me!  This is all very Kristin Wiig  making herself a single, sad cupcake in the movie Bridesmaids, save for the fact that there is absolutely zero sadness in me eating a single cinnamon roll over the kitchen sink in my…
Read More
Christmas Morning Orange Rolls
Think of tender breakfast rolls and cinnamon rolls without the cinnamon, scented with heavenly orange and just the right amount of warming nutmeg and ginger. Honestly if cinnamon rolls disappeared from the world, we'd all be just fine – these orange rolls hit the spot. I'm headed back to Los Angeles for the Christmas weekend…
Read More