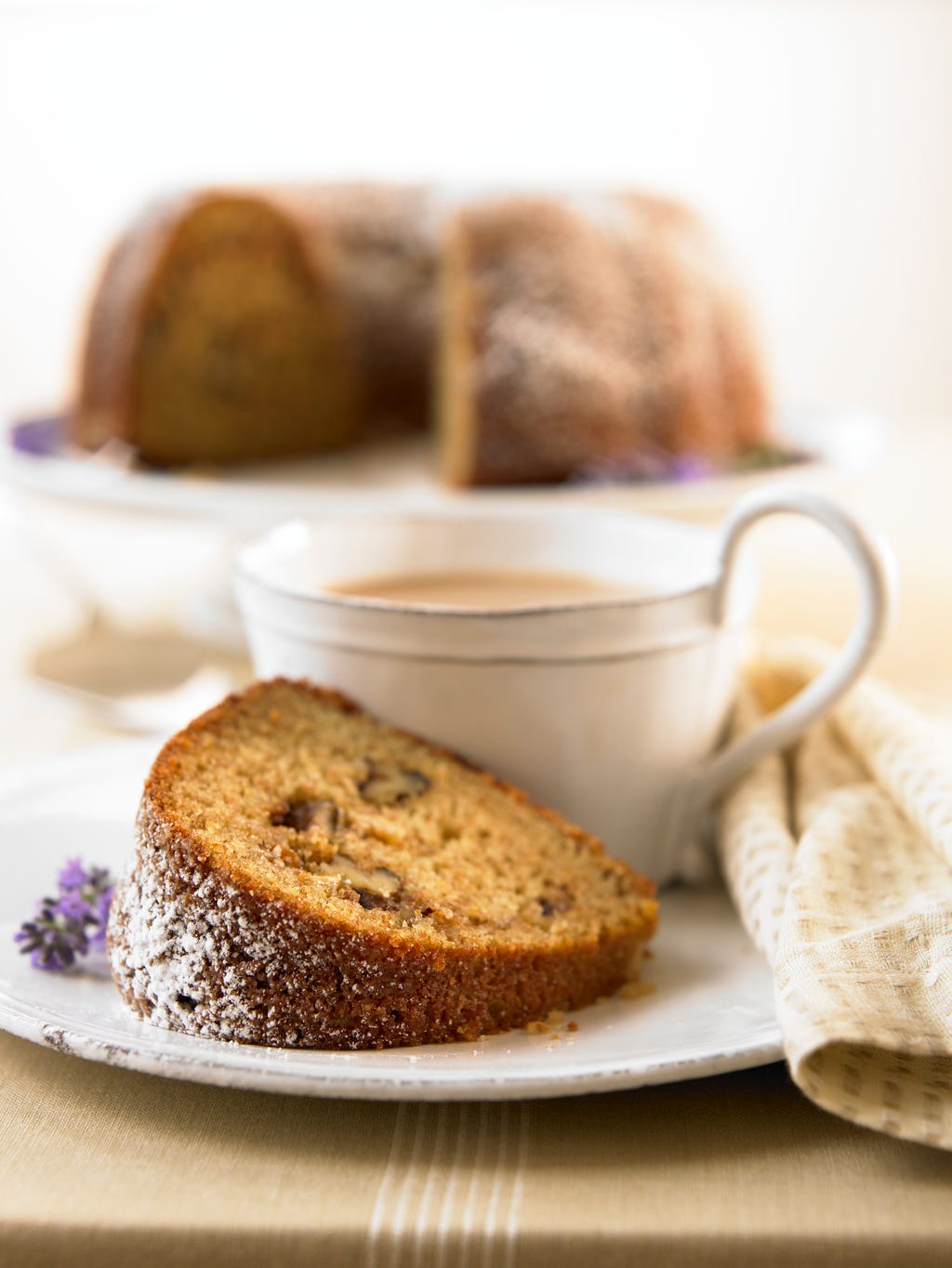 Mitch Mandel
Advertisement – Continue Reading Below
2 1/2 c. unbleached all-purpose flour
1 1/2 c. whole wheat pastry flour
2 tsp. baking powder
2 tsp. baking soda
1 1/2 tsp. salt
2 c. fat-free vanilla yogurt
1 tsp. vanilla extract
1/2 c. granulated sugar + 1 1/3 cups
1/2 c. chopped nuts
3/4 c. reduced-calorie, trans-free margarine
4 large eggs at room temperature
Directions
Step

1

Preheat the oven to 350°F. Generously coat a 10″ Bundt pan with nonstick cooking spray and dust with flour. Tap out any excess.

Step

2

In a medium bowl, stir together the all-purpose and pastry flours, baking powder, baking soda, and salt. In another medium bowl, mix the yogurt and vanilla. In a small bowl, toss together 1/2 cup sugar and the nuts.

Step

3

In a large bowl with an electric mixer at medium speed, beat the margarine and remaining 1 1/3 cups sugar until light and fluffy. Add the eggs, one at a time, beating well after each.

Step

4

With the mixer on low speed, beat in one-third of the dry ingredients, then one-third of the yogurt mixture. Repeat additions twice, mixing just until the batter is blended and smooth.

Step

5

Evenly spoon half of the batter into the prepared pan. Sprinkle with the nut mixture. Top with the remaining batter, spreading it as evenly as possible.

Step

6

Bake for 55 to 60 minutes, or until the cake shrinks from the sides and a wooden pick inserted in the center comes out clean. (If the cake is browning too fast, cover loosely with a sheet of foil.)

Step

7

Let the cake cool in the pan on a wire rack for 30 minutes. Loosen the edges and turn out onto the rack to cool completely. Dust with confectioner's sugar, if desired.
Advertisement – Continue Reading Below
Advertisement – Continue Reading Below