This is no ordinary pound cake. It's swirled with a sweet and decadent caramel batter and topped with a healthy drizzle of salted caramel after it's baked. We recommend using our perfect caramel sauce for this recipe. But if you don't have time, store-bought caramel sauce is great, too. Just don't use caramel syrup. It's too sweet!
Advertisement – Continue Reading Below
Cooking spray

1 c.

(2 sticks) butter, softened

1 c.

granulated sugar

4

large eggs

2 c.

all-purpose flour

1 1/2 tsp.

baking powder

1 tsp.

kosher salt

1/4 c.

caramel sauce, plus more for topping

Flaky sea salt, for topping
Nutrition Information
Per Serving (Serves 8)

Calories

489

Fat

27 g

Saturated fat

15 g

Trans fat

1 g

Cholesterol

154 mg

Sodium

285 mg

Carbohydrates

55 g

Fiber

1 g

Sugar

25 g

Protein

7 g

Vitamin D

1 mcg

Calcium

95 mg

Iron

2 mg

Potassium

84 mg

Note: The information shown is Edamam's estimate based on available ingredients and preparation. It should not be considered a substitute for a professional nutritionist's advice.

Powered by
Directions
Step

1

Preheat oven to 350° and grease a 9"-x-5" loaf pan with cooking spray. In a large bowl with a hand mixer, beat together butter and sugar until light and fluffy. Add eggs, one at a time, beating well after each addition.

Step

2

In a medium bowl whisk together flour, baking powder, and salt. Fold dry ingredients into wet ingredients and stir until just combined. Scrape 1/4 of batter into a medium bowl and fold in caramel sauce until combined.

Step

3

Alternating between batters, spoon large dollops into prepared pan. Insert a wooden skewer into the pan, so it touches the bottom and make four figure-eight patterns. Remove skewer.

Step

4

Bake until a toothpick inserted into the middle comes out clean, about 1 hour.

Step

5

Let cool 10 minutes then invert onto a cooling rack to cool completely.

Step

6

Drizzle cooled cake with more caramel and sprinkle with sea salt.
USA Pan USA Pan Bakeware Loaf Pan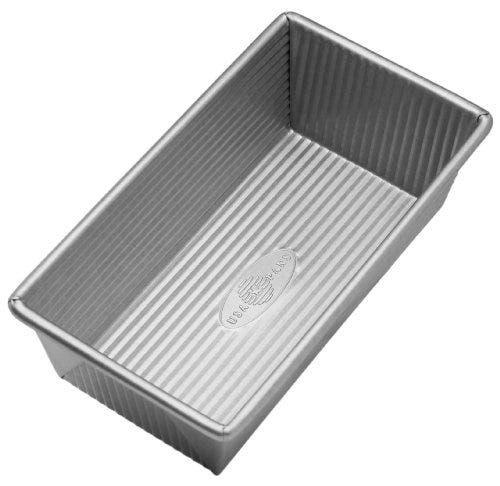 USA Pan USA Pan Bakeware Loaf Pan
This content is imported from poll. You may be able to find the same content in another format, or you may be able to find more information, at their web site.