by Joy the Baker 74 Comments
Let's take a trip through the top drawer of  my dresser.  I have a point to make.
… we're about to talk about underwear.  Can you handle it?
The top dresser drawer houses the following items:
– Cotton granny panties.  Summertime sleeping bras.  For private use only.  No exceptions.   Not to be seen by any eyes other than my own.
– Cute panties.  Pretty panties.  Lace panties.  Expensive bras with pink ribbon running through them.. all the sort that might inspire and invite a little scandal.  Yea… true.
Its like night and day in my underwear drawer… night and day.
This is normal, right?  We all have underwear standards.
I share this with you because I want you to know, right off the bat, that showing you these Sour Cream Molasses Bran Muffins is like giving you a peak at the granny panty portion of my top dresser drawer.
I just couldn't glam up these muffins…. mostly because they're not meant for glam.  They're just meant to be cakey brown muffins… ok?
I'm not going to say any more about the underwear situation… I think it's just making everyone uncomfortable.  You get my point.
Butter.  That's what I love about these bran muffins.  You can taste the butter.
The muffins are made tender with sour cream and robust with molasses.  And.  Bonus!  They're better after two or three days.  They actually taste better!
Be sure to add a handful of dried fruit.  Currants, dried cranberries, diced dried apricots, or golden raisins.  The muffins need the texture and sweetness.  Trust me.
Sour Cream Molasses Bran Muffins
makes 12 muffins
from The Gourmet Cookbook
Print this Recipe!
1 stick (1/2 cup) unsalted butter, at room temperature
1/4 cup light brown sugar, packed
1 egg, lightly beaten
1 cup sour cream
1/4 cup molasses, not blackstrap
1/2 cup raisins, dried cranberries, dried currants or diced dried apricots
1 cup all-purpose flour
1 teaspoon baking soda
1/4 teaspoons salt
1 cup wheat bran (not cereal)
Preheat oven to 400 degrees F.  Grease and flour a 12 tin muffin pan and set aside.
In the bowl of a stand mixer fit with the paddle attachment, beat the butter and sugar on medium high until light and fluffy, about 3 to 5 minutes.  Add the egg, sour cream and molasses and beat on medium speed until well incorporated, about 1 to 2 minutes.
In a small bowl whisk together the flour, baking soda, salt and wheat bran.  Add the dry ingredients all at once to the wet ingredients.  Stir until incorporated.  Fold in the dried fruit.  Batter will be thick and slightly lumpy.
Divide evenly among the 12 muffin tins.  Bake for 15 to 18 minutes.  Remove from the oven.  Allow to cool in the pan for 10 minutes then remove to a wire rack to cool completely.  Store at room temperature well wrapped for up to 5 days.  The muffins are better after a day or two on the counter!
Reader Interactions
Trackbacks
[…] Sour Cream Molasses Bran Muffins […]

[…] and ingredients, so I turned to the ever reliable Joy the Baker. In June, she posted a recipe for Sour Cream Molasses Bran Muffins and I knew this would be a hit on many levels. One, "sour cream" in anything baked […]

[…] out that a lot of blog stuff happened in the few days I was away. Let's discuss, shall we? Joy the Baker blogged about her unmentionables. (I realize that the word unmentionables sounds so 1920′s, but I really hate the P- word. […]

[…] from Joy the Baker, Veggie101 and a little bit of […]
This site uses Akismet to reduce spam. Learn how your comment data is processed.
RELATED POSTS IN Breakfast
King Cake-Inspired Easy Bostock
This Bostock toast is a delightful marriage of toast and almond croissant. Toast turns pastry.  We're topping these toasts with orange marmalade and sliced almonds inspired by my favorite almond-filled french King Cake. It's Mardi Gras, friends!  The big BIG weekend and Fat Tuesday are just days away and who would I be if I…
Read More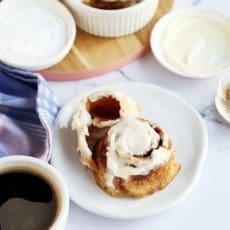 How To Make The Best Single Serve Cinnamon Roll
Micro batch baking – the invitation is to get all the way into it with me!  This is all very Kristin Wiig  making herself a single, sad cupcake in the movie Bridesmaids, save for the fact that there is absolutely zero sadness in me eating a single cinnamon roll over the kitchen sink in my…
Read More
Christmas Morning Orange Rolls
Think of tender breakfast rolls and cinnamon rolls without the cinnamon, scented with heavenly orange and just the right amount of warming nutmeg and ginger. Honestly if cinnamon rolls disappeared from the world, we'd all be just fine – these orange rolls hit the spot. I'm headed back to Los Angeles for the Christmas weekend…
Read More