Once a month, I'll be highlighting a savory item on this blog, because there is only so much sugar and butter one can eat. Today's savory item is a Southwest Pecorino Romano Bacon Mini Muffin.
Before I left my day job back in September, a coworker of mine pulled me aside and confided in me a secret. She was pregnant! She had been trying for quite some time, and finally FINALLY it happened! I couldn't be more thrilled about it for her. My former coworker is a pretty amazing person, and she has gone through some incredible obstacles in her life, but having her there, telling me her dream of having a baby was coming true, was so fantastic and joyous. And then she asked me if I would cater her baby shower. How could I say no? So four months later, I found myself trying to come up with a decent menu for forty people for a baby shower. One of the items was the Southwest Pecorino Romano Bacon Mini Muffin which I made with New Mexico Hatch Valley fire roasted green chiles.
My former coworker's friend Janet was organizing the brunch. She had contacted me about the menu and requested that I make cupcakes. Not a problem for me. Janet, however, was very VERY specific about what she wanted. The cupcakes were to be baked in pink muffin cups with jumbo confetti sprinkles on top. In fact, she went out and bought the exact muffin cup that she wanted them baked in AND bought the jumbo confetti.
My favorite part though, was her telling me that she bought the jumbo confetti sprinkles, emptied them out and took out all the orange dots, because they didn't go with her brunch theme colors. I LOVE that.
Once I arrived at the shower, I was totally blown away by how awesome it looked, and, frankly a little intimidated! What if my food didn't stand up to how amazing the rest of the baby shower was? It was like a wedding reception, complete with name tags and tiered "baby diaper" wedding cakes that Janet and a friend had made as centerpieces for each table. Insane! They looked totally professional and fantastic. Every guest marveled and stared at them.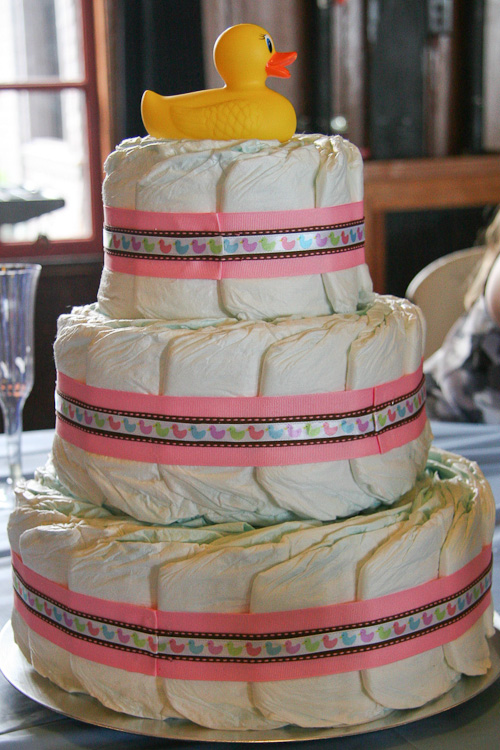 The cupcake tower Janet had gotten looked pretty fantastic as well and made my cupcakes look gorgeous. And thankfully, everyone there seemed to enjoy the food I brought (though I realized that I probably didn't provide enough "nonspicy" food for people to enjoy, as the chicken skewers, mini muffins AND mac and cheese were all spicy). I think I might have gone a little heavy handed with the cayenne pepper on the mac and cheese. Oh well, live and learn.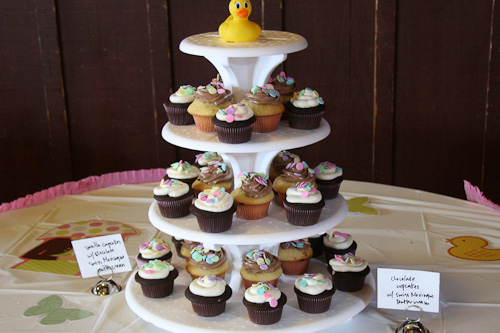 My former coworker looked radiant and beautiful. Janet got emotional when she gave the toast (with non-alcoholic sparkling apple cider of course). Nearly every baby present that my coworker got was utterly adorable. And luckily there were no baby shower games. I am not a fan of trying to figure out what type of candy bar has been melted in the diaper or guessing what the baby food is.
You can probably guess that I do occasionally cater, but every time I do, I'm pretty nervous about it. Usually my catering skews towards sweets and desserts (as you can tell by this blog) and I usually don't cater for a crowd this big. So the cupcakes were a breeze to make; dark chocolate cupcakes with vanilla Swiss meringue frosting and vanilla cupcakes with chocolate Swiss meringue buttercream. I'm in love with Swiss meringue buttercream. It's now my favorite frosting ever. Though note to self, if you have someone asks you to cater a party with cupcakes, buy some more muffin tins. One muffin tin to make 48 cupcakes just doesn't cut it.
But the savory stuff. Well I sort of winged it. I tried to come up with items that would taste decent at room temperature as I knew that I would not have access to kitchen equipment when I got there to warm stuff up. My final menu:
Vegetable Mini Fritatas

Creamy Spinach Dip

Mexican Adobo Rubbed Chicken Skewers

Spicy Smoked Gouda & White Cheddar Mac and Cheese

Southwest Pecorino Romano Bacon Savory Mini Muffins

Classic Chocolate Chip Cookies

Dark Chocolate Cupcakes with Vanilla Swiss Meringue Buttercream

Vanilla Cupcakes with Dark Chocolate Swiss Meringue Buttercream
Luckily Janet put a call out to people and a few of them brought salads as well, to balance all the protein and carbs I provided!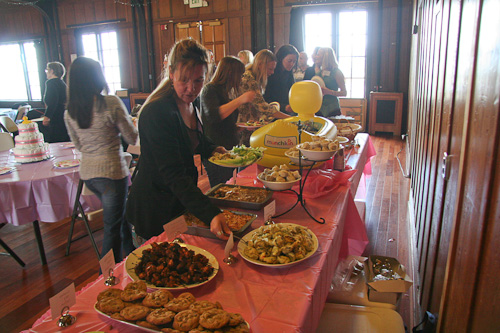 But it was these mini muffins that I really loved. Maybe it was the bacon in them. Maybe it was the Hatch green chiles that I used. I recently fell in love Hatch green chilis when I went to a New Year's Day brunch at my friend Sean and Paul's house. They made enchiladas with hatch green chiles and I was immediately smitten with them. So when I found canned ones I snatched some up.
Sean, of course, turns his nose up at the canned ones, but I don't have the connections that he has, to procure some real ones, so I make do with the canned.
My former coworker seemed to really appreciate all the food. Which is what matters most. Janet had provided lovely "gift bags" for coming to the shower. Inside each bag, a hand sanitizer for when my former coworker gives birth and we go and visit the baby. I can't wait to use it and meet the child. She's going to be an amazing mom.
Southwest Pecorino Romano Bacon Savory Mini Muffins
The Hatch green chiles give this muffin some zip and zest (but they aren't too hot). I got mine fire roasted in a can from Trader Joe's. But if you can get ahold of some fresh or frozen ones, by all means, use those. I'll be jealous and my friend Sean will probably invite himself over to your place immediately.
5 strips of thick cut bacon (1/2 lb)

1/4 cup rendered bacon fat

2 large eggs

3/4 cup buttermilk

1/4 cup olive oil

1 cup of freshly grated Pecorino Romano cheese (about 85g/3oz), divided

1/2 cup (90g) white cornmeal

1 cup (140g) all purpose flour

2 teaspoons baking soda

3 medium cloves garlic, minced (about 1 tablespoon)

one 3 to 4 inch sprigs of rosemary, leaves finely chopped (about 1 teaspoon) OR 2 teaspoon of dried rosemary crumbled

1/2 teaspoon kosher salt

1 teaspoon fresh ground pepper

1/2 cup (4 oz/113g) of canned New Mexico Hatch Valley fire roasted diced green chiles
1. Preheat an oven to 350˚F. Line a mini muffin tray with small mini muffin cups or spray the pan with a neutral cooking oil like canola.
2. Cook the bacon until well done and crispy. Reserve 1/4 cup of the fat. If you don't have enough fat for 1/4 cup, you can add more olive oil until you have enough. Cool the bacon on a plate lined with paper towels until the bacon is at room temperature.
3. Place the eggs, buttermilk bacon fat and olive oil in a medium bowl and whisk together.
4. Place 3/4 cup of the cheese along with the cornmeal, flour, baking soda, garlic, rosemary, salt and pepper in a large bowl and whisk vigorously together to blend. Crumble the bacon into the flour and add the Hatch green chile pepper as well. Stir together, and then add the wet ingredients to the dry ingredients. Stir with a large spatula until combined.
5. Spoon just enough batter into each mini muffin for the batter to reach the top of the tin (about 2 teaspoons of batter). Sprinkle with some of the remaining 1/4 cup of cheese. Bake for 12 to 14 minutes or until a toothpick inserted in the middle one comes out clean. Cool in the muffin tin for about 5 to 10 minutes and them move to a wire rack to cool completely.
Note. You can make these in large muffin tins as well. Just bake them for 20 minutes or so.