Recipe: strawberry mousse cake stata
I'm not a fan of pink. In fact, Beth and I were discussing this just yesterday – how we both dislike pink. I like pink that occurs naturally, but I don't seek it out and I certainly don't wear it. I think it's an unfortunate result of my rebellion against society's expectation that girls should dress in pink. Growing up a tomboy, I shunned pink at every opportunity. I like black and blue.
But pink has its place for a good cause – and everyone (I hope) knows what that is: fighting breast cancer. Susan G. Komen for the Cure has mobilized action and awareness for over a quarter century. I've run some of the 5K races and raised money for the organization in the past. It's a good thing to do.
When I was in graduate school, my sister called up one day to tell me that my mom was having two lumps from her breast biopsied. Mom told Kris not to tell me because she didn't want to disrupt my studies. This is typical of my mom. It was also typical of Kris to tell me immediately. We did not keep secrets from one another and Kris was scared – she wanted to talk to me about it. Sure, we both rolled our eyes when Mom nagged us about this, that, and the other thing, but our family is really tight. It changes your perspective to think you might lose someone you have taken for granted all of your life. Kris and I decided we'd surprise Mom by driving/flying out to visit the day she got her results from the lab. We would be there to celebrate or to comfort. Either way, we'd be there.
It's a 9-hour drive from Ithaca to southern Virginia (well, 8.5 hours if you don't have to stop and water the dog). Jeremy drove the whole way and I felt sick to my stomach. We stopped in Washington DC for gas and I called my dad to find out any news. He was in on the secret surprise, although my dad is a horrible liar and he kept telling Kris and me for a week that he was not "letting the beans out of the bag." Amazingly, he was able to keep it secret. He said the results were benign. I gripped the receiver of the REI customer service phone and tried to speak, but it got stuck in my throat and I nearly choked. Good news. I couldn't have wanted anything else at that moment. Dad knew and he said softly, "It's okay JenJen, don't cry. I'll see you shortly."
We parked the car behind the garage and waited for 20 minutes until their car pulled in. Dad, in his really bad acting, asked my mom to go get something behind the garage. My mom was muttering, "What are you talking about?" when I stepped out and my mom gave me the most puzzled look. "JenJen? but you are in Ithaca? Why are you here-" and her expression changed as her arms dropped to her side, "Kris told you." But by then she was hugging me and it didn't matter if Kris told me or that we had come out without telling her. I'm a good 4 inches taller than my mom and quite a few tens of pounds heavier, but when she held me it felt just like it did when I was five years old – good, safe, loved – and yet I had gone home to provide those feelings for her.
I consider myself lucky in that breast cancer has not devastated me the way it has some of my friends and countless others. Loss is devastating, this I know first hand. It would be so nice to stop breast cancer from taking one more life ever again. October is Breast Cancer Awareness Month and Marye over at Apron Strings and Simmering Things is hosting the Boobie Bake Off.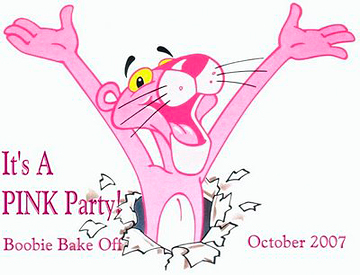 People are invited to submit pink recipes and readers can vote for their favorite one. It costs $1 to vote via PayPal and all of the money Marye collects will be donated to breast cancer research. You can read about it here. I pondered this one for a little bit and came up with a pinkish dessert. The best part was playing with pink spun sugar and trying to make pink candy ribbons (not a raving success, but they look like pink ribbons in a sort of abstract way).
pink can be delicious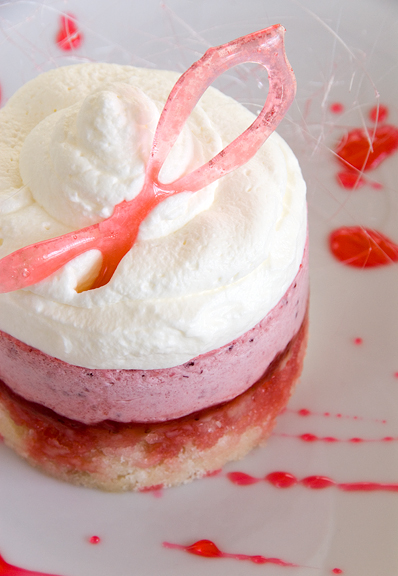 I couldn't figure out what this is called since I slapped this one together, so I dug into my geology background and called it like I saw it: strata. I know strata is used for those savory bready casserole type things, but think strata is far more appropriate for this pink dessert and hence, I have commandeered the name.
sorry, had to try and capture the spun sugar
strawberry mousse cake strata

[print recipe]

makes about 15
1 sheet of vanilla chiffon cake

1 recipe of strawberry mousse

1 cup strawberry preserves

3 cups whipped cream
equipment
3-inch ring molds (2-inch height minimum)

3-inch round cutter
vanilla chiffon cake

makes 2 11×17-inch sheets or 2 9×3-inch rounds

this recipe originally intended for baking at 5300 ft. so sea-levelers may want to increase the baking powder a bit
14.5 oz. cake flour

8.75 oz. confectioner's sugar

6.75 oz. whole milk

6 oz. canola oil

3.25 oz. eggs

0.5 oz. baking powder

13 oz. egg whites

9.5 oz. granulated sugar

1 tsp vanilla extract
Oven 375°F. Prep pan by buttering bottom and sides. Place parchment in pan and butter the parchment. Sift dry ingredients (except granulated sugar) into a large bowl. Mix all ingredients (except the 13 ounces of egg whites and granulated sugar) in the large bowl until combined. Whip whites and granulated sugar to medium peaks. Fold into batter gently. Bake until set, about 20-25 minutes. Remove from oven and remove from pan. Let cool on a rack. Wrap the sheet you want to use in plastic and place in the freezer for a few hours. Remove from freezer and with a large serrated knife, cut the cake into two layers.
strawberry mousse
1 envelope gelatin

1/4 cup cold water

2 cups strawberries (sliced, or if frozen strawberries, then thawed)

1/4 cup sugar

1 cup heavy cream

3 tbsps sugar
Sprinkle the gelatin over the water in a small saucepan and let soak for a minute. If using frozen strawberries, use 1/4 cup of the strawberry liquid instead of water. Stir over low heat until the gelatin is dissolved (about a minute). Remove from heat. Mix the berries, sugar, and gelatin mixture in a food processor and purée. Chill until the mixture piles in a mound when spooned. Beat the cream and sugar to soft peaks. Temper the whipped cream into the strawberry mixture (incorporate about a third of the whipped cream first). Fold in the rest of the whipped cream.
whipped cream
1 1/2 cups whipping cream

3 tbsps sugar (or less, I like my whipped cream to be less sweet)
Combine cream and sugar in mixing bowl and whip on high until soft peaks.
assembly

Use a 3-inch round cutter to cut as many circles from the vanilla chiffon cake. Place each circle of cake at the base of a 3-inch diameter ring mold (2-inches high). Spoon about one to two teaspoons of strawberry preserves on top of the cake and spread it evenly to the edges. Spoon strawberry mousse into each ring mold to the top. Freeze the ring molds for a couple of hours. When ready, remove ring molds from freezer and push the strata out of the mold onto serving plate. Let it come to room temperature (about 30 minutes to an hour) and top with whipped cream.
October 17th, 2007: 9:00 pm

filed under baking, confections, dessert, fruit, recipes, sweet