Pungent. Spicy. Savory. Sweet. Tteokbokki is saucy, delicious comfort food in a bowl: captivating to the eye and pleasantly explosive to the taste, it will make you break into a happy sweat. The tender chewiness of Korean rice cakes is enticingly satisfying, the chili's heat is disorienting and addictive: you fall in love faster than your brain can process. Add in some crunchy green onions and savory fishcakes and you've got yourself quite a meal.
There are many variations of tteokbokki, which translates to "stir-fried rice cakes": Gungjung-tteok-bokki is a Joseon-era royal court version that uses beef, various vegetables, and a soy sauce base; ra-bokki is served with the addition of instant ramen noodles in a soupier base. Our recipe here is for a gochujang-based tteokbokki, a red-hot, sweet-and-spicy version often served as a street snack and bar food. Here are some tips for making this dish at home.
Homemade anchovy broth
A staple of Korean cooking, dried anchovies add a crucial umami savoriness that forms the flavor bedrock of tteokbokki. This recipe uses a homemade broth that marries toasted dried anchovies with salty dried kelp and sweet, earthy dried shiitake mushrooms to provide a gentle seafood flavor. If dried anchovies and kelp can't be found at your local stores, there are dashi packets available online that would be a good substitute. In a pinch, you can skip the homemade broth and substitute in vegetable or chicken broth, or water.
Spice level
There are two sources of heat in this dish: gochujang, Korean red chili pepper paste, and gochugaru, Korean red chili pepper flakes. Gochujang is sweet, salty, and spicy, with an aromatic fermented glutinous rice note. Gochugaru is halfway between your standard crushed red pepper flakes and Aleppo pepper: beyond just being spicy, it is also fragrantly smoky and sweet, with a smell reminiscent of a freshly cut green bell pepper. Feel free to decrease or increase the amounts of spicy ingredients depending on your personal taste.
A touch of sweetness and tang
To balance out the spice and make the sauce extra glossy, we're adding a tablespoon of honey. Any type of sugar will work here: granulated, brown, corn syrup, brown rice syrup—so use whatever you like or have on hand! Be sure to add in a couple teaspoons of vinegar to brighten up the mix with a savory, ketchup-esque kick.
Additions
We're using fish cakes in our tteokbokki but you can really go any direction you want at home with additional ingredients to bulk up the dish: personalize it with cabbage, a brick of instant ramen, boiled eggs, or add in the mushrooms, kelp, and anchovies leftover from making the broth for zero-waste cooking!
Reheating leftovers

If served as a main, this recipe will feed two very hungry souls or three less voracious eaters. If serving only as a side dish or a snack, leftovers will store well in an air-tight container in the fridge for 4 to 5 days. When reheating, stir in water or broth as needed to reach desired sauce consistency: this can be done in the microwave or on the stovetop.
If you've made this recipe, we'd love to hear how you liked it! Be sure to leave us a note and a rating down below.

Advertisement – Continue Reading Below
For the homemade anchovy broth
1 oz.

dried anchovies, gutted (about 40 small anchovies)

6 c.

water

12

dried shiitake mushrooms

6″ square piece dried kelp

3/4 tsp.

kosher salt
For the tteokbokki
1 lb.

Korean rice cakes

1 tbsp.

grapeseed oil

1 tbsp.

gochugaru (Korean red chili pepper flakes)

1/4 c.

gochujang (Korean red chili pepper paste)

2

large cloves garlic, minced

1 tsp.

low-sodium soy sauce

2 tsp.

white vinegar

1 tbsp.

honey

2

to 3 c. anchovy broth, divided

6 oz.

Korean fish cakes, cut into bite-sized triangles

3

green onions, sliced into 2″ pieces, plus more for garnish

1 tsp.

toasted sesame oil

Toasted sesame seeds, for garnish
Directions
Step

1

To make homemade anchovy broth: In a large pot over medium-low heat, toast anchovies until very lightly golden, stirring frequently, 2 minutes. Add in water, mushrooms, and salt and bring to a boil over high heat. Reduce heat to medium-low and continue to simmer for 15 minutes. Remove from heat, then add in kelp and let steep for 10 minutes. Strain, reserving kelp, mushrooms, and fish for another use, if desired.

Step

2

Meanwhile, if using hard, refrigerated rice cakes: Separate cakes if they are stuck to each other, then rinse in cool water and drain. Transfer to a large bowl and cover cakes with 3 cups of hot water. Let soak for 15 minutes, until softened. Drain and set aside.

Step

3

In a large pot over medium heat, heat oil. Add gochugaru, gochujang, garlic, soy sauce, vinegar, and honey and stir until combined and fragrant, 1 minute. Add 2 cups broth and bring to a boil. Add in soaked rice cakes and cook until cakes are tender and soft, stirring often, about 10 minutes.

Step

4

Add in remaining broth as needed to loosen sauce to desired consistency. Add in fish cakes, green onions, and sesame oil, and cook until onions are softened, about 5 minutes.

Step

5

Garnish with more green onions and sesame seeds before serving.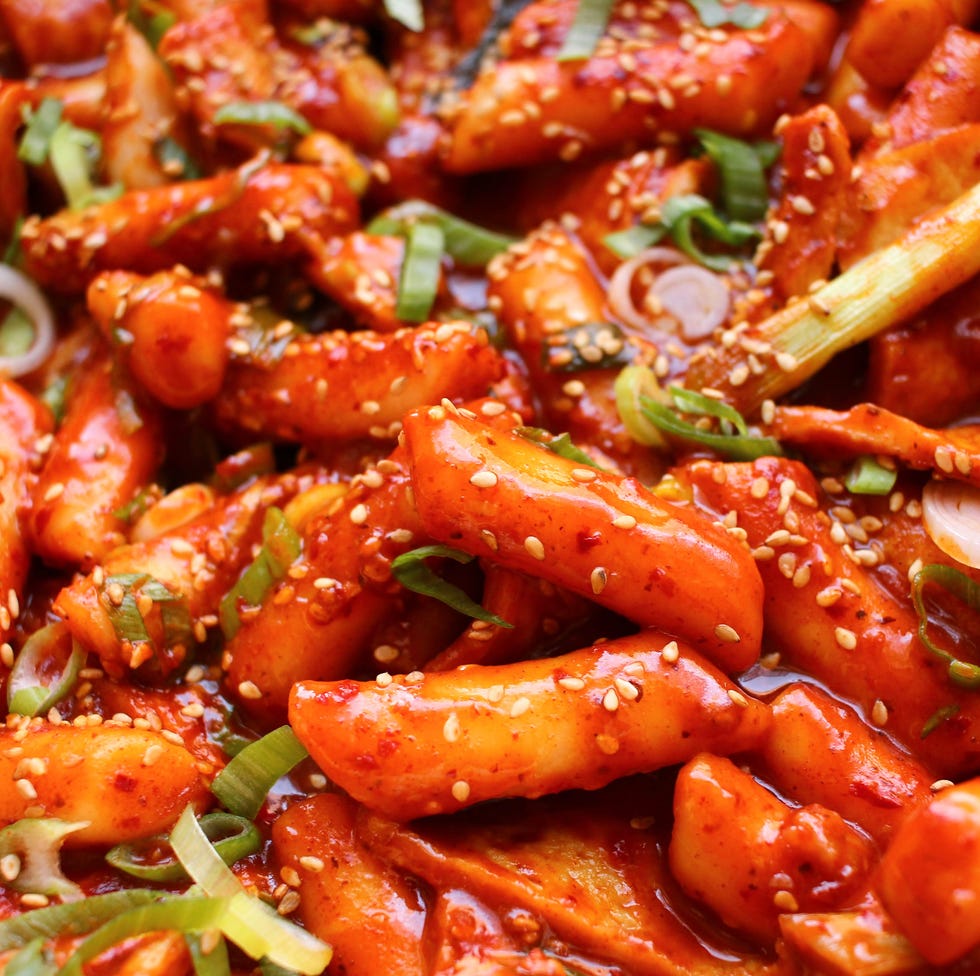 June Xie
This content is imported from poll. You may be able to find the same content in another format, or you may be able to find more information, at their web site.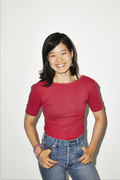 June Xie
Former Senior Food Producer
June Xie is the former Senior Food Producer for Delish, where she hosted recipe videos and the wildly popular YouTube show, Budget Eats. She previously worked in numerous restaurant kitchens throughout NYC before first joining Delish as our Test Kitchen Assistant and chief baking expert with a passion for bread dough, peanut butter, whipped cream, and gluten free cookies. She also loves staring at alpacas.