We tested this cake over and over again until it was absolutely perfect. Even the most amateur baker can nail it at home. Sure all the showy, flavored cakes like carrot cake or chocolate cheesecake might sound more interesting. But there is truly something so special about a really well executed, moist vanilla cake. And, it technically doesn't even require a bunt pan. Answers to all of your questions are below!
Do I need to use cake flour?
No! Our secret ingredient is cornstarch! Whisking it into all-purpose flour makes the crumb super light and tender.
Why so many eggs?
Eggs wear many hats. They're used in baking to bind, lift, and moisten cakes. Bundt cakes are big and hearty, so you need a good amount of them.
Can I substitute vanilla extract?
Absolutely. In fact, that would be the more traditional move. However, we think that almond extract adds a lovely flavor that everyone will notice and love—even if they can't identify what it is.
Why do I need to stir the wet and dry ingredients separately?
It prevents you from over=mixing! Whisking the dry ingredients separately also ensures that everything—including the salt!—is evenly dispersed before you mix into the batter.
Do I need to add the dry ingredients gradually?

Not really. But it's an additional precaution to make sure that you don't over-mix. Over-mixing leads to tough, dense cakes!
Can I flavor the glaze?
Absolutely! First of all you can swap in any extract you like for the vanilla. You could also keep it the same but sub out some of the milk for lemon juice, add some lemon zest for a beautiful lemon glaze.
Can I make this ahead of time?

Yup! Covered with plastic wrap, it keeps well at room temperature for up to 2 days. And! If you love the cake as much as we do, you might even want to freeze it. When stored properly in the freezer this cake can last up to 12 months.
Tried this recipe? Let us know how it came out in the comments below!
Advertisement – Continue Reading Below
Yields:

10 – 12

serving(s)
For the cake
Cooking spray, for pan

1 1/2 c.

(3 sticks) butter, softened

2 c.

granulated sugar

4

large eggs

1 tbsp.

vanilla extract

1/2 tsp.

almond extract (optional)

3 c.

all-purpose flour

6 tbsp.

cornstarch

2 tsp.

baking powder

1 1/2 tsp.

kosher salt

1 c.

whole milk
for the glaze
2 1/2 c.

powdered sugar

5 tbsp.

whole milk

1/2 tsp.

pure vanilla extract

1/8 tsp.

kosher salt
Nutrition Information
Per Serving (Serves 12)

Calories

621

Fat

28 g

Saturated fat

16 g

Trans fat

1 g

Cholesterol

126 mg

Sodium

357 mg

Carbohydrates

87 g

Fiber

1 g

Sugar

59 g

Protein

6 g

Vitamin D

1 mcg

Calcium

108 mg

Iron

2 mg

Potassium

102 mg

Note: The information shown is Edamam's estimate based on available ingredients and preparation. It should not be considered a substitute for a professional nutritionist's advice.

Powered by
Directions
Step

1

Make cake: Preheat oven to 350°. Grease a 12-cup bundt pan with cooking spray. In a large bowl using a hand mixer (or in the bowl of a stand mixer), beat together butter and sugar until light and fluffy. Add eggs one at a time, beating well after each addition. Add vanilla and almond extracts and mix until combined.

Step

2

In another large bowl, whisk together flour, cornstarch, baking powder, and salt. 
Add half of the dry ingredients to the wet ingredients, beating until just combined. Pour in milk and mix until fully incorporated, then add remaining dry ingredients and stir until just combined.

Step

3

Pour batter into greased bundt pan and smooth top with a rubber spatula. Bake until a toothpick inserted into the middle of the cake comes out clean, about 55 minutes. Let cool in pan 10 minutes, then invert onto a cooling rack to cool completely.

Step

4

Make glaze: Whisk together powdered sugar, milk, vanilla, and salt. Pour over cake and serve.
This content is imported from poll. You may be able to find the same content in another format, or you may be able to find more information, at their web site.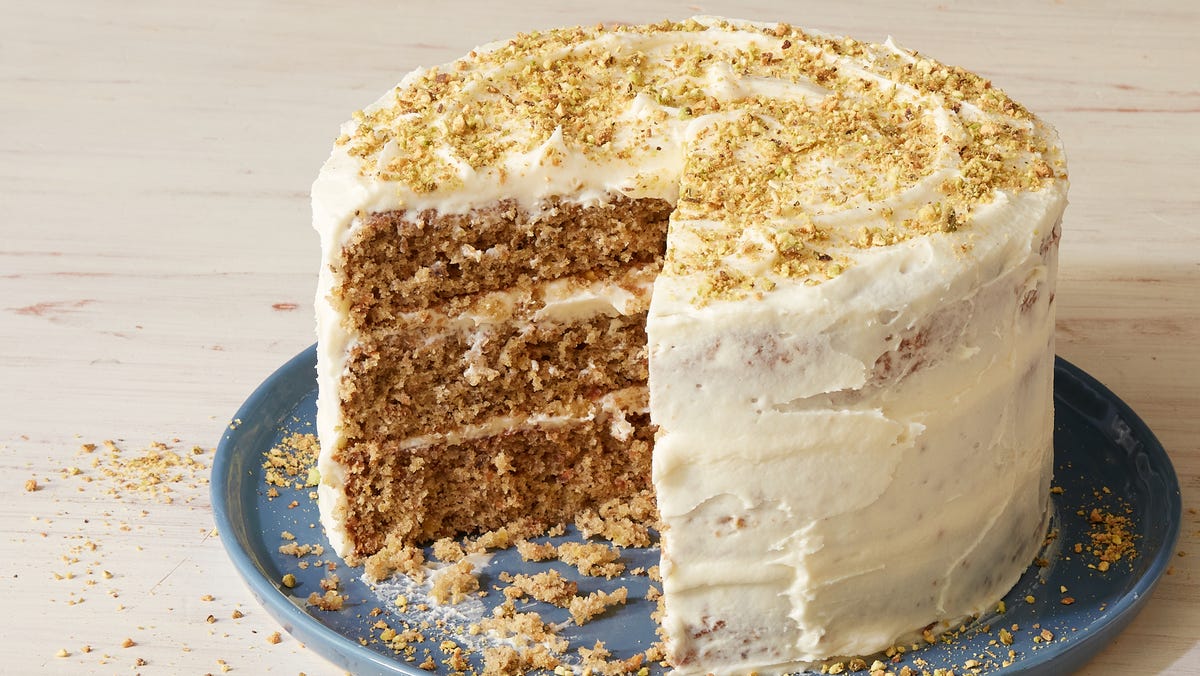 Lauren Miyashiro
Freelance Contributor
Lauren Miyashiro is the former Food Director of Delish. She graduated culinary school in 2016 and mastered the art of the Crunchwrap in 2017.