This classic cake recipe gets a new ingredient; hot cocoa mix lends chocolaty flavor and an appealing two-tone look to each slice.
Advertisement – Continue Reading Below
3/4 c. unsalted butter
2 1/4 c. all-purpose flour
1 1/2 tsp. baking powder
1/2 tsp. kosher salt
3/4 c. granulated sugar
4 large eggs
2 tsp. pure vanilla extract
3/4 c. whole milk
1/4 c. hot cocoa mix (we used Ghirardelli Double Chocolate)
1 tbsp. boiling water
Directions
Step

1

Heat oven to 325 degrees F. Butter and flour an 8 1/2- by 4 1/2-inch loaf pan. In a medium bowl, whisk together the flour, baking powder, and salt.

Step

2

Using an electric mixer, beat the butter and sugar in a large bowl until light and fluffy, about 3 minutes. Reduce the speed to low and beat in the eggs, one at a time, then the vanilla.

Step

3

Alternately add the flour mixture and the milk, mixing just until incorporated.

Step

4

In a medium bowl, combine the hot cocoa mix with the boiling water. Add 1/2 cup batter and mix to combine. Spoon one-third of the vanilla batter into the prepared pan and top with small dollops of one-third of the chocolate batter (about 2 1/2 tablespoons total). Repeat twice, ending with the chocolate dollops. Using a butter knife, swirl the mixture in a figure-eight pattern a couple of times (don't swirl too much or the mixture will become muddy).

Step

5

Bake until a wooden pick inserted in the center comes out clean, 70 to 75 minutes. Let cool in the pan for 5 minutes, then transfer to a wire rack to cool completely.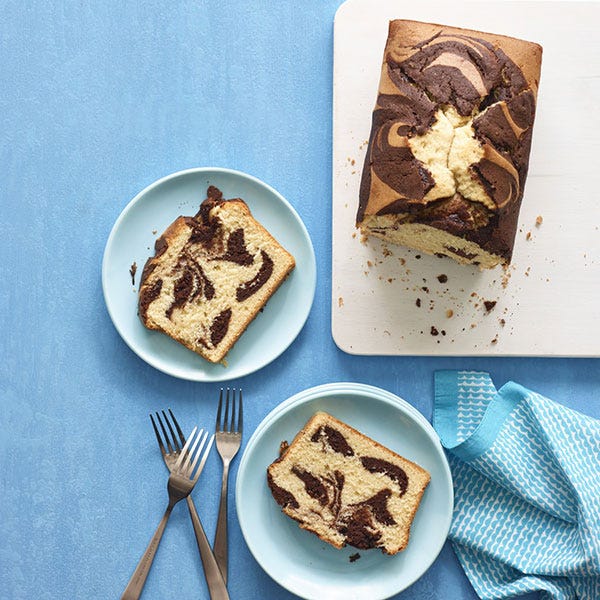 Steve Giralt; Food styling by Anne Disrude; Prop styling by Megan Hedgpeth